The first animal that I saw in the Shencottah Gap (way back in 2008) was a young python trying to cross the NH-208 highway. A bad decision, because this highway is one of the major routes taken by the 50 million+ pilgrims who visit the Sabarimala shrine every year. The python was mowed down by a minibus – yet another roadkill victim. We couldnt stop due to the heavy traffic, but looking in the rearview mirror, I could see it writhing on the road with its back broken. That is the fate of a lot of snakes…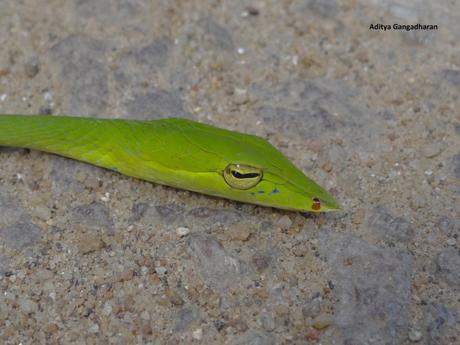 A dying green vine snake, and the light in its eyes slowly dimmed away.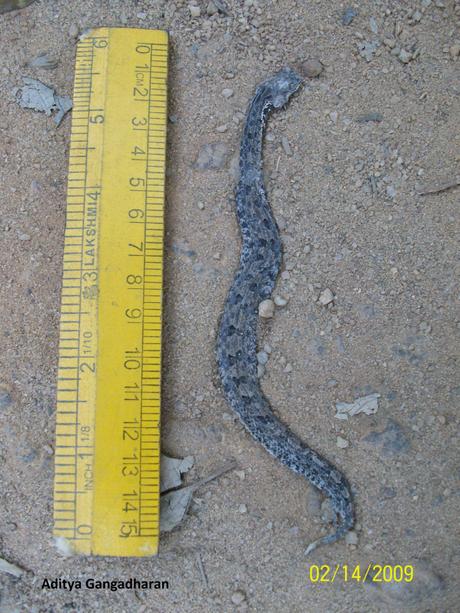 More roadkill, probably crushed by a jeep while sunning itself on a mud road.
Fortunately, the next python that I saw was under much nicer circumstances: it was lying across the path we were walking on, sunning itself on a cool morning. It was bulging – maybe it had eaten one of the mouse deer that came to eat fallen figs from the ficus tree nearby: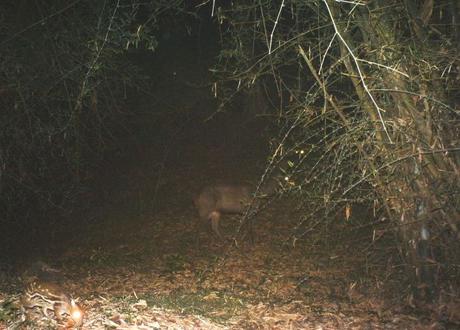 Mouse deer, with a sambar in the background for comparison. Its not much taller than the sambars ankle!
We stepped over the python gingerly, watching its head in case it decided to swing around and take a bite: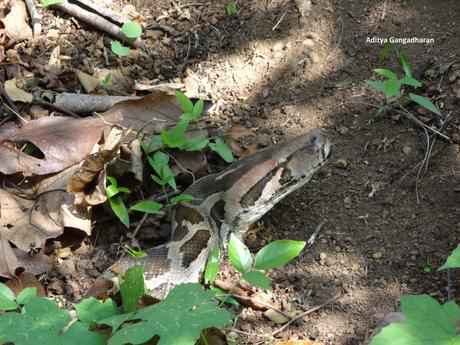 Indian rock python
Of course, it had no such intention and just slowly climbed up a tree.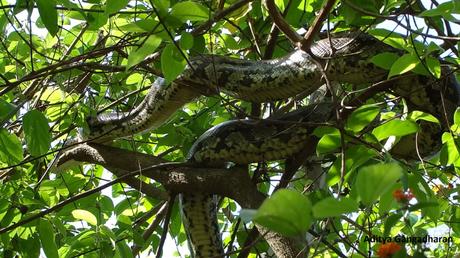 Python on a tree, digesting its meal
A much more common, almost everyday sight is that of pit vipers – Malabar and hump-nosed.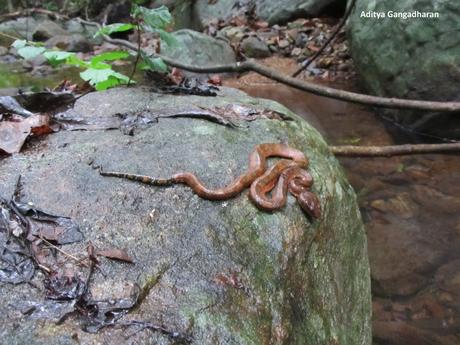 Malabar pit viper waiting for an unwary frog
During the monsoons, especially, you can walk past one of these every 10 minutes or so. Their camouflage is so good that you sometimes step on them without realizing.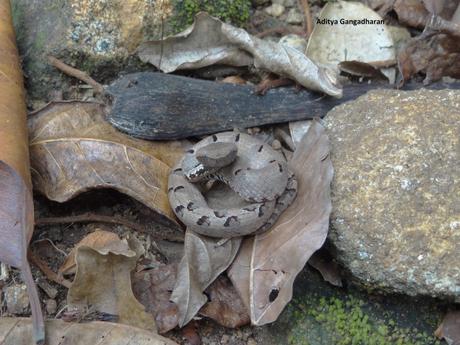 Coiled up and ready to strike
If you do step on one, you better be a quick jumper, because their bite can get you into some trouble (though not as much as their bigger cousins)!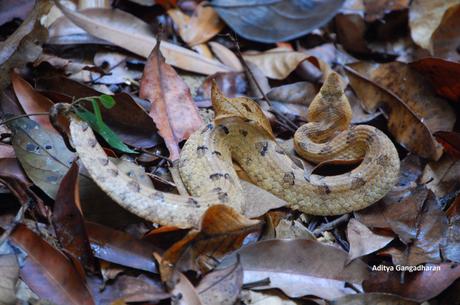 A furious hump-nosed pit viper – ready to strike as soon as you're in range
These guys come in a fascinating range of colours as well.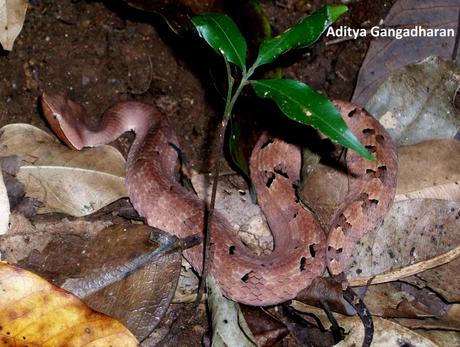 A pink hump-nosed pit viper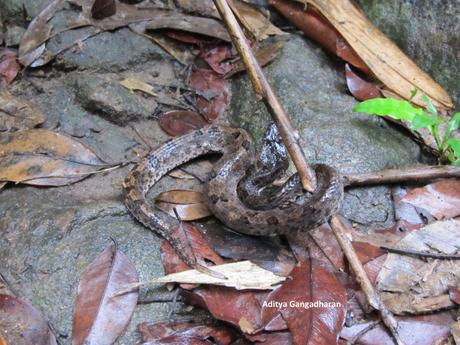 A dark brown colouration is very difficult to spot in the rainforest leaf-litter
The hill keelback is pretty common too (see also here):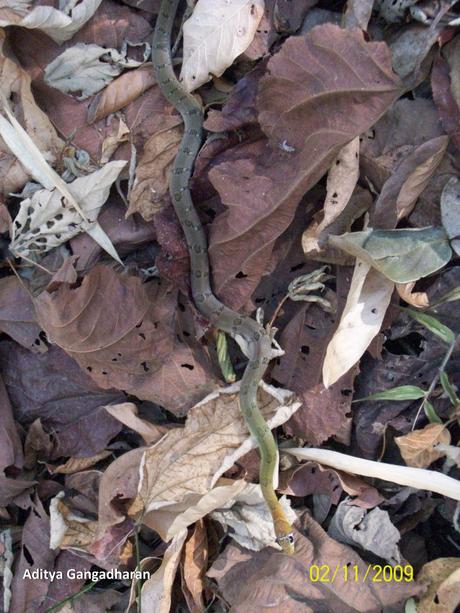 Hill keelback
More rarely, you see snakes such as the large-eyed brozebacked tree snake. A relative of the infamous 'komberimookan' (common bronzebacked tree snake) – which is supposed to be a sadistic snake that pokes out your eyes, but of course is harmless…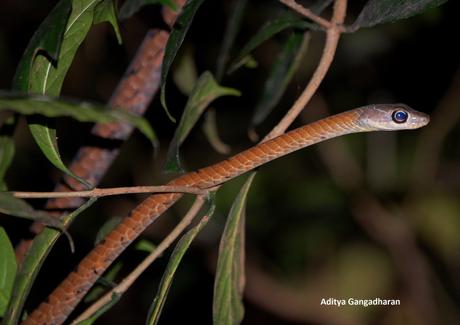 Large-eyed brozebacked tree snake (what a complicated name)
… and the fascinating worm-eating shield-tails, which show up during the monsoons: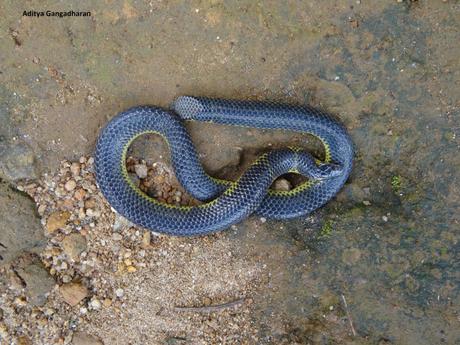 A shield tail species
My most spectacular snake sighting ever is sadly one that I dont have a photograph of. One night, I was driving up to my field station (trying to keep a low profile to avoid the poochandi who haunted the hairpin bends). As I turned on one of the hairpin bends and started accelerating, I saw some kind of a gigantic black creature on the road ahead of me. I slammed on the brakes, and in the headlights through the mist I saw a huge king cobra – eating a monitor lizard.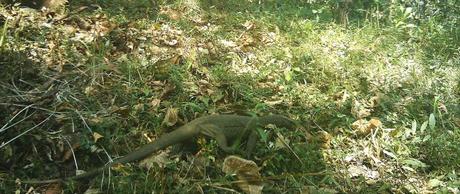 Common Indian monitor
I had often seen this particular monitor in that area, and I knew it was not a small one – at least 1m from end to end. The snake was about 3 times that length, as far as I could judge. Slowly, its jaws 'walked' along the monitors body until the tip of the tail finally disappeared into the snakes mouth. It lay there for a couple of minutes, before slowly moving into the ditch by the road. I zoomed away to the field station, grabbed my camera and came straight back, but sadly, the king cobra had moved on. Here is one that was caught in someone's house, just down the hill a year later by famed snake catcher Vava Suresh: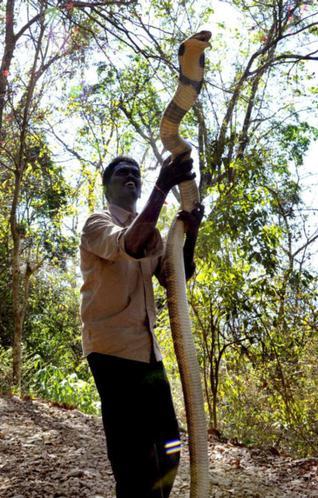 Image from The Hindu (2 March 2013). http://www.thehindu.com/todays-paper/tp-national/tp-kerala/a-mighty-catch/article4468507.ece