I desperately need to start packing because I leave on Friday. I only got as far as deciding which outfit and book to take with me in my carry-on for the flight, the rest is a blur. 
Last weekend's shoe is the embroidered denim mule with an open "Aladdin toe" by Andrea Pfister in 2001.
The shoe of the day is the "Leaves" leather shoe with laser-cut ankle laces that look like vines, by Renate Volleberg in 2006.
I'll be going to the closing night of MFDF with my older cousins. So much for Jean Paul Gaultier! Although he wasn't scheduled to be at the show himself, and I can get my fill by watching all his shows on style.com.
I don't have anywhere fancy to wear these BCBG pants at the moment (when has that ever stopped me before?) and I really like them because of how relaxed and effortless they look.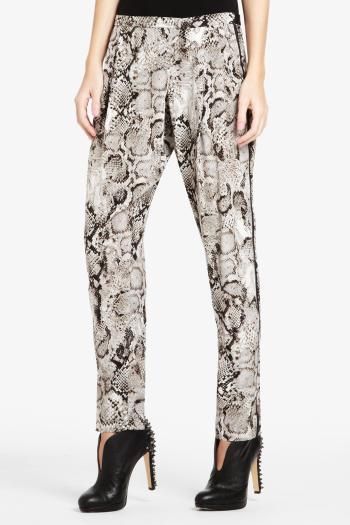 With lack of something else to do (except pack, I've been avoiding it) I finished reading the August issue of FASHION. It was a lot shorter than usual. Call me uneducated, but possibly because the September issue is always the biggest and most anticipated?
September is the January in fashion, after all. Now I feel like watching the film.
So I don't know if you recall my wanting to downsize the magazine reviews? Now you can get yourself a digital subscription! It's perfect for people who have limited access to the issues.
For the Celebrity part of the Culture section, Rani Sheen interviewed Jessica Morgan, one of the two bloggers from Go Fug Yourself (which is one of my favorites). They wrote a novel called Spoiled and I am dying to read it.
I liked the two photo shoots ("NY Times" and "Almost Famous"), Sarah Casselman's interview with Lady Gaga ("Mother Monster") and the Shops pages. Also, the fashion week coverage and presence of denim in The List.

**Blogger is being weird. To buy those pants, go to 
http://www.bcbg.com/product/index.jsp?productId=11651503&cp=4213681.4366394.2769021&view=all&parentPage=family
.

XOXO,
Nina