Title: Smuggler
Genre: Action, Thriller, Psychological
Publisher: Funimation, Giant Ape Media (US)
Original Creator: Shohei Manabe
Director: Katsuhito Ishii
Producer(s): Hideaki Endo, Masatoshi Yamaguchi, Kazuto Takida, Akira Yamamoto
Original Release Date: April 1, 2014
There are a lot of films adapted from original source material that don't turn out to be any good. Smuggler falls into this category. It's not terrible, and it does a few things better than the manga, but the longer it went on, the more tedious it became. With some overdramatic and unnecessary stalling of scenes where characters talk, Smuggler is worth renting, especially if you liked the manga, but not worth actually buying.
Smuggler tells the story of Kinuta, a 25 year old slacker who, after he quit acting, wasted his time gambling and was a lousy shut-in. When he ends up getting caught by police after engaging in a gambling scheme, he now owes people money, and the only way he can do that is to become a smuggler. A smuggler hides the bodies of the dead after a kill — they don't see the body, they just do their job. Kinuta takes up the job, and soon gets involved in the underground world, where his nice guy act gets tested mentally and physically.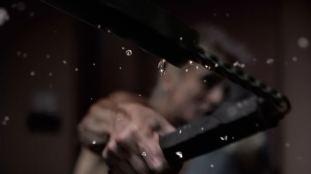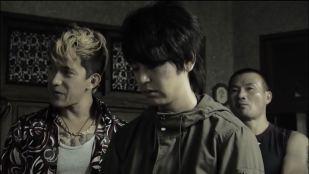 Let's start with what I liked about the film. While there are some changes — some expected, some that make you scratch your head that I'll explain later — it's faithful to the manga from start to finish. Unlike the manga, we get to actually understand Kinuta's state immediately. In the manga, we meet Kinuta hanging out with Joe and the old man preparing to do their job, and there was some small talk that ultimately was much ado of nothing. The film instead shows us what Kinuta did to get himself into this situation, instead of waiting until later to tell us everything that's going on. This sets the situation clearly, and we know why we should care (or not care about) him.
Another scene that I thought was better is when the trio gets caught by police. Ignoring the dumb reasoning the police had for being in the area, it made a point to emphasize Kinuta can actually act, which the manga didn't really showcase in that particular scene. Maybe it's because it's live action, but because of this set up, it makes what happens at the end of the film more effective. That and the policeman don't die.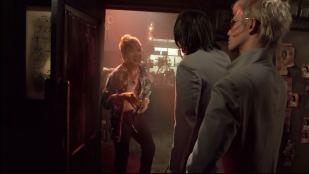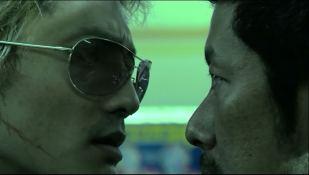 The characters, just like the manga, is a strength for the film, though also a weakness thanks to some of the changes in the script. For example, Viscera — who is called Guts in the manga — was ok, but his actions in the moment when they head over to Tsuyoshi's — a man who's close with the two's boss — changes both him and Vertabrae (that would be Spine). It was weird and out of character. I think I was more taken aback at how he was tricked and changed so easily, which didn't necessarily happen in the manga. Ultimately though, the characters weren't exactly what makes the film so boring.
The issue is that it lingers…in almost everything. There are shots that go above and beyond to drag things out. Do I really need to have Vertabrae kill a Yakuza in slow motion? What's the real point of that? It definitely doesn't look cool. All I can tell is that instead of moving things along, it just takes its time. This issue where things feel dragged out does not extend to a good portion of the action scenes: it's the same way for characters when they talk to each other. I'm not 100% sure if it just translates better when reading instead of watching, but I certainly felt like cutting it off after the one hour mark because of how droll everything is. It's a nearly 2 hour film. I don't think everything from the manga needs explanation or inclusion, or at the least, some scenes could have been sped up.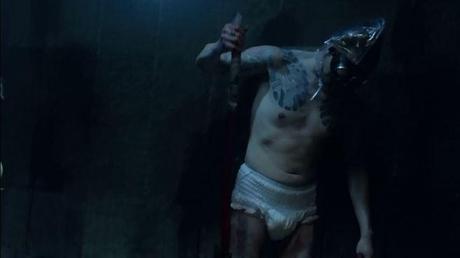 Well, I guess it gets points for weirdness right?
After that, there's not much else. The music doesn't particularly stand out in anyway, and while Kinuta getting tortured was executed well (though creepy), there wasn't a ton of moments where I can say a moment got me invested into Smuggler. And it's a shame, since there are some things that really shined better than the manga. But instead, I would recommend you try the manga before going anywhere near the film.