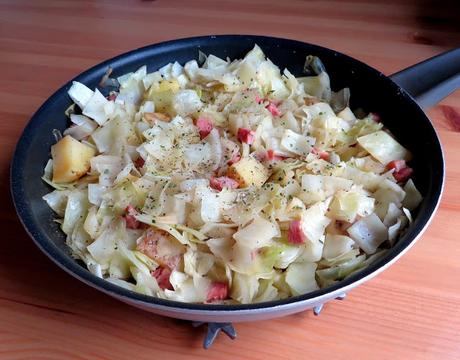 I have to say that, next to potatoes, cabbage is one of my favorite vegetables. I come by this love honestly. It is something which my mother cooked for us fairly often. Admittedly not as often as she would have liked to, as my father was not overly fond. 
He did not mind the flavor that it imparted into things like stews and such, but he was not fond of the vegetable itself. This worked well for me, actually as he would just give me his cabbage to eat, which I did not  mind one little bit.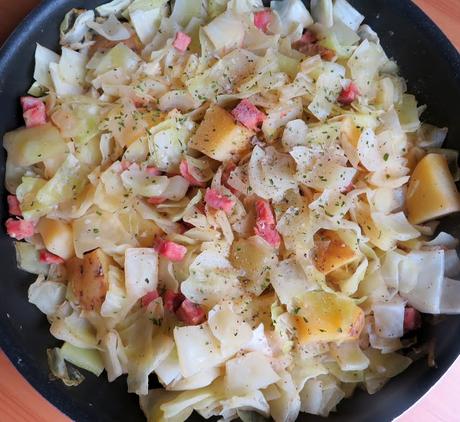 My mom used to make lovely cabbage rolls. She would wrap up ground beef and onion in cabbage leaves and simmer them in a large pot with peeled potatoes, carrots and canned tomatoes.
My father loved the meat in them. I did not, but I loved the cabbage.  We would swap. My meat for his cabbage.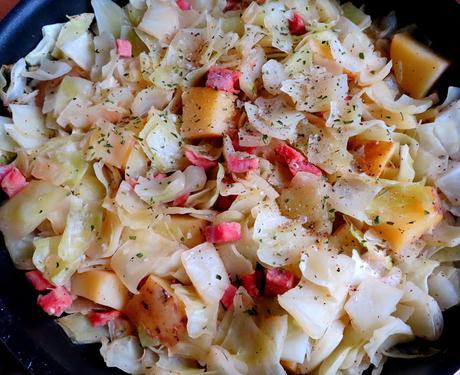 More meat for him. More cabbage for me. It was a happy collaboration. If I was really lucky my mom would put in a little wedge of cabbage just for me. Even better! 
This recipe I am sharing today, Smothered Cabbage with Ham, comes from the
Eating Well
website. I get a Diabetic Newsletter from them every couple of days. This was one of the recipes in the newsletter I got this morning. I immediately wanted to cook it.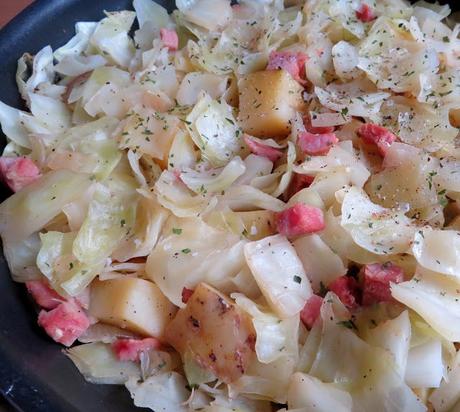 It looked delicious!  I also had everything in the house to make it. Bonus!  I just did not want to make 8 servings of it, and so I cut the recipe in half.
I find it is very easy to cut most recipes in half, especially things like this. Its not like baking where your measurements need to be exact and precise.  When you are talking things like vegetables, it is a very simple matter.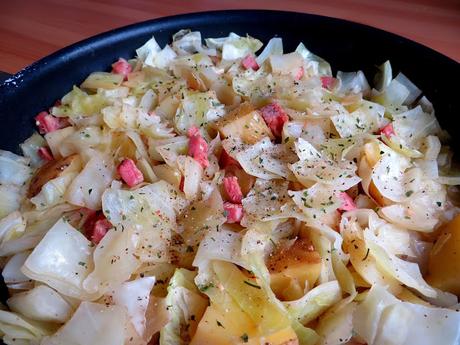 So this recipe makes four servings instead of 8. Which is still quite a lot, but when you love cabbage as much as I do, I know that I will really enjoy the leftovers.
Maybe even moreso than the original recipe. Cabbage is one of those vegetables I find that tastes even better reheated the day after.  Or maybe I am just so in love with this vegetable that it doesn't matter when I eat it!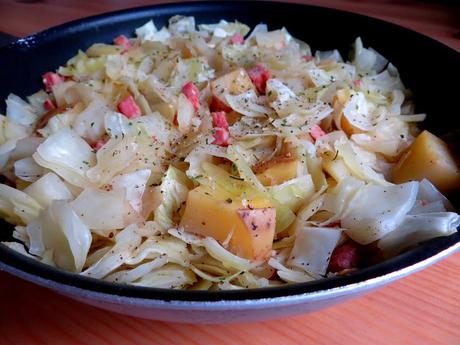 What I loved about this dish is that it is combined with my other favorite vegetable. The humble potato.  But not in such a high quantity that it messes with my carbs. As a diabetic I do have to watch my carb intake.
But with there only being one baking potato in the dish, divided between four people, its not a huge problem. This means that I get a little taste of potato without the risk of going over the top!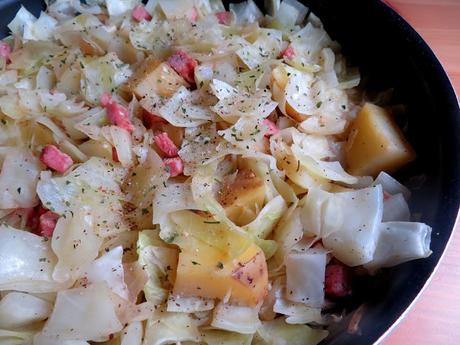 And if you love potatoes as much as I do, there is a real risk of going over the top.  Dishes like this are perfect for me. 
I loved the addition of the ham to this. It gives a bit of smokiness which goes very well with cabbage.  There isn't a lot of it. I had a chunk of ham in the freezer leftover from Easter. (Don't judge me, lol)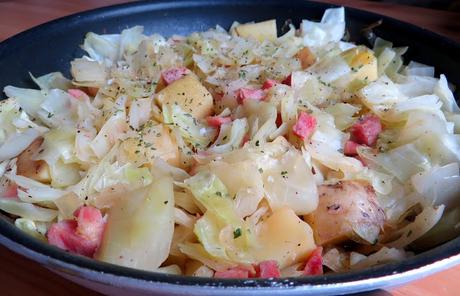 You could use thick sliced boiled ham from the shops or even a chopped up ham steak if you wanted to. You just want a bit of smokiness.  
It also uses an onion and some garlic.  You begin by sauteeing the onion in  a bit of oil. I cut the amount of oil way down.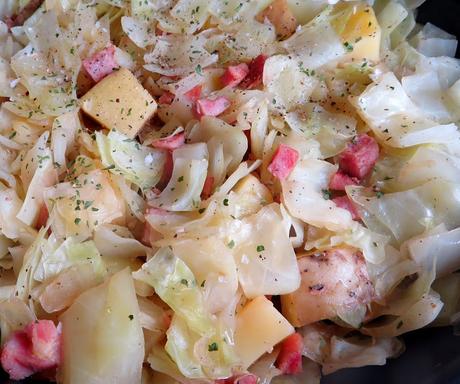 Most recipes call for far too much oil. Even Eating Well recipes. I have always cut back on the amount without any problem. I also used light olive oil rather than canola oil. 
I had a medium sized cabbage in the refrigerator that needed using up.  I used about half of it which means that I have another half to get rid of before next Friday. Maybe I will make my favorite dish, Noodles and Cabbage to enjoy!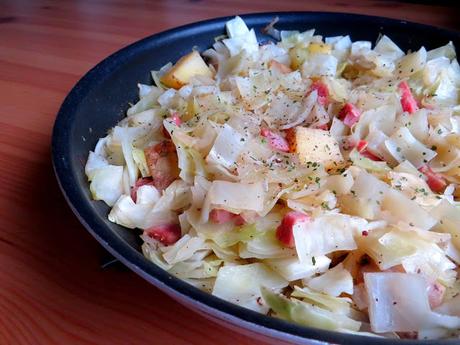 You can use any kind of cabbage in that recipe.  White, savoy, green, etc.  even kale or Swiss chard. I have used them all with delicious results. Noodles and Cabbage is a supper dish my family always love LOVED! I learned how to make it in High School Economics. My children still make it.  It is considered to be a family recipe, even though it really isn't!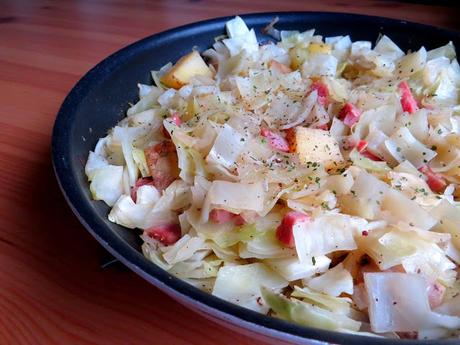 Back to this one.  Its simple and quick to make and very delicious. You could jazz it up a bit if you wanted to, by adding some chili flakes, but I'll be honest it is pretty perfect just as it is. 
I have posted a lot of cabbage recipes on here through the years that you might enjoy. Creamed Cabbage is really lovely. Tender pieces of cabbage baked to perfection in a lush cream sauce. 
Another favorite is Cabbage and Tomato Soup.  Cabbage and tomatoes have a wonderful affinity for each other.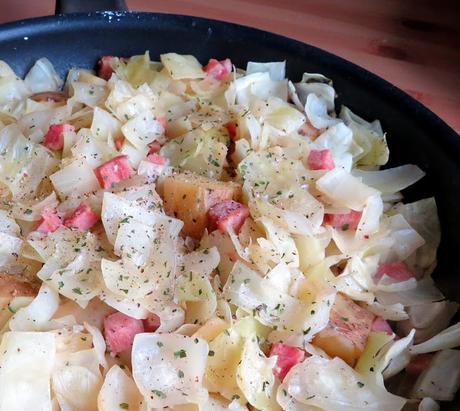 Indian Spiced Cabbage
is a beautiful side dish for when you are enjoying a good curry. It uses fairly simple ingredients that most people have in their homes, with the exception of the Garam Masala, but I am fairly certain that if you don't have the Garam Masala in your home, you would have at least the ingredients to make your own. 
I have my own recipe for
Cabbage Rolls
that I have been making for years and years. I got the recipe from a friend at church back in the early 1980's and it has been pleasing my family ever since! When I take them to potlucks I always come home with an empty dish.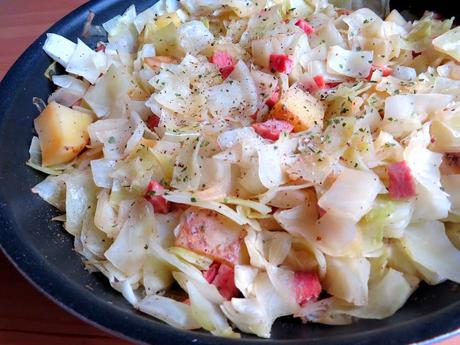 A favorite soup is
Cabbage and Ham Soup with Cheese Dumplings
. Oh it is some lush. Who doesn't love dumplings???  Not me!  
Stuffed Cabbage Trou Style
offers layers of butter soft cabbage and rich sausage meat.  Oh my, another one of my favourites. 
Let's face it, I just love cabbage.  Any way. Any how. Any time. I even love the smell of it cooking.  Call me crazy but I do!  I hope you will give this recipe for Smothered Cabbage a go at any rate, and that you enjoy it!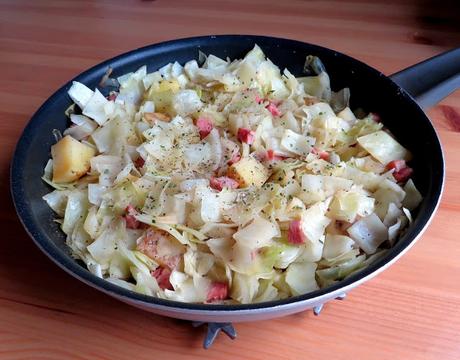 Print
Smothered Cabbage with Ham
Yield:
4
Author:
Marie Rayner
prep time: 15 Min
cook time: 30 Min
total time: 45 Min
This is the perfect way to use up little bits of ham. It cooks all in one dish, with salty pieces of ham, onion, tender chunks of potato, and buttery cabbage. This makes an excellent side dish to serve with roast chicken or pork! Quick, easy and delicious!
Ingredients
1 TBS canola oil
1 small onion, peeled and chopped
1/2 cup  (65g)diced smoked ham
1 fat clove of garlic, peeled and minced
5 cups (450g) coarsely chopped green cabbage
1/2 cup (120ml) low sodium chicken stock
1 large baking potato, washed and cut into chunks
salt and black pepper to taste
1/2 TBS cider vinegar
Instructions
Heat the oil in a large skillet over medium-high heat.  Add the onion and cook, stirring frequently, just until the onion begins to brown and caramelise a bit.
Add the ham and garlic.  Cook for a further minute.
Add the cabbage, chicken stock, potatoes and season lightly. Bring to the boil and cover tightly.
Simmer over low heat, stirring occasionally, until the potatoes are tender, about 15 minutes.
Remove the lid. Turn up the heat to medium high and cook, stirring until most of the liquid has been evaporated, another 10 to 12 minutes.  Stir in the cider vinegar.  Taste and adjust seasoning as desired. 
Serve hot.
Did you make this recipe?
Tag @marierayner5530 on instagram and hashtag it #EnglishKitchenCreated using
The Recipes Generator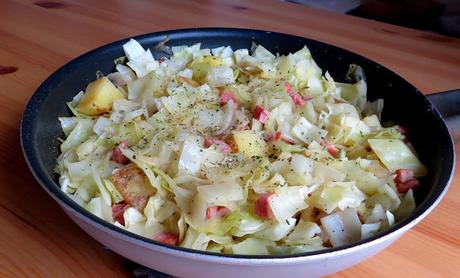 So what is your favorite way to cook cabbage? Do you even like cabbage? Are there any family favourites or suggestions for cooking it that you would like to share with us today?  Do tell!! 
This content (written and photography) is the sole property of The English Kitchen. Any reposting or misuse is not permitted. If you are reading this elsewhere, please know that it is stolen content and you may report it to me at: mariealicejoan at aol dot com Thanks so much for visiting. Do come again!