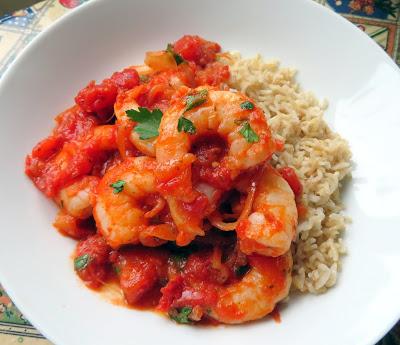 My Todd really loves King Prawns.  I don't cook them for him often enough.  I confess, I can't eat them due to an allergy, but every once in a while I do cook some for him and he thoroughly enjoys them I have to say.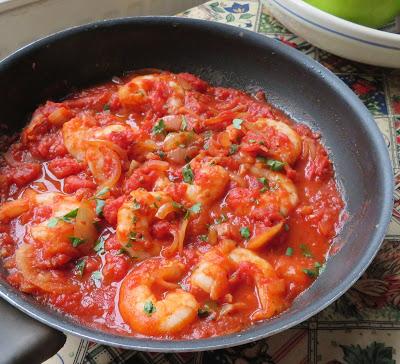 We get beautiful King Prawns from the people at
Seafresh Quality Foods. 
Seafresh is an on line fish monger which sells quality fish, seafood, poultry and meat.  I have always been incredibly impressed with both their product and their delivery service!  I have never had a bad experience. You can read about my
first experience here
!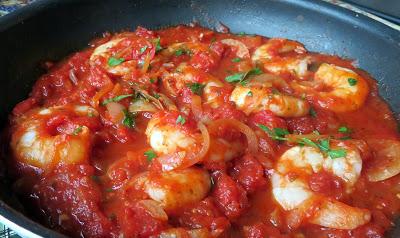 Today I gave them somewhat of a Spanish flair with a recipe I adapted from the
Delicious
magazine website.  It was meant to be used as a romantic starter for two people for a celebratory dinner.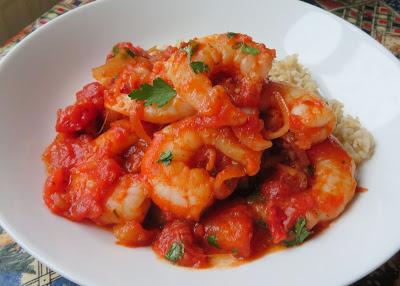 Todd enjoyed them as a main with some brown rice.  I didn't cook the sauce down as much as the original recipe called for so I would have plenty of sauce to spoon over his rice.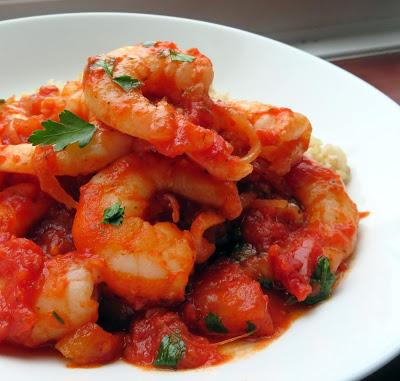 The smokiness comes from the use of smoked paprika, or Pimentón which is its proper name.  It is a really fabulous ingredient with a lovely smoky flavor and is most often used in Spanish Cooking.  It is what helps to give Spanish Chorizo its fabulous color and flavor.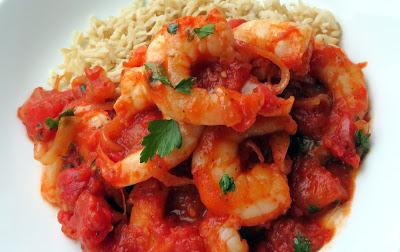 What are the origins of Spanish Paprika or  Pimentón?
Paprika is made from ground, dried red chile peppers originally from the Americas. So important is paprika to Spanish cooking and so demanding are the Spanish of quality paprikas that there are Denominations of Origin (D.O.) for paprika. One of the D.O. is located in Murcia, a province on the Southeastern coast of Spain, between Almeria and Alicante. (Ariana is from Alicante.) The other and more famous is La Vera, which is located in Cáceres, Extremadura, southwest of Madrid. Both of these areas are warm and dry in the summer, which makes them perfect for growing peppers.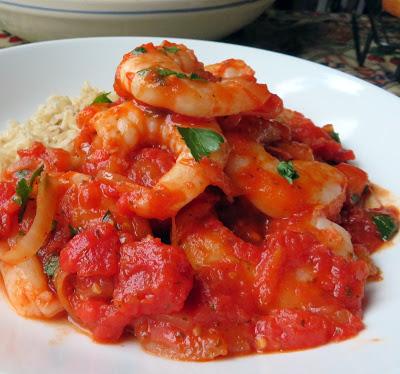 It is widely believed that Christopher Columbus brought it back to Spain from the Americas.  There are three varieties of Pimentón. 
Pimentón Dulce or Sweet Paprika: Round red peppers make this mild, light orange paprika. 
Pimentón Agridulce or Medium Hot Paprika: Longer, dark red pepper make a medium-hot paprika. 
Pimentón Picante or Hot Paprika: Made from any of several different types of long red peppers.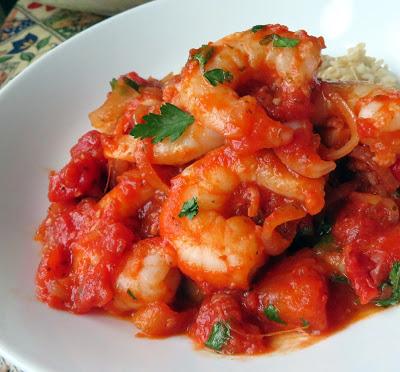 The one I used today is Pimenton De La Vera. Calidad: Picante, which means it is fairly hot.  Todd likes spicy things. Myself, not so much, which is just as well because I was making these for Todd.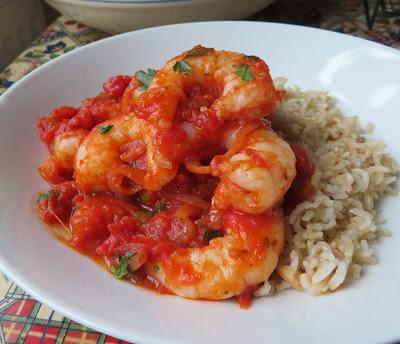 I can see where the dish would make for a romantic starter for two, with its bright color and bold flavor . . . the squeezing of the lemon wedges over top . . .  crusty bread to mop up all the juices.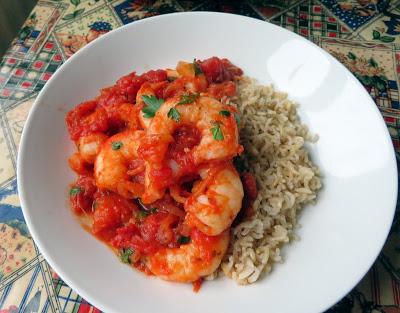 There are two cloves of garlic in it so you do want to be sharing it with your partner if you are doing this as a romantic dinner so that you both smell like garlic, lol.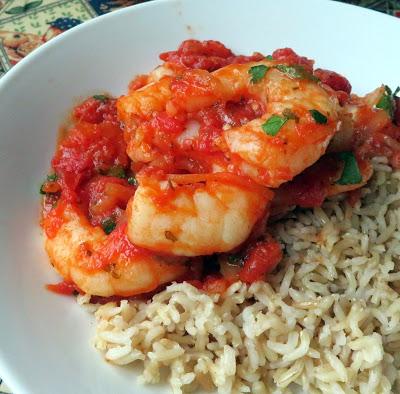 The sauce itself, takes about half an hour to make, but once the sauce is done, it goes rather quickly.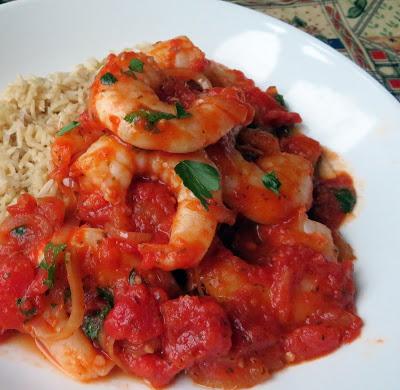 The prawns cook in 3 to 4 minutes. Any longer and you risk them turning rubbery.  For a romantic meal you can make the sauce ahead of time and then just reheat and add the raw prawns a few minutes before you want to serve them.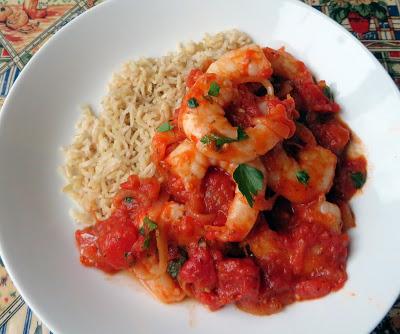 As well as garlic, there is onion and a quantity of chopped fresh coriander, very Spanish I would say.  Cilantro is another name for Coriander. If you are not fond of it, and I know many are not  . . .  you could use fresh flat leaf parsley.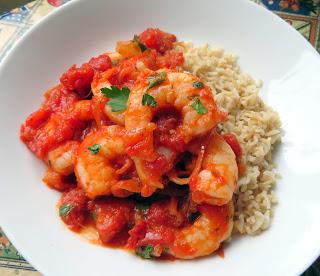 Smoky Tomato & Garlic Prawns
Yield:
2
Author:
Marie Rayner
This was touted as a great starter for a romantic dinner on the Delicious site.  Todd enjoyed it as a delicious main with some brown rice on the side.  This was very quick and easy to make.
ingredients:
2 TBS extra virgin olive oil, plus more to drizzle
1 medium brown onion, peeled and thinly sliced
2 cloves garlic, peeled and minced
1/2 tsp smoked Spanish paprika (pimenton)
400g tin of chopped tomatoes, in tomato juice, undrained (14 1/2 ounces)
splash of balsamic vinegar
pinch of sugar
125g raw king prawns (1/4 pound)
handful of fresh coriander, washed and chopped (cilantro)
salt and black pepper to taste
lemon wedges to serve
sliced green chilies to serve (If you like things hot)
instructions:
How to cook Smoky Tomato & Garlic Prawns
Heat the oil in a large skillet.  Add the onion and cook gently over low heat, for about 10 minutes, until softened but not coloured.  Add the garlic and smoked paprika.  Cook and stir for a further 3 to 4 minutes until very fragrant. Add the tomatoes, vinegar and pinch of sugar.  Bring to a gentle simmer and then cook over low heat, stirring often, until the tomatoes have reduced and the sauce is rich and thick.  Taste and season with salt and pepper as required.  Stir in the raw prawns.  Stir around in the sauce to coat and cook for a further 3 to 4 minutes, just until pink. Stir in the chopped coriander along with a drizzle of olive oil.  Scatter with the sliced chilies (if using) and serve with wedges of lemon to squeeze over top. Crusty bread goes well to mop up all of that delicious sauce.
Did you make this recipe?
Tag @marierayner5530 on instagram and hashtag it #EnglishKitchenCreated using
The Recipes Generator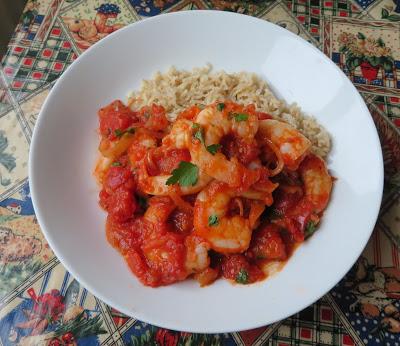 What I really love about their
King Prawns
from Seafresh is that they are responsibly sourced and quick frozen individually. I can take out as many or as little as I want, which makes them very handy to use and ideal for us as we are a small family.  Also because only Todd eats them, I can take out just enough for him to enjoy without having to thaw out the whole pack.  They are also shelled and de-veined at the source, so, once defrosted, you can just cook them without any messing about. 
Another thing that I love about these is that Todd really feels special when I cook something like this just for him.  That makes me happy! A few things about Seafresh:
Same Day dispatch on orders received before 1 PM.
All packages are carefully hand packed.
Free delivery on orders above £50, £8 on orders below that amount. 
Responsibly and sustainably sourced.
Air Blast Frozen at source within 4 hours of being caught.
Wide variety to choose from. 
Do check them out on their
website
to find out more.
Follow them on
Facebook
,
Twitter
and
Instagram
.
Note
- Although I was gifted with product free of charge for the purposes of review, I was not required to write a positive review in exchange, nor would my integrity allow me to recommend anything if I did not truly like it. Any and all my opinions are my own entirely.