Lawsy, I could eat my weight in this smoky clam chowder. First of all, I LOVE corn. Once I had a corn on the cob eating contest with my father-in-law~yes, in the summer and fresh steam silver queen corn was plentiful~and, I ate 11 ears! He won~I think he ate 15 or 16!
Rich and creamy, this soup is a belly-warmer and perfect on a cool summer evening or in the Fall and Winter. Yes fresh clams seal the deal. But if you can't find fresh, then I'm always happy with canned clams and clam juice. You could eat this thick soup with a fork, but use a spoon cuz you don't want to miss any of the good gravy broth!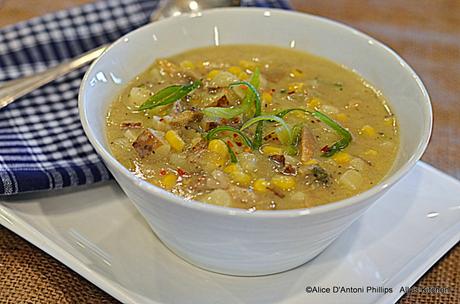 Serves: 6+
What you need:
6 Tbl. butter
6 slices bacon fried & crumbled with drippings reserved
4 cloves of garlic, peeled and minced
1 small onion, diced
3 cups frozen corn
3 cups chicken broth
1 tsp. coarse ground pepper
½ tsp. sea salt
½ tsp. red chili flakes (more if you like more kick!)
1 tsp. ground cumin
1 tsp. hot smoked paprika
2 cups clam juice
1 cup whole milk
2 cups clams, minced and/or whole
4 cups potatoes, diced (I leave the skins on.)
½ cup chiffonade sliced green onions/tops
1-2 Tbl. cornstarch (optional-for thickening)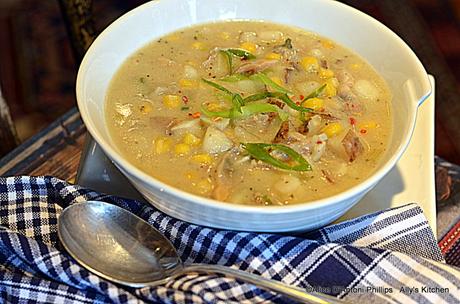 What you do:
In a large heavy pot over medium high heat, melt butter and add garlic and onions and sauté until translucent. Add corn, chicken broth, pepper, salt, chili flakes, cumin, paprika and blend. Reduce heat to low.
Meanwhile, in a large cast iron skillet over medium high heat put the bacon drippings. When hot, add diced potatoes (a little salt and pepper) and fry about 5 minutes or just long enough for the potatoes to absorb the drippings. Add and green onions and blend.
Scoop potatoes into the pot and add clam juice, milk and clams and blend. Cook on medium heat about 30 minutes. Reduce heat to simmer and serve. Note: If you want a thicker broth consistency then add the cornstarch while the clam chowder is cooking, and it will thicken.)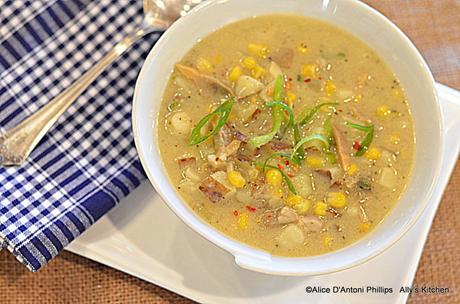 comments