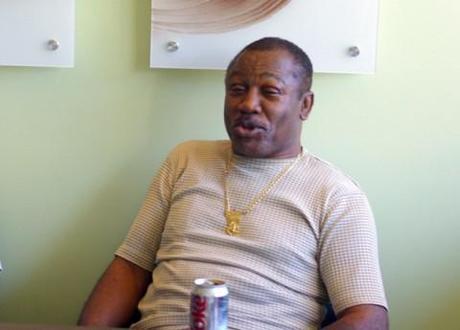 Joe Frazier. Photo credit: Beaufort's TheDigitel, http://www.flickr.com/photos/[email protected]/5034426078/
Smokin' Joe Frazier, former world heavyweight boxing champion, Olympic gold medalist and the first man to beat Muhammad Ali in the ring, died Monday night at a hospice center in Philadelphia after a brief, month-long struggle with liver cancer. He was 67.
Tributes to the fallen fighter are springing up across the Internet and world: Fans remember him as "possessed of a stolid ruggedness of a hard-working manwho let his fists and his dedication speak for him", according to an obituary in The Washington Post, a champ in an era when that still meant something.
Twitter is mourning the loss of the champ: RIP Smokin Joe and RIP Joe Frazier are currently trending.
Remembering Joe Frazier. Frazier was born in 1944, the youngest of 12 children in a working class farming family in Beaufort, South Carolina. He dreamed of being a boxer from an early age; a successful amateur career led him to Olympic gold in the 1964 Olympics in Tokyo. Frazier, who had moved to Philadelphia as a young man, trained Rocky-style by battering sides of beef with the ferocious intensity he was later known for at the butchers where he worked. He had his first professional bout the following year, at the age of 21 and, though at 93 kilos, small for a heavyweight, was a champion heavyweight boxer by 1970. He retired only six years later, with a record of 32 wins, four losses – two to Muhammad Ali, two to George Foreman – and one draw. Smokin' Joe's later years were marked by a steady dripping away of fame and his millions, lost on bad land deals; he walked with a cane, following a bad car accident, and suffered from diabetes for most of his career. Like other boxers before him, years of blows to the head had left his speech fuzzy and his vision worse.
Muhammad Ali. But it was his rivalry with Ali that made his career and made Smokin' Joe a household name: "Some people mean more together than they do apart, whatever the stage. Churchill and Hitler. Bogart and Bacall. Ali and Frazier," Dave Anderson wrote at The New York Times. "And for all the deserved accolades for Muhammad Ali, I've always believed that each at his best, Joe Frazier, who died Monday night at age 67, was the better fighter. And the better man."
Ali, his longtime professional and personal foil taunted him ruthlessly in that inimitable Ali style, calling him a gorilla and an Uncle Tom. Where Ali was flashy and loud, Frazier was no-nonsense and hardworking; the two clashed both in the ring and out. And though the two reconciled years later – Ali claimed it was all for the media attention – "it was ugly", "long, genuine and unseemly," wrote Kevin Mitchell at The Guardian's Sport blog. "Frazier fought hard for Ali over his refusal to be drafted, and Ali repaid him with cheap shots he was ill-equipped or ill-disposed to answer in kind. So he took it out on him with his most eloquent weapons, his fists.
Ali and Frazier fought on three occasions between 1971 and 1975, each one more dramatic than the last: In the first, the so-called Fight of the Century at boxing Mecca Madison Square Garden in 1971, Frazier became the first man to best Ali; both men were hospitalized after the dramatic 15-round match that was watched by 300 million people worldwide. Their final fight, 1975's Thrilla in Manila, lasted 14 brutal rounds and almost killed Ali – Frazier, nearly blind in his left eye, lost after he had to be forcibly held back by his trainer.
Said Ali, in a short statement released after Frazier's death, "The world has lost a great champion. I will always remember Joe with respect and admiration."

Smokin' Joe's style. "Frazier's aggressiveness, close-range style and devastating left hook compensated for his relative small size," reported Voice of America. Of that famous win against Muhammad Ali, wrote ESPN's Wallace Matthews, "He did it with a body too short and arms too stumpy for a heavyweight, with a style that demanded that he eat two shots for every one he landed, and against a man who was really not a fighter but an exquisitely proportioned and coordinated ballet dancer who happened to carry a brick in each fist." Matthews continued, "That was the way he fought each and every one of his 37 pro fights, without a reverse gear, and it is no surprise that after that night of greatness, he was never the same. But to knock Frazier for being unable to match the greatest athletic performance ever seen at Madison Square Garden is like criticizing Michelangelo for being unable to sculpt another David."
Smokin' Joe's music career. Frazier isn't the only sports star to have forged a music career as well, but he may have been one of the more endearing ones: Frazier and his soul-funk band The Knockouts released several records, including a cover of Frank Sinatra's "My Way", and toured well after Frazier's retirement from the ring.