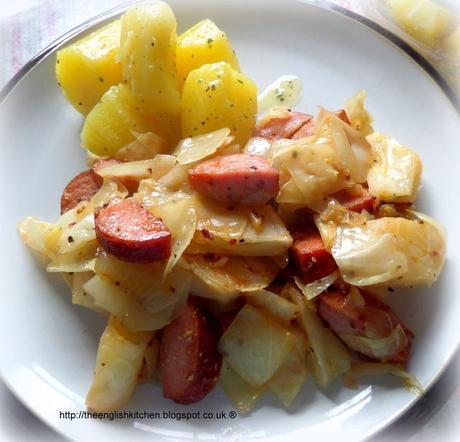 I confess most Sundays when we get home from church I am absolutely starving.  It will have been at least 8 hours since I have gotten up and probably about 6 since breakfast so about that time I could just about eat anything.  If I have been smart and planned ahead, I will have dinner waiting for us in the crock pot.  If I haven't I will have to resort to looting the cupboards and refrigerator to see what I can come up with quickly.  Such was today . . .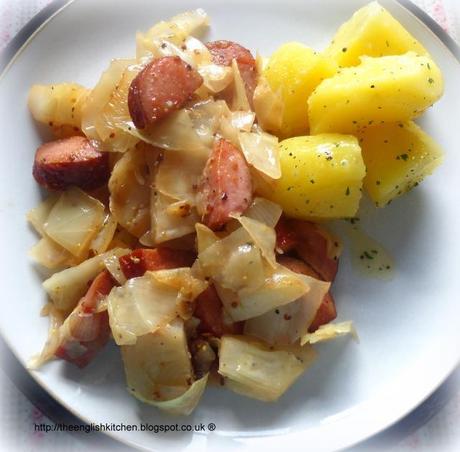 I had a grandmother who could make a meal out of just about anything.  I'm happy to say I have inherited her ability to do the same thing.  I found a package of smoked sausage in the fridge and a white cabbage and a bag of new potatoes and some onions in the cold storage beneath the stairs.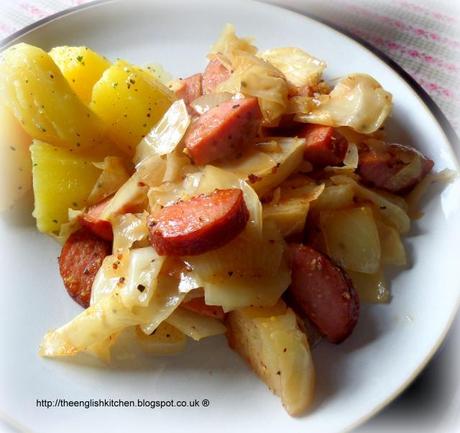 I chopped up the cabbage along with some onion, in nice large chunks and I cut the smoked sausage into half moons.  I peeled the new potatoes and popped them into a saucepan of lightly salted water and brought them to the boil.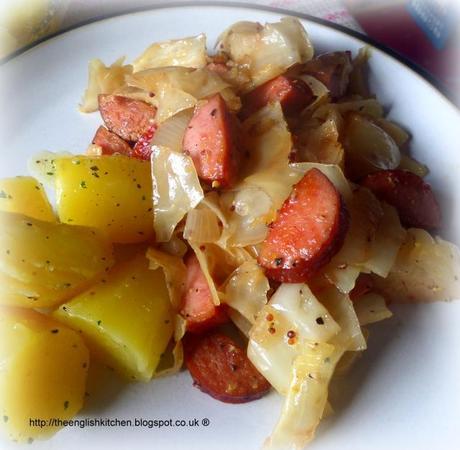 A splash of olive oil in a skillet heated later and I threw in the smoked sausage, browning it.  I scooped it out, added the cabbage and onion along with some seasoning and garlic and began to stir fry it until it was crispy tender.  In the meantime the potatoes were boiling.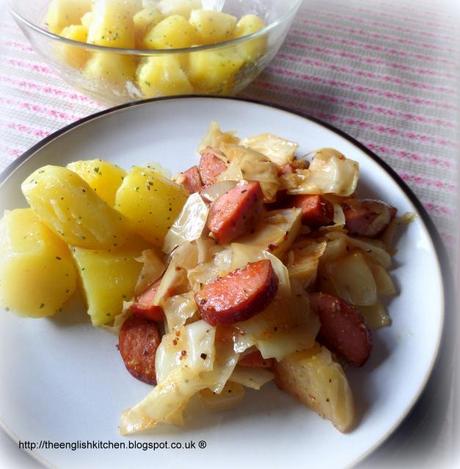 Once the vegetables were crispy tender I threw the smoked sausage back into the pan and added some vinegar and mustards, an almost Germanic touch . . .  by the time the flavours had all melded together the potatoes were done and ready to drain.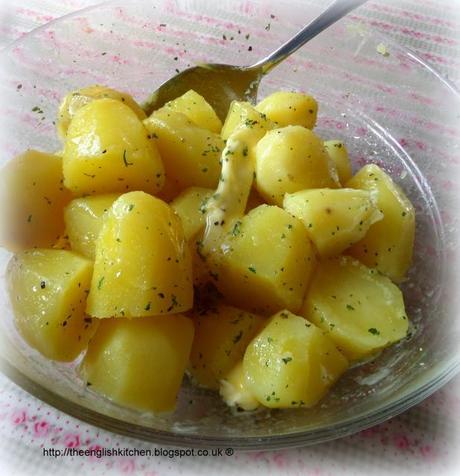 I tossed them with some butter, seasoning and a bit of dried parsley flakes and voila!  Dinner was ready.  A meal fit for a king . . . ready in not much more than about half an hour.   I'd call that a result!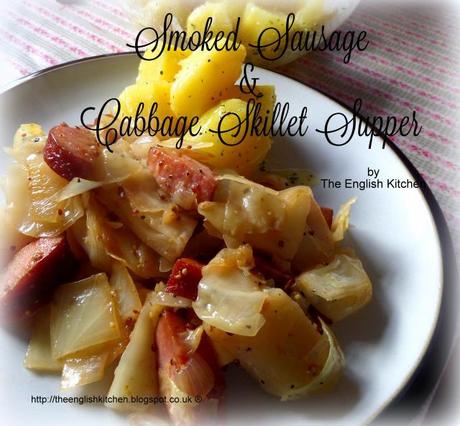 *Smoked Sausage and Cabbage Skillet Supper*
Serves 4Printable Recipe  
A  wonderful  autumnal supper.  Simple, easy to throw together and quite, quite delicious!  
2 pounds of smoked Sausage, fully cooked, cut in half and sliced into half moons1 TBS olive oil1 medium head of white cabbage, cored and coarsely chopped1 large cooking onion, peeled and coarsely chopped3 cloves of garlic, peeled and minced2 tsp sugar1/2 tsp salt1/2 tsp black pepper2 tsp rice wine vinegar1 tsp Dijon mustard1 tsp grainy mustard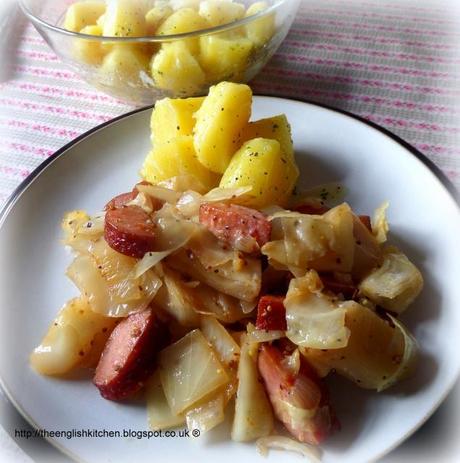 Heat the olive oil in a large nonstick skillet.   Add the smoked sausage.  Cook and stir over medium high heat, stirring occasionally, until golden brown.  Scoop out with a slotted spoon and set aside.
Add the onion, cabbage, garlic, sugar, salt and pepper to the pan.  Toss to combine.  Cook and stir for about 10 minutes, until crispy tender.  Add the vinegar and both mustards, along with the browned sausage.  Cook and heat through for a further couple of minutes.  Taste and adjust seasoning as required.   Serve hot with some boiled new potatoes and crusty bread.