A simple board with smoked salmon, cream cheese, bagels, capers, hard boiled eggs, and more for a fun appetizer or light meal your guests can customize themselves.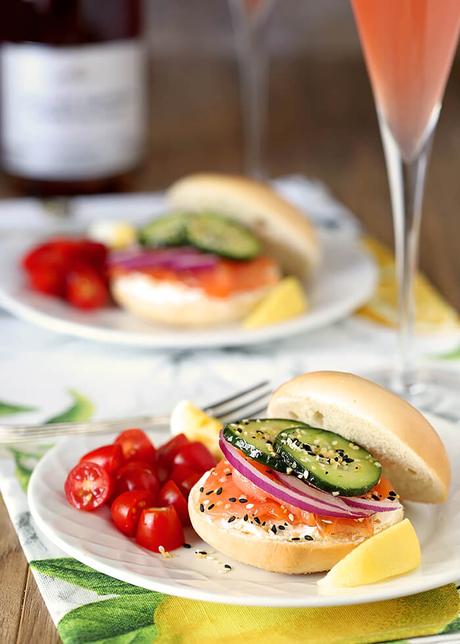 I'm sure you've seen the multitudes of different boards of food published by magazines and food bloggers. So many beauty shots of boards chock full of charcuterie, veggies, fruits, dips, etc. and all displayed as a still life to boot. While beautiful, I haven't gone to that extent, but I did enjoy this delightful Salmon and Cream Cheese Bagel Board with neighbors. It's simpler but no less tasty.
We are partying in a different manner this year for sure but it was still fun. Chairs set a distance apart, each person responsible for their crew following some agreed upon guidelines, making it an outdoor event and keeping the health of everyone at the forefront. I think these occasional forays, while not the same as my standard fare of a huge crowd in my backyard, help to normalize our lives and provide some much needed human contact.
While I prepared this as an appetizer, the plethora of ingredients would work well for any number of summer events. Even if you're committed to staying close to home, setting a table with an assortment of goodies for your family to make their own mini bagels, combined with a touch of bubbly, would surely lighten any spirits.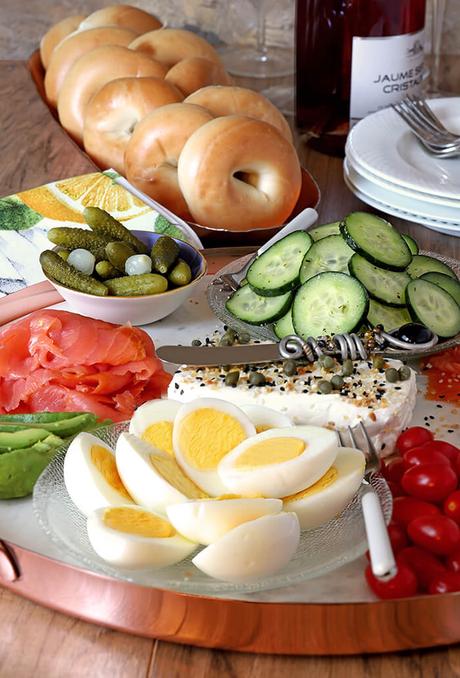 I'm adding this favorite of mine to June's edition of Progressive Eats. My friends and I decided that we all need more Easy Summer Dishes...foods that are fast, simple, and yet still delicious. There is nothing much easier than filling a big board or plate with some store bought and easily made foods and handing out plates and napkins.
Honestly the only thing I made for this board were the hard boiled eggs. And those I did in an Instant Pot ( affiliate link), maybe one of the single most amazing things that appliance is good for. Beautiful yellow yolks and shells that almost fall off.
I do wish I was still making my own pickles but I haven't the garden space; still, sweet baby gherkin pickles are my favorite so I did source some of those for this event.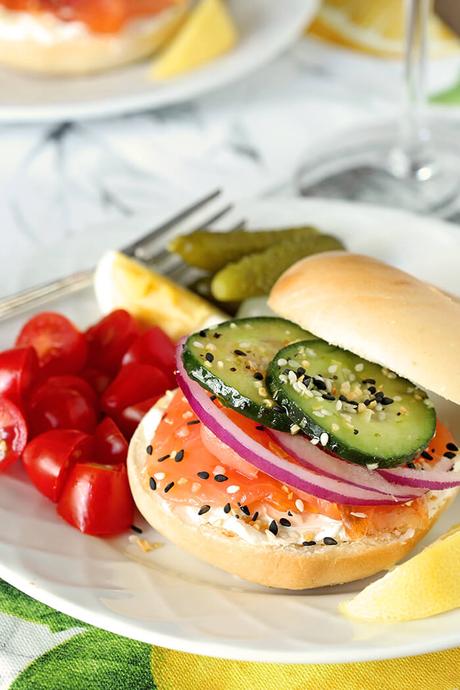 The full list of ingredients I used for this board included:
Mini Bagels
Cream Cheese
Capers
Smoked Salmon
Cucumbers, fresh or slightly pickled in salt, sugar, and water
Red Onion
Everything But the Bagel blend - really a blend of poppy seeds, sesame seeds, dried onion, dried garlic, and salt. Most grocery stores and spice shops carry it but you can make your own too; it's so good I love having some on hand.To Serve on the Side:
Cherry Tomatoes
Avocado
Baby Gherkin Pickles
Hard Boiled Eggs
I've included the same list in the recipe card at the bottom of the post but use these as a suggestion.
When I made this board it was as part of an appetizer course for a party but I would make this for brunch too in a heartbeat. Just for your family? You might want to add a touch of fruit. Serving as a main course, a nice green salad would be the perfect compliment. Also perfect for any holiday gathering from Fourth of July through Christmas; it really is a favorite!
Even the person at our event who not fond of salmon was able to fashion a delicious bagel for their course so I love how adaptable it is. Seriously, bagels aren't just for breakfast anymore!

Welcome to Progressive Eats, our virtual version of a Progressive Dinner Party. This month's theme is a Easy Summer Dishes, and our host is Barb who blogs at Creative Culinary
If you're unfamiliar with the concept, a progressive dinner involves going from house to house, enjoying a different course at each location. With Progressive Eats it's a virtual party. A theme is chosen each month, members share recipes suitable for a delicious meal or party, and you can hop from blog to blog to check them out. Come along and see all of the delicious summer inspired dishes!
Easy Summer Dishes
Appetizers
Smoked Salmon and Cream Cheese Bagel Board - Creative Culinary (You're Here!)
Radish Toast, Two Ways - Sarah's Cucina Bella
Side Dish
Desserts
PIN IT! 'Smoked Salmon and Cream Cheese Bagel Board'

Want More Cocktails? Check out Friday Cocktails with hundreds of fantastic drinks! →