They don't 'ang about at Smitten By Britain. No sir. Undeterred by the fact that Thanksgiving is still a week away, they've broken out the Christmas decorations already in the shape of a blog post by The Daily Constitutional's own David Tucker…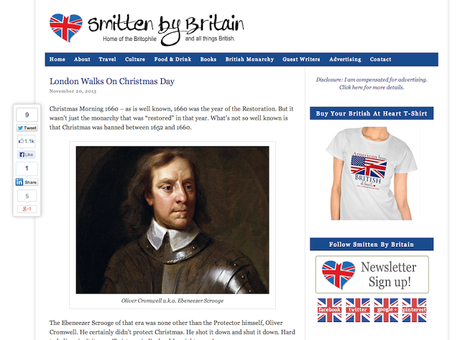 Melissa who runs Smitten by Britain describes herself clearly as a Britophile.
"If you check the dictionary," she says, "you'll see an Anglophile is defined as someone who admires England and English culture.
While I love England, I adore Scotland and Wales as well,  which make up the rest of Great Britain.
So I'm sorry, the title Anglophile just doesn't cut it for me and I'm proud to call myself a Britophile."


Well said! 


Visit Smitten By Britain HERE.
For all the Christmas London Walks visit The Mothership, www.walks.com.


A London Walk costs £9 – £7 concession. To join a London Walk, simply meet your guide at the designated tube station at the appointed time. Details of all London Walks can be found at

www.walks.com

.