We sat down with Martha Conboy, the writer and producer who spearheaded the documentary 40 Under 40 for the Smithsonian Channel. Martha and her team spent almost 6 weeks filming the installation of the exhibition at the Renwick Gallery this past summer. She also filmed 7 artists in their studios, as well as Jeff Garner's fashion show at the Renwick in September 2012. Whether you were able to see the exhibition or not, this documentary, which presently is being shown on the Smithsonian Channel, offers insight into the designing of the exhibition and, most importantly, on the artists who make the work. Upcoming showings of the Smithsonian Channel's 40 Under 40 are Friday, February 8 at 1 p.m., Tuesday, February 12 at 8 a.m., and Saturday, February 16 at 7 a.m. All times are EST.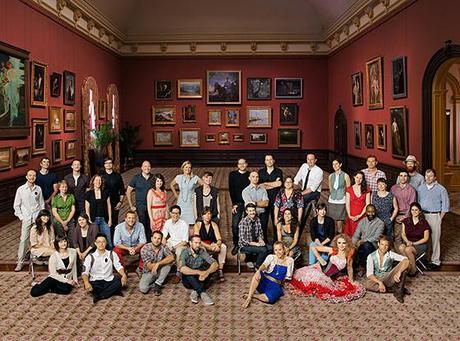 Artists featured in the exhibition 40 under 40: Craft Futures in the Renwick Gallery's Grand Salon. Photo by Robert Severi. Courtesy American Craft.
Eye Level: Why did you choose 40 under 40 as a documentary project? What attracted you to the exhibition?
Martha Conboy: Over the years, most of the work I've done has been for clients like National Geographic and Discovery Channel. I'm quite interested in the arts in general so the exhibition was a refreshing departure from science and natural history subjects.
EL: What was your first impression or thoughts when you met with Curator Nicholas Bell before you began production? How did those first impressions change during the filming and then editing process?
MC: My first impression of Nicholas was how YOUNG he is! Nothing really changed during production but I was amazed at the way he managed all the politics and personalities involved.
EL: You had previously mentioned you were going to have a narrator for the program, but then you decided not to. Can you explain why this was omitted?
MC: With every program the assumption is there will be a narrator to help the audience through some of the basics: To introduce characters and explain the who, what and where of the story. Narration provides context. As it turned out, the characters themselves were so articulate and thorough we didn't need the aid of additional voice. Nicholas and Debrah Dunner (Curatorial Assistant) set up the story beautifully and Nicholas provided all the commentary it needed along the way.
EL: What was the most challenging part of putting together the 40 Under 40 documentary?
MC: There was no obvious narrative. And there were 40 artists! So how to best represent the 40 by focusing on a handful was a challenge. That and how to approach each in a unique and entertaining way so the drama keeps moving.
EL: You filmed more than 140 hours worth of footage for a 51 minute program. What are some of the most memorable moments you filmed but didn't include in the documentary?
MC: I interviewed each artist (with the exception of 3) during the two days they came to Washington for the opening. Each interview was about 15 minutes long, which doesn't seem like much but they said some remarkable things. Cat Mazza talked about the influence of non-stop war on her work. Jenny Hart spoke of learning to embroider while she was helping her mother through cancer treatments. LJ Roberts talked about how her work got her through the coming out process. Sabrina Gschwandtner admitted that as a mother, she knows her life must include time for her art. This is not small talk.
EL: Are there any additional anecdotes you would like our readers to know?
MC: One thing my husband always comments on is the scene where Olek leaves the gallery because the room was not built to her specs and she's "too pissed to work." As she's stomping down the street, smoking cigarettes, he says, "Look at her. She's doing the math and figuring out what she has to do to fix it and get it done on time!" She's not pouting at all." I think it's a great observation.