(as originally published in Food & Drink International, 9/9/2013)
First, it was the lady taking a phone call loudly at her table. "Eric? Yes! Hi! Yes, now's a good time, go ahead … !" she'd shout, as if receiving an exciting trans-Atlantic call in 1927.
So, maybe you agree: "Loud Phone Call Taking" is a bad situation made possible by mobile phones that's actually getting better – phone-call-takers are slowly realizing they should slip outside, or go back by the restrooms.
Now the big trouble is this guy here: Your server arrives with his food. She sets it down. He says, "Wait!"
The server hovers, not sure when it's OK to continue. Other diners glance over, annoyed. His friends make a couple jokes at his expense.
Two, three, four seconds pass; he's having trouble focusing. He knocks the silverware aside because he doesn't want it in the photo. He leans way back, holding the camera up and squinting, raising the eyebrow above his good eye, cropping this photo like he's Henri Cartier-Bresson so he can upload it, ignore his tablemates to type a clever (or not) caption, and post that sucker so he can start gathering Likes.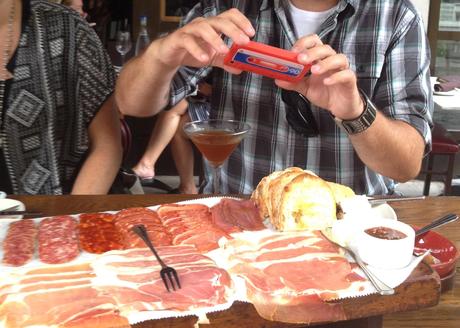 You HATE this guy. I know. Two of the reasons you hate him are valid:
1. That "ruining the rhythm of the meal" thing. Photographer Boy shuts the whole process down right at The Moment of Presentation, stomping on those initial sensory delights: the smell, the colors, the textures, the initial flavors – such a moment. If you have the kind of restaurant where you take that presentation seriously, you have every right to ban photos.
2. That "jostle the guy behind you" thing. If your layout is so intimate that people really can't take a photo that doesn't invade the space of others, OK. "Please do not disrupt meaningful moments other people paid money to experience" might be nicely engraved on a plaque.
But otherwise, I think we must let the shutterbugs do their thing. Here's why:
1. What a compliment. They're so happy with their food, they think they might want to remember it later, or show off that they're at your restaurant. Whatever their motivation, they're worried they'll regret not saving this moment before they start digesting it.
2.It's not weird anymore. Not that it makes it OK, but nobody is confused when they spot someone whipping out an iPhone and holding it about a foot-and-a-half above her edamame.
3. You're not going to change them all by yourself. Teaching them to put the phone down and enjoy the moment really isn't your job.
4. You have no actual secrets. This Vine video isn't going to blow the lid off the mysterious theoretical underpinnings of your plating technique or even your je ne sais quois.
5. How hard have you been working to get your social media program off the ground? These people are doing it for free! Geo-tagging your restaurant, checking into Foursquare, letting all their best digital friends know they implicitly endorse you – don't discourage it.
6. You gotta love the honest imagery. I was talking recently with a very successful food photographer about how to make food look delicious: It's not about perfection. This photogra- pher goes to great lengths to make people believe the appetizing food he's shooting is real. In the world of candid, amateur, hold-the-iPhone-over-the-edamame photography, that honesty is multiplied by a hundred. Every viewer knows that's what your food looks like; and if the final image isn't the gussied-up, fussed-over, ultra-dressed-up, idealized food styling you're used to, it's OK. That someone "published" this photo to their friends implies endorsement. You work hard to get that kind of honest imagery in a studio. Here, again, it's free.
7. You can respond – in fact, you should. Consider their photo an invitation to interact online, if they post it. Read what they wrote, and call it feedback, which it is – and if you have anything to say, say it. They'll adore the attention. This isn't a cranky Yelp reviewer – this is someone who wants to remember his meal.
On balance, it seems obvious to me that you're going to be glad people want photos of your food to share.
True, I wish everyone would hurry up and realize a slightly blurry image shot in natural light is a million times better than – whoofsh! – disruptive flash photography. But we're closer to that day all the time.
And yeah, you can probably still make headlines in your city by doing like Eva Restaurant in Los Angeles, which gives a 5 percent discount if people surrender their phone at the door for the duration of the meal. That certainly encourages good old-fashioned discourse and discourages snap-snap-snapping/posting/other mobile distractions.
Better still, how about learning from Comodo in Manhattan, which encourages diners to hashtag #ComodoMenu on Instagram and post food photos – essentially illustrating their menu with free digital photography that everyone with a mobile phone can access (if you don't make them check it at the door).
Conveniently, as well, the Comodo ploy plays into the fact that nobody is going to stop these crazy food photographers anyway.
Smile.