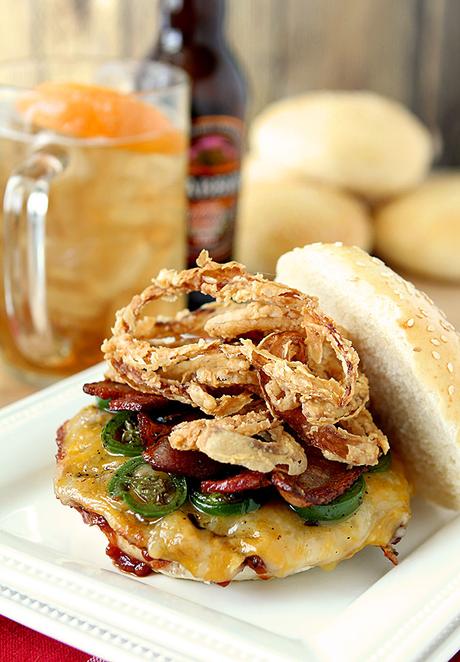 Have you noticed a LOT of burgers floating around the web this month? Well, it's Burger Month 2016 and everyone is going burger crazy. Restaurants have specials, recipes abound using Certified Angus Beef® and of course food bloggers have to get in on the action...including me! I'm in a group originated by Kita from the site Girl Carnivore and for the second year she has put together a group of us that are offering one or two recipes every single day through May with our best burgers. Find us on social media using #BurgerMonth and get ready to drool!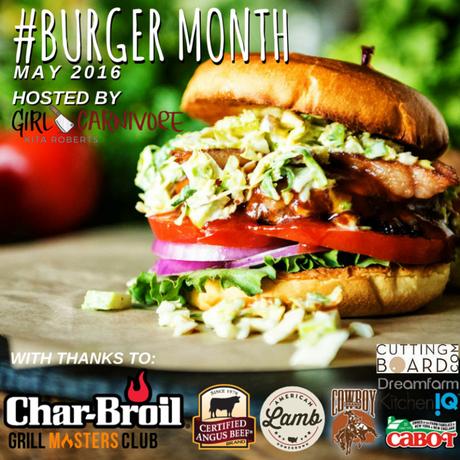 Last year I thought I had made the most amazing Lamb and Goat Cheese Burgers with Cabernet Barbecue Sauce and knew it would be tough to top it. Still, I had a recipe in mind for this year but everything changed when I stopped by a new Smashburger near me and tried the Smashburger Spicy Cowboy Burger. Oh my YUM! I knew right away my plans would change and I would have to recreate this for the WORLD!
Smashburger originated in Denver and we were lucky to have one put in close to us at my old house. While I don't eat out often I have to admit that once I visited there that I was smitten. Burgers close to the ones from my old haunt Steak n' Shake in St. Louis where I grew up plus fried onions rings that were perfect? I knew I would be adding it to my short list of places to go...and then I moved. So when I spied one while out shopping recently I had no control and my car just happened to head in that direction. It knew.
Featured right next to the cash register was a poster for the Spicy Cowboy Burger. Funny how my first restaurant visit when I moved to Denver saw me removing jalapeno peppers from the meal and now every day is opposite day; I get excited about a burger with a bit of heat. The fellow behind the cash register thought it a bit too spicy and that actually sealed the deal for me. It was everything I loved. A super thin quick cooked burger with barbecue sauce, cheese, bacon, jalapeno and then stacked with their famous onion rings. What is there NOT to love?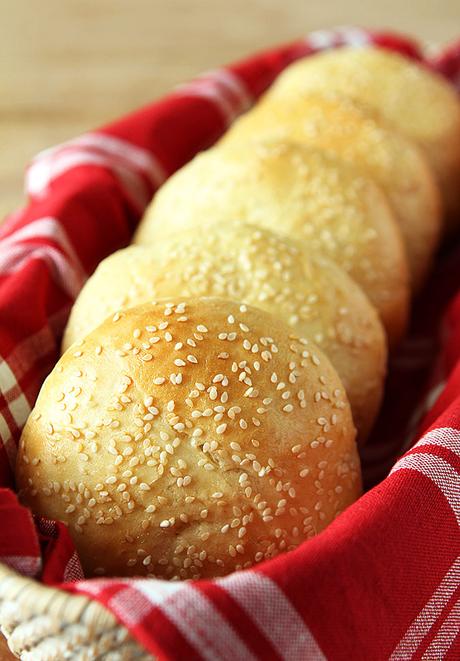 I made them last week and had a neighbor over for dinner to 'taste test.' My friend Amy is out of town and I figured her husband Casey and their son Lee could use a home cooked meal. I could only prepare one burger at a time and I considered it some measure of success that Casey almost completed his double burger before I was done with Lee's dinner. When I couldn't find any hamburger buns that were pretty enough for prime time I made my own and the boys noticed; a great burger bun does make a difference! You do not have to make your own but it sure was fun. And they sure are good.
There is a technique to making a Smashburger that is best explained in this video from one of the owners. While I used a cast iron skillet and then a smaller skillet as my 'smasher' it's important to smash, count to ten. cook another two minute and then flip your burger and cook for one more minute. I found that the ONLY way to get cheese melted was to immediate cover the burger with a small bowl once I flipped it; this thing goes quick!
I'm just featuring a single but if you know something with a huge appetite, just make two patties with cheese and stack them with the rest of the ingredients. Casey is over today helping me plant some trees...I think he is still trying to burn off those calories from last week!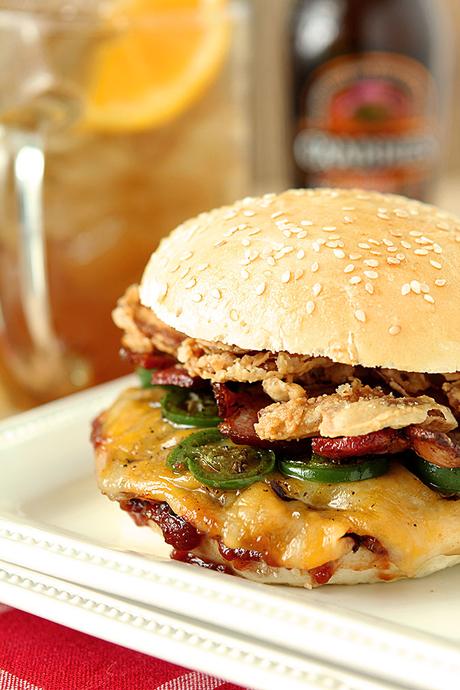 Join the fun won't you? Take a peek at Kita's #BurgerMonth 2016 page for all of the burgers made during the month; it will be updated as new ones publish...you'll have ideas to last all summer.
We also have incredible products for you to WIN all month long! Check out these PRIZES!
Casabella- Week 3 - 1 Chop 'N Prep™ Cutting Board with 4 Cutting Mats
Certified Angus Beef® brand- (4) CAB prize grilling accessory kits, $50 VISA card, and a George Motz Hamburger America cookbook.
Char-Broil- (4) Char-Broil Performance 780 Charcoal Grills
Swissmar- Week 4 - Glow 7PC Fondue Set
Make sure to include your entry in the Rafflecopter Raffle after the recipe; great burgers AND the chance to win a prize? That's absolutely a Win-Win!!
Serves One 1/3 pound burger
15 minPrep Time
4 minCook Time
19 minTotal Time

Save Recipe
Ingredients
5 oz Certified Angus Beef®
Melted Butter
Salt, Pepper and Garlic Powder to season
BBQ Sauce (use your favorite brand)
3 Tbsp Cheddar Cheese (Shredded and set out to come to room temperature)
2 bacon strips, fried
1 Jalapeno, sliced and sauteed briefly in bacon drippings
Crispy onion strings (See notes)
Instructions
Notes
http://www.creative-culinary.com/smashburger-spicy-cowboy-burger/ a Rafflecopter giveaway
Where this epic burger creation is my own for #BurgerMonth 2016, I would love to thank American Lamb Board, Cowboy Charcoal, Char-broil, Casabella, Cabot Cheese, Grill Master Club, Certified Angus Beef, Spiceologist and CuttingBoard.com for the fantastic grill prize packages!