In a joint collaboration with music artist, Santigold, Smashbox Cosmetics presents an exclusive, limited-edition, vivid and playful color range called
The Santigolden Age by Santigold
, launching April 1st. The singer, known for her predilection to mixing-and-matching her looks, inspires her collage style with this eye-catching collection. Playing with the notion of a Golden Age of our world post it's prophesied December 2012 end -
"
an age where the earth as we know it ceases to exist, revitalizing itself and morphing into its own beautifully balanced, utopic mirror image. This is a world where the earth, stars, humans, aliens and all co-exist harmoniously."
 - the collection perfectly captures Santi's vision and aesthetic. The non-traditional eye palette design,  her hand-drawn serpentine artwork featured on the eye palette packaging, the chunky Egyptian Revival-esque font, the textured pyramid ring (which houses a lipstick) and the dual-color-ended pencils (it is said she wanted four colors) are just some of the standout details.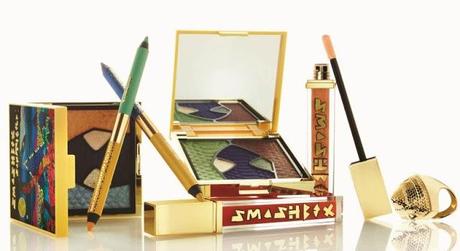 Eye Shadow Collage:
Featuring Santigold's distinctive collage art, these palettes includes 5 shades of our luxe wet/dry shadows to mix and match any eye look - $36.00
Shades include:

Earth As We Know It

(kelly green, soft sparkling cream, dark matte blue, dark sparkly forest green, raisin with rosegold pearl), and 

Apocalypse Now

(shimmery teal, sparkling pewter, matte black, shimmery oyster, bright golden orange).
Be Legendary Lip Gloss:
These one-of-a-kind glosses can be worn alone or layered over other shades to give them new life. Show-stopping color. Non-stop shine. Never sticky - $20.00
Shades:

All Gold E'rything

(sheer copper sparkle),

Hot Lava

(orange red)
Be Legendary Lipstick Ring:
A Smashbox first! This collectible snake-pyramid ring is adorned with Swarovski crystals and has a limited-edition shade of Be Legendary Lipstick hidden inside - $49.00
Shades:

Still Kickin'

(soft golden coral)
Double-Ended Limitless Eye Liner:
Eyeliner for the new era! These double-ended liners let you master your own make-believe. Mix and match the bold colors to create endless versions of you - $24.00
Shades include:

Azurite Is Never Wrong/El Dorado

(bright blue/soft gold),

Yellow Dwarf/Green Martian

(bright yellow/mint green)
Nail Polish Art Strips:
You'll have the world at your fingertips with these exclusive, mistake-proof nail strips. Designed by Santigold and @TroubleAndrew $49.00/Set.
Designs:

Serpent Charmer and Eye of The Beholder
"Santi really brought her eclectic sense of style to this collaboration. I love creating unique looks with the bright shades she dreamed up!"
—Lori Taylor Davis, Smashbox Global Pro Lead Artist
"I've always loved Santi's music, and she brought that same vibe and energy to this collection."
—Davis Factor, Smashbox Founder and Celebrity Photographer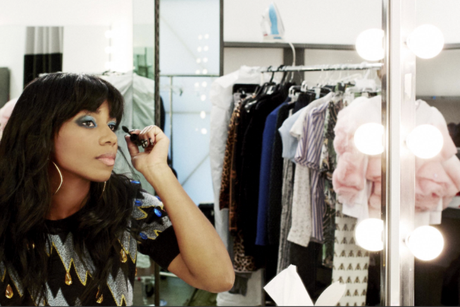 For those who want to know more about the collection, check out the YouTube "Shoppable" Video: A beautiful, stylized video (set to Santigold's
Disparate Youth
) shows YouTube viewers the gorgeous Santigolden Age Collection and behind-the-scenes footage while allowing you to shop the entire collection with just 1 click directly from the video! When you click on the rotating carousel of products featured across the bottom of the video, you will be directed to the Santigold page on Smashbox.com to shop the collection.