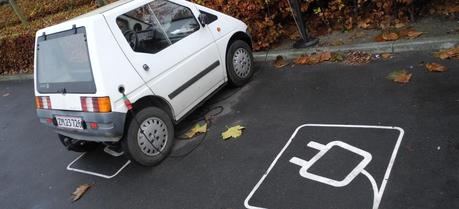 An electric car charging space in Aarhus, Denmark. (Credit: Flickr @ Michael Edson http://www.flickr.com/photos/[email protected]/)
Enabling owners to charge their electric-drive vehicle (EDV) at home is a major factor in promoting their diffusion, while smartly managed and planned recharging time and rates would mitigate the need for expansion of the electricity grid and generation capacity. These are the main findings of a JRC report analyzing the probable load on the electricity network by drivers recharging their electric cars in different probable scenarios.
The report "Projections for electric vehicle load profiles in Europe based on travel survey data" estimates load profiles on the basis of detailed travel survey data from six European countries (France, Germany, Italy, Poland, Spain and the United Kingdom), representing more than ¾ of the new car market in European Union.
The scenarios show that drivers charge their cars whenever they are parked, which would result in several electricity-demand peaks across the day, with significant spikes in the morning, early and especially late afternoon. Controlled recharging – for example during periods of overall lower electricity consumption – supported by 'smart' power grids, able to respond to the consumer's behaviour, is a way to prevent overburdening the network.
As cars are generally parked at home longer than in any other place, electric cars will most likely be charged at home, which is also what the drivers would prefer, according to the JRC research. Providing the possibility to recharge at home or at the kerbside for those who do not own a private garage, is, therefore key to avoid demand peaks.
Appropriate infrastructure needs to be complemented with a policy to expand the capacity of electricity supply, as the demanded energy during an evening peak could represent a considerable share of the available power. The need for capacity expansion could be reduced if the charging time and rate is smartly managed and planned.
The report in which these findings are published is the last in a series of four JRC reports dealing with electro-mobility aspects in Europe.