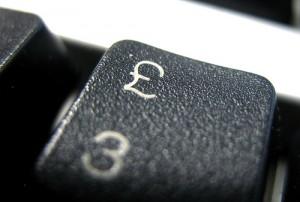 I can take my clothes off pretty fast (but not in the way you think, you perv).
I picked up this awesome skill back in the military. Back then, we used to have "change parades" – these crazy exercises where we'd have to change out of our army uniforms into a t-shirt and shorts within a minute.
I could never do it in time, because those damn buttons on my uniform would always get in the way. Then a platoon mate showed us a technique where you could undo all the buttons at a go, simply by giving the bottom of our uniforms a short, sudden, tug. Suddenly, all of us were setting new time records for our change parades, to the annoyance of our commanders who had to find other ways of making our lives miserable.
The Power of Small Tweaks
We all achieved standards that we never thought were possible, all because of this new, simple, and effective technique. I call techniques like these Small Tweaks.
What are Small Tweaks? They're tiny adjustments that can help you to achieve a disproportionate level of results. Have you ever changed your route to work that cut your commute time by a third? Or found new, efficient ways to fold a shirt or peel a potato?
Those are all examples of Small Tweaks. If you've been following my blog for the past couple of weeks, you'd have read about other Small Tweaks you can use to do what you love, gain control of your email, and spend less on phone repairs.
But best of all, you can also use Small Tweaks to help you get richer.
Tiny Strategies with Big Results
I'm super duper psyched today, because I'm releasing my first ever mini-ebook, entitled Small Tweaks: Tiny Savings Strategies with Big Results. In it, you'll read about three small strategies that could help you to save at least $300 more per month, over and above what you're currently saving. Here's the cover: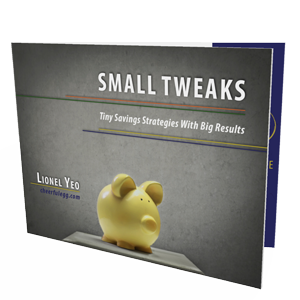 Isn't it be-yoo-tiful?
Awesome right? You'll also read about:
The reasons why most financial "advice" out there doesn't help anybody
A psychological tactic you can use to trick yourself into saving more
How to failure-proof your commitment to saving
What a legendary Greek king can teach us about resisting temptation
How to us the 80/20 Rule to target your spending more effectively
Get Your Copy of Small Tweaks
Oh, and here's the kicker: I'm giving it away, absolutely free. You don't have to pay me a cent.
All you have to do is subscribe to the CheerfulEgg VIP List by entering your name and email address in the form below, or in the sidebar on your right.
Once you'll subscribe, I'll be delivering your copy of Small Tweaks direct to your inbox. That's it.

Subscribe to get your copy of Small Tweaks
Email Address
*
First Name
Last Name
*
indicates required

See you on the other side