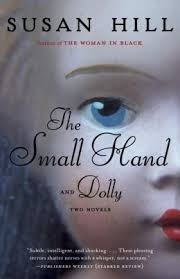 Small Hand and Dolly are two novella ghost stories from Susan Hill. This book is a Random House publication. This is a September 2013 release. I received a copy of this book from the publisher and Edelweiss in exchange for an honest review.
The first story is about a rare and antique book dealer that takes a wrong turn. He sees a white house with what had once been beautiful gardens. He knows it's unlikely anyone lives there, but he approached the house hoping someone could give him directions. It is at this time he feels a small hand in his.
The sensation of feeling this child's hand in his begins to occur from time to time and starts to impact the man's life. He is obsessed with relocating the house and putting to rest the reason he is being haunted.
The second story deals with a pair of cousins that are forced as children, for one reason or other to live with their aunt. Now, the cousins are adults and have been informed their elderly aunt has passed away. So they return to the house of their childhood. Memories surface regarding the wish for a certain type of doll and receiving another one instead. It seems that the aunt and the doll are not too happy about being mistreated.
Just in time for Halloween the queen of ghost stories, Susan Hill, gives us two spine tingling stories to read on a cold winter night.
Both of these tales are set in Britain and have the tone of British ghost stories. The first story was a the better one in my opinion. The second story did have a couple of twist , but it wasn't really a GHOST story per se. I suppose it could be called a haunting.
Either way, these stories are short and just right for getting into the Halloween spirit or if you are just in the mood for a good ghostly yarn.
Overall this one is a B.