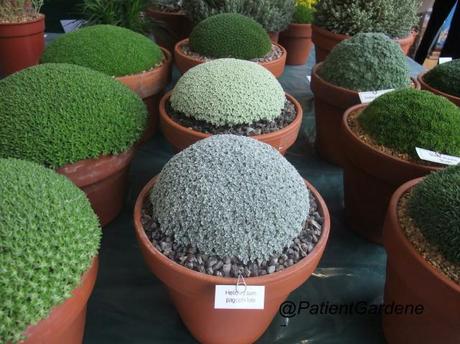 You would think as my eye sight was diminishing and I seem to wear my reading glasses on an almost permanent basis these days that becoming interested in alpines wouldn't be an obvious new direction – but I rarely choose to do the expected.
These things inevitably happen in an unexpected way and my new curiosity was caused by a conversation on Twitter.  There are a number of nurserymen and plantaholics on there and many a late night conversation about the more unusual plants.  One evening for some reason I can't remember seed distribution schemes came up and the Alpine Garden Society was mentioned.  I had never heard of them.  My twitter companions told me that in their opinion the AGS Journal was excellent and well worth the subscription.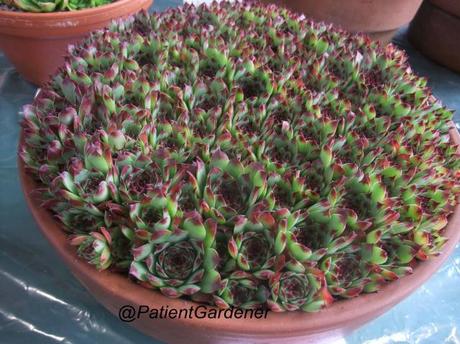 Needless to say being of an enquiring mind I had a mooch on the internet at the AGS website and managed to download an old copy of the Journal.  It was fascinating reading.  A little 'technical' for  my knowledge in places but I want to learn more about plants so this was just what I had been looking for a while.  The subscription wasn't much so I decided to join.  An information pack quickly arrived and I had access to the online forum.  Not quite in the same league as Twitter volume wise but still  very interesting if only to show me how limited my plant knowledge actually is!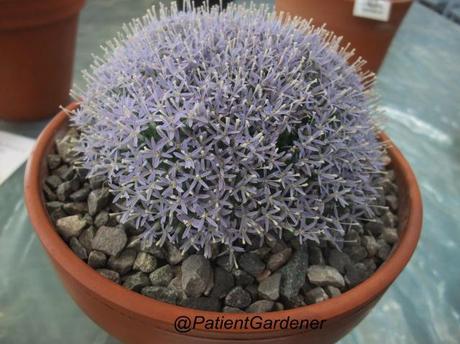 Trachelium asperuloides
My information pack told me that one of the AGS shows was going to be the next weekend in Tewkesbury not far from me so I decided to pluck up courage and have a look.  I'm getting better at going to these things on my own but still struggle to just wade in and start a conversation with people I don't know.  I had a wander around the show discovering lots of new and fascinating plants.  I also discovered that my notion of alpines wasn't necessarily correct.  In my head it was all rock gardens and tiny domes of plants but I learnt 'alpine' refers to plants growing in mountainous areas (I think?!) and includes ferns, various perennials and lovely things such as Meconopsis poppies and Arisema.   I had a chat with a nursery woman who pointed me in the right direction of true alpines to start off with and I bought a few.  The good thing about these alpines is that due to their size they are generally quite cheap and won't take up much room in my increasingly full garden.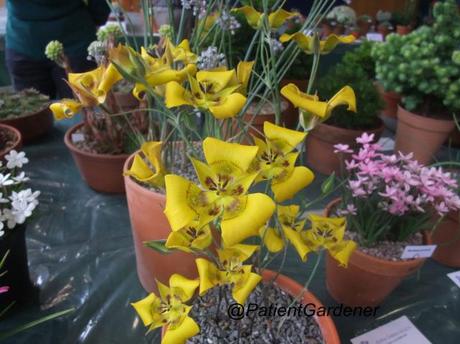 Calochortus clavatus var recurvifolius
A further conversation on the AGS forum encouraged me to go to my local meeting which I duly did yesterday.  Luckily the nearest group meets just under 30 minutes away.  I turned up and was very warmly welcomed.  There were more plants for sale by various members, many who seemed to be nursery owners.  So much expertise to tap into.  Then we had a talk  by  Peter Cunnington formerly curator of the University of Liverpool  Botanic Garden.  His talk was on south-west China, its plants but also very interestingly how China had changed in the 20 odd years he had been visiting.  I learnt loads in an hour and half not only about the amazing range of plants but also about China and also about plants and alpines in general.  Peter is an excellent speaker, very funny and easy to listen to.
I came away from my first AGS meeting with a Primula x fosteri to nurture as part of my growing interest in Primulas, a large pot of Colchicums which I won in the raffle and a new enthusiasm and interest.