I started my first business nearly 15 years ago. Looking back on that experience, I'm still amazed by the fact that the fundamental steps a business owner needs to take to create and grow their business remain virtually unchanged. On the other hand, the tools that are now available to accomplish those steps have advanced beyond my wildest dreams.  These tools are both incredibly functional as well as shockingly inexpensive.
Over the past couple of weeks, I've spent considerable time with six small business owners in different industries and at various stages of growth; evaluating their business' tech infrastructure. Although each one had specific needs calling for specific tools, I found that nearly all of them either needed (or were already using) the seven technology-based tools described in this article to strengthen their businesses.
Below is a snapshot of the demographics of the businesses with whom I worked, which lead to my conclusions about the broad applicability of the technology tools I'm recommending.
Demographics of Businesses Analyzed
Size

: ranged in size from 2-5 full time employees with varying numbers of contractors

Age

: ranged from 1.5 to 8 years in business

Industries

:

Commercial real estate
Technology
Legal
Education
Construction (x2)

Office type

:

3 in traditional offices
2 in home offices
1 with people working from a traditional office and home offices

Financing:

Bootstrapped: 5
Venture Capital: 1
Tool 1: Google Apps for Email and Calendar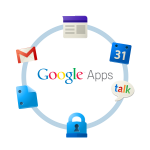 Every single company that I talked to either already uses Google Apps or agreed that they needed to switch to Google Apps.
Google Apps is basically Gmail for business owners.  It allows you to have a custom business email address on your businesses domain name (eg: yourname@businessname.com) and adds the functionality of a shared business calendar, shared Google Drive, a suite of other tools, and administrative controls that make it easy for the business owner to control each employee's or contractor's accounts.
Some of the businesses I met with already had a business email address (yourname@businessname.com), but they either set it up through GoDaddy.com when they registered their domain name or their website designer offered to set up their email accounts for free. All of these businesses, however, had problems with managing and sharing calendars.  They agreed that having a built-in, shared company calendar was a compelling enough reason alone to switch to Google Apps, which costs $5/month/user.  The other tools that Google Apps offers are nice, but the shared calendar is the key.
For those businesses that were still using a free web mail service (businessname@gmail.com), the decision to use Google Apps was obvious.
The only real competitor to Google Apps is Microsoft Office 365, whose comparable product offering for business email, shared calendar, and SkyDrive starts at $6/user/month, but it's still a new service and the online versions of MS Word and Excel are still, in my opinion, a bit less useful than Google Docs.
Here is a link to Google Apps signup page (30 day free trial): http://www.google.com/intl/en/enterprise/apps/business/
Tool 2: Virtual PBX or business VoIP for  business phone number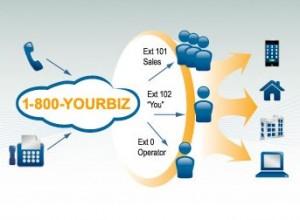 Of the companies that I met with, one was using a basic land line for their business number (but primarily using their cell phones), two were just using cell phones, one was using a virtual PBX, and 2 were using business VoIP.
The cloud has arguably done more to reduce costs for phone systems than any other business tool.  Through a virtual — or "cloud" — PBX, a business owner can get a separate business phone number (or port their existing number into the system), an auto attendant, multiple extensions (routing to existing cell phones or any other phone number for that matter), corporate voicemail, and more for as little as $10 per month with no equipment or setup costs.
For those businesses that prefer to have physical, business phones in their office; business VoIP provides all of the functionality of a traditional business phone system (and more) for roughly $25 per line, per month. In addition, these providers sell their VoIP phones at heavily discounted rates — roughly $100 each. Most of these plans also include free access to your own conference bridge and a dedicated online fax number that you can use to send and receive faxes.
There are a number of companies that offer business VoIP services and the pricing and features vary a considerable amount; so it's best to use a comparison table to decide which one best suits your business.
If you need a separate number for your business with business phone system features, but you're happy using cell phones for all your calls, use a virtual PBX service.  Here is our comparison table: http://virtual-pbx.choosewhat.com/
If you prefer to have separate physical business phones in your office, making it easier to transfer calls between phones and providing you with a dedicated number for each phone in addition to the main corporate number, then you should use a business VoIP.  Here is our comparison table: http://business-voip.choosewhat.com/
I know this technology sounds really confusing.  The amount of jargon in the marketing materials makes my head spin.  That said, the companies have done a great job making their apps and online interfaces wonderfully simple to use. If you have questions, just post them in the ChooseWhat forum: http://www.choosewhat.com/forums/, and we'll answer them.
I will post part II of this series later this week, covering the next 2 tools that all small business should use.