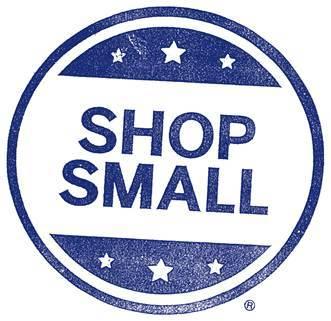 Small Business Saturday is November 30, 2013 this year, the day after Black Friday. Sponsored by the National Federation of Independent Businesse (NFIB)s and American Express, Small Business Saturday is perhaps one of the best examples of a marketing promotion that has become a staple of small business marketing in a relatively short amount of time. On this day in 2012 consumers spent more than $5.5 billion at small businesses.
According to  the second annual Small Business Saturday Insights Survey, released yesterday by the NFIB and American Express, the day will be a part of most small business promotional calendars. Of those small business owners incorporating Small Business Saturday into their holiday plans, 70% say Small Business Saturday will be helpful in attracting new customers.
Again this year, American Express will give Card Members a special offer for shopping on Small Business Saturday. Card Members who register an eligible American Express® Card will get a one-time $10 statement credit when they use their registered Card to spend $10 or more on November 30, 2013, in a single, in-store transaction at a qualifying small business location that appears on the Small Business Saturday Map.Findings from the survey also uncover the lengths to which small businesses are ready to go to promote their activities on Small Business Saturday. Among those that plan to incorporate Small Business Saturday into their holiday promotions:
75% say the day would be more effective if communities participated together by hosting events;
39% are planning to collaborate with other small businesses in a community event to promote Small Business Saturday; and
33% rely on social media most to promote Small Business Saturday to their customers.
The Small Business Saturday Insights Survey was created to provide a window into holiday planning for small business owners. Other key survey findings relating to Small Business Saturday activities include:
67% will offer discounts on specific items or general discounts on the day;
36% will offer coupons for future offers or discounts;
32% are starting their holiday promotions earlier than last year; and
21% are planning to increase the number of employees working on Small Business Saturday.
For the past three years, small business owners have embraced the day and developed creative and effective ways to promote their businesses. American Express is again helping to amplify those efforts with free digital and in-store marketing tools to help small business owners expand their local footprint on Small Business Saturday and throughout the holiday season.
The Small Business Saturday Marketing Toolkit provides businesses with turnkey, personalized assets and materials to better promote their efforts. These tools are available at ShopSmall.com and include:
Printable signage and decals to print and display in a business
Logos and imagery for business websites, custom materials, and social media pages
Suggested social media and email templates to get the word out to customers on the Web.