What began as a dream collaboration of four successful and hardworking business women came into fruition on Feb. 1, 2018. The Retreat officially opened its doors to the people of Corpus Christi and is our small business feature. The grand opening, where cocktails and delicious food were served, was attended by over 60 people, including the United Corpus Christi Chamber of Commerce and City Councilman Rudy Garza, Jr. Local radio station The Beach 96.5 were also there, covering the event and going live for the opening.
SMALL BUSINESS FEATURE: WHAT IS THE RETREAT?
The Retreat is an exclusive salon and spa, with a sweet (literally!) twist to it. They offer hair services, waxing, massage therapy, and facials. It's also home to Coastal Cosmetics Tattoo, which does expert permanent make up application, and Southern Style Sweets, which serves some of the best desserts in Corpus Christi. If you're looking to get pampered and satisfy your sweet tooth all at the same time, The Retreat is the place for you.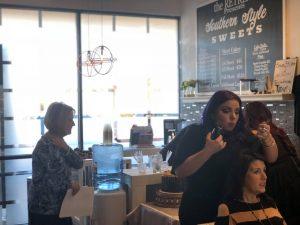 THE PLACE
It's obvious to anyone who walks into The Retreat for the very first time that this place is something different and special. A very modern and cosmopolitan feel engulfs you immediately and the good vibes surrounding the salon is contagious. The design is an interesting mix of contemporary and nature, giving off that chic Austin vibe. Their beautiful walls, decorated with black and white photos and unique art pieces, are made from refurbished wood from the Hurricane Harvey devastation.
THE OWNERS
The week's small business feature, The Retreat, is run by a very diverse group of women from different backgrounds: Lyndsi Mcelwee-Donahue, Angela Mallia, Jenna Davis, and Ashley Jones. The business is a showcase of all of their strengths and talents in one exciting location.
Lyndsi is master hairstylist and head of their design team. She had her own hair business prior to The Retreat and is also an event planner. Angela went to school for accounting, but her true passion is massage therapy. She managed a spa for many years prior to The Retreat. Jenna runs Southern Style Sweets, her passion for cooking, baking, and feeding people led to her success. She makes all her baked goods fresh daily for customer of The Retreat and also bakes for events including weddings and baby showers. Ashley works remotely from Virginia Beach, Virginia. With her positive and compassionate nature, a talent and enthusiasm for networking, she is The Retreat's head of marketing and advertising, human resources, and social media.
These women are all advocates for promoting small businesses, supporting the community, and giving back.
THE RETREAT EXPERIENCE
Besides the unique atmosphere, what sets The Retreat apart is the overall experience that they can give. For the women of The Retreat, it's more than just about feeling good on the outside; they want to give the people of Corpus Christi an unforgettable experience that will uplift them on the inside as well.
"Customers should expect nothing but the best hair and spa experience in town! Our promise is to provide an elegant and relaxing environment, create positive energy, productivity and overall well-being," Jones said.
THE IRONWOOD SUPPORT
Ironwood Finance is all about supporting small businesses. More than just provide extra working capital, we also find other ways to make life easier for small business owners. One of the many programs that we offer is Clover, a point of sale (POS) system that allows you to accept all payment types, track inventory, manage time sheets, run reports, and print. It comes in different types, so small business owners can decide what fits their business the most.
"Ironwood Finance has been a great support in building The Retreat. Our POS (point of sale) system was provided by Ironwood and the owner, Kevin Donahue, and other employees also helped with the construction in building The Retreat," Jones shared.
Visit The Retreat at 5325 Saratoga Blvd., Suite 220 Corpus Christi, TX 78413.
Check out their website for prices and services.
More photos from our Small Business Feature's The Retreat's Grand Opening
For more information on Clover, click here and for other Ironwood Finance small business services, call us at (361) 589-9719, shoot us an e-mail at [email protected], or click here and maybe you can be our next small business feature.
Receive more business advice by subscribing to our newsletter: