I've recently started going through the remains of one of my favorite sculptures, 'The City'; a sculpture that somehow got destroyed when I lent it to an exhibition in Birmingham some years ago. I'm considering using what I can repair and salvage from the original sculpture and, together with new additional element, making a larger version. In going through the small box sections that made up 'The City' (a kind of mobile tower version of a cabinet of curiosities, made out of found materials) I started thinking about some of the small wheeled box sculptures that I made not long after I'd built 'The City', and which were influenced by this larger piece. So I thought I share some of these pieces with you here.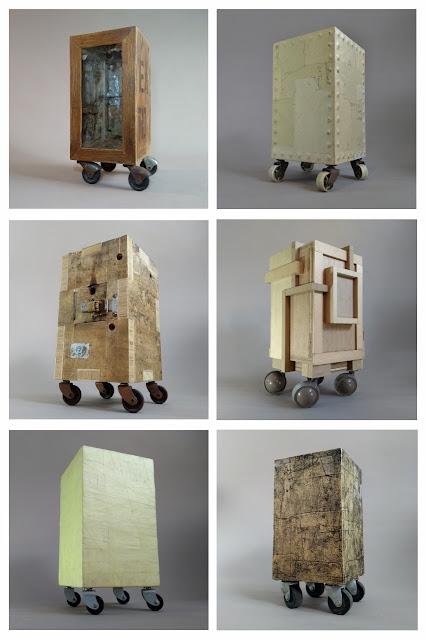 Small wheeled box sculptures by artist, Wayne Chisnall
All of these small sculptures were made in the first few years after I moved to London in 1999. One of the reasons that they are so small is that for my first few years I either didn't have a dedicated art studio or I was living in a cramped live/work space (often an old shop front, or a single room in a flat share), so my work space was usually also my bedroom.
The first of the six pieces you see above is 'Spider Box', made from sections of an antique tea chest and contains spider husks, cob webs, and a dead wasp. the third, 'Don't Feed Box', has a door set into the front, that opens up to a human hair-lined interior. The fourth is called 'Blind Copy Box'; 'Copy' because it's dimensions and details copied the early stages of one of my other sculptures (Nest Box), and 'Blind' because whereas 'Nest Box' has a glass lens set into it, Blind Copy Box just has a flat wooden surface.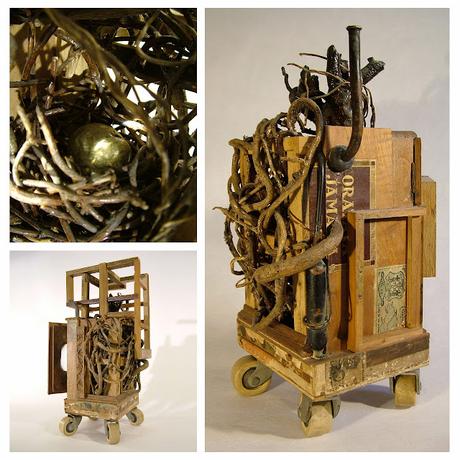 'Nest Box' sculpture by artist, Wayne Chisnall
Of all these early box sculptures, 'Nest Box' probably bears closer resemblance to elements of its big sister, 'The City'. It incorporates pieces of found wood and metal, vines, a magnified lens, a stone, and it sits on casters. As you can see from the photos, I had started to incorporate a framework structure to it, with the intention of continuously adding to the piece over time, and letting it develop in an organic manner. However, I've not been able to find it for some time now. Hopefully it is in a box somewhere in one of my art stores (even though I've looked for it exhaustively). Otherwise I have probably got left behind at an exhibition or something similar).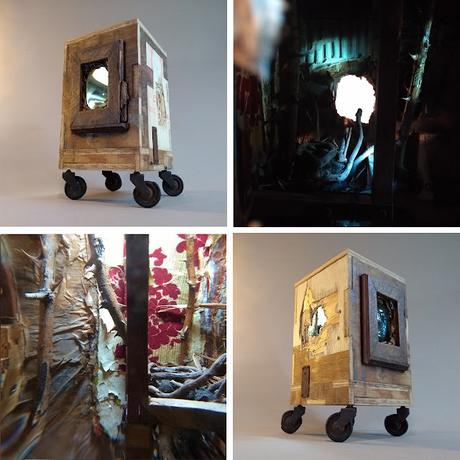 'Sleeping Beauty Box' sculpture by artist, Wayne Chisnall
'Sleeping Beauty Box' (so named because of the rose thorns inside of it) is also made with a magnified glass lens; a window that allows the viewer to see the piece's 'inner workings'. One of the things that I like about using magnified lenses is that it gives the interior scene of the sculpture a dream or fairy tale-like appearance - magnifying and throwing one area into sharp focus, whilst slightly distorting and blurring the area immediately around it.
This one, 'Arterial Box', is coated in multiple layers of street and roads that I hand-cut from the pages of an old London A to Z. By cutting out all the negative spaces between the roads and streets, and layering them over one another, on the surface of the box sculpture, I was able to build up a dense network of road systems; systems that would be impossible in reality - connecting parts of London that shouldn't be connected. One of the things that I enjoyed about creating this piece is that once I had decided where to place a layer of 'road lacework' on a particular surface, any sections that then folded of the edge of that surface (especially if it then folded over a second edge of corner) would reroute the pathways in even more unexpected directions.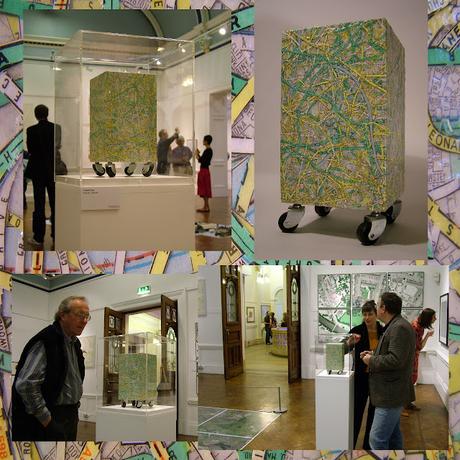 'Arterial Box' sculpture by artist, Wayne Chisnall, at 'Mapping' exhibition, Bury Art Museum
In 2007 I exhibited 'Arterial Box' at Lancashire's Bury Art Museum, in an exhibition called 'Mapping'. It was a really good show, with lots of big name artists; artist such as Cornelia Parker, Richard Long, and Ian Hamilton Finlay. 
I remember that when I drove up Bury from London to go to the show's private viewing, I foolishly deciding to take the more scenic route rather than stick to the motorways, which on the maps looked to be of a less direct route (oh the irony). I took something like 8 hours - with myself and my patient passenger, the art journalist, Holly Howe, spending more time than we'd have liked, ambling through villages with 20 mph speed limits.