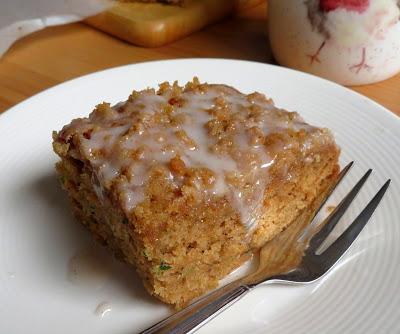 Its that time of year again.  The time of the great garden Zucchini glut.  It happens every year about this time. We end up with zucchini (or courgettes as they are loving called here in the UK) coming out our ears. We don't even have to grow it ourselves because everyone else who is growing it will soon start happily dumping it on us. I got one given to me just the other day!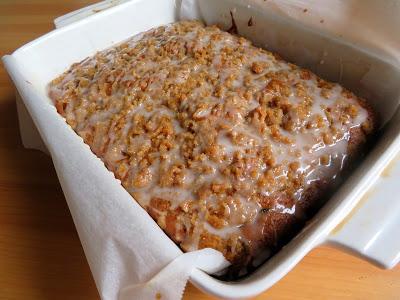 I don't mind gifts like that. I have had plenty of years of dealing with Zucchini Glut. It doesn't scare me and I know what to do with all of it. When my kids were growing up I used to grate as much of it as I could and I would freeze it in plastic milk bags, ready to use in the Winter months.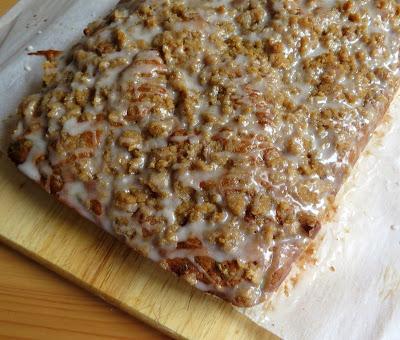 With five kids we used to buy our milk in 5 liter bags, and I would save the plastic bags from inside (there would be 3 or 4 I think).  They made great freezer bags. They were plenty heavy enough and held quite a bit each.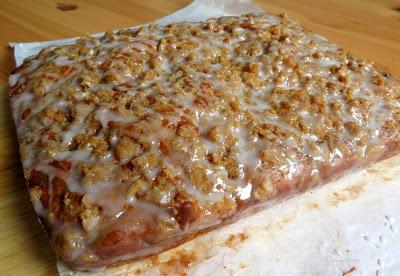 The grated zucchini was great in things like zucchini bread/loaf or cakes, etc.  I especially always loved this Zucchini Coffee Cake.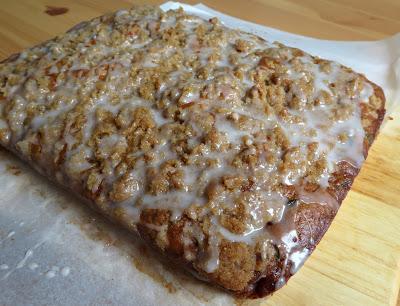 Now when I say coffee cake I mean a cake that is meant to be eaten with cups of coffee or tea, not a cake that has coffee in it!  Just so you know!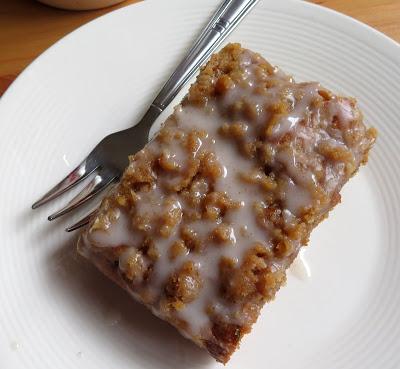 Anyways, the original recipe made a 9 by 13 inch cake. With only two of us we don't need a 9 by 13 inch cake, and so I downsized it.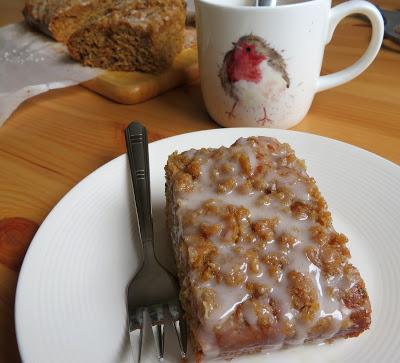 The cake is now 7 by 11 and is perfectly sized for the smaller family.  It cuts into 8 pieces rather than 16, which is still rather a lot, but we can easily cope with it.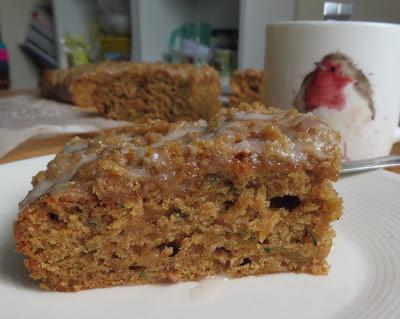 It is moist and delicious and lightly spiced . . .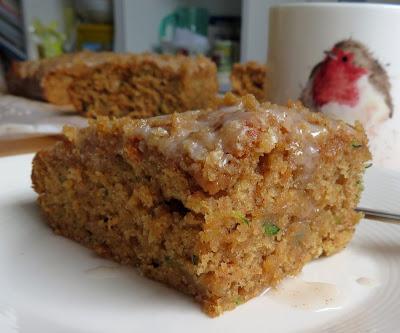 Perfect for breakfast or brunch or coffee break or elevensies or  . . . just because you are craving a delicious piece of cake!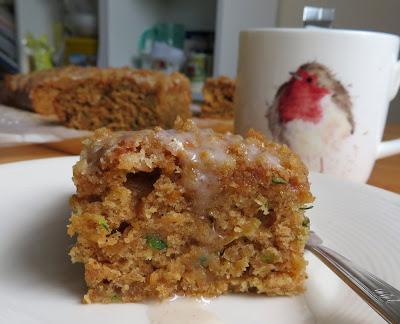 Its flavoured with vanilla, nutmeg and cinnamon  . . . .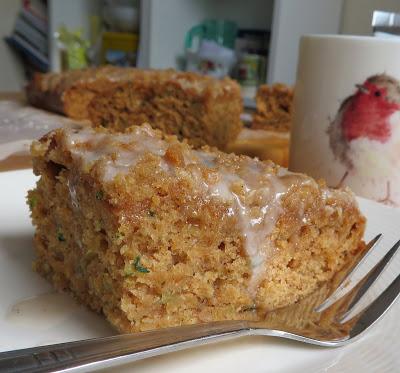 And the nuttiness of browned butter . . .  Oh sure you can use just plain melted butter, but if you can, do make the effort to make browned butter!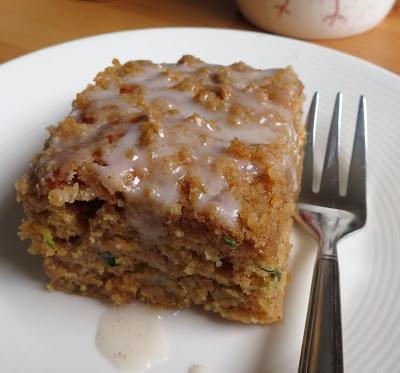 For both the cake and that scrumptious browned butter brown sugar streusal you sprinkle over top  before baking  . . .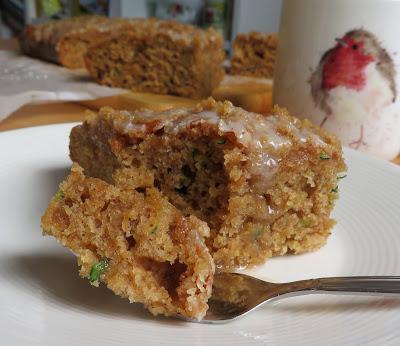 Oh my . . .  the smell of browned butter just gets my tastebuds to tingling big time . . . .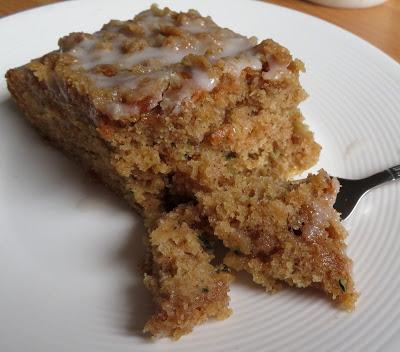 The final touch is a simple vanilla drizzle which you toss here and there over the top of the cooled cake.  Perfection.  
Small Batch Zucchini Coffee Cake
Print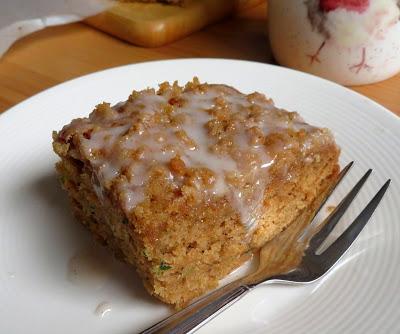 Yield: 8
Author:
Marie Rayner
prep time: 20 M
cook time: 35 M
total time: 55 M
The perfect thing to do with your garden zucchini glut.
Ingredients:
For the cake:
4 TBS butter
1 1/4 cups plain flour (175g)
1/2 cup packed soft light brown sugar (100g)
1/2 tsp baking soda
1/4 tsp salt
3/4 tsp ground cinnamon
pinch nutmeg
1/2 cup Greek Yogurt (120g)
1 large free range egg
1 tsp vanilla
3/4 cup grated zucchini, undrained (125g)
For the streusel topping:
2 TBS butter
1/4 cup packed brown sugar (50g)
1/4 cup plain flour (35g)
1/4 tsp ground cinnamon
for the glaze:
1/2 cup icing sugar (60g)
1 TBS milk
few drops vanilla
Instructions:
Preheat the oven to 350*C/180*C/ gas  mark 4. Butter a 7 by 11 inch dish really well and line with baking parchment.
Begin making the cake base by browning the butter. Put the butter into a small saucepan and heat it over medium low heat, swirling it every now and then until it begins to turn golden brown and smells nutty. Pour into a glass dish and set aside to cool.
Whisk the flour, sugar, baking soda, salt, cinnamon and nutmeg together in a bowl.  Whisk together the egg, yogurt, vanilla and browned butter. Make a well in the dry ingredients and add the wet.  Stir just to combine. The batter will be thick.  Stir in the undrained zucchini. Spread into the prepared pan.
Melt the butter for the streusel topping the same as you did for the cake, allowing it to turn golden brown and smell nutty. (DON'T let it burn.)  Cook to lukewarm. Whisk together the sugar, cinnamon and flour.  Add the browned butter and mix together until crumbly.  Sprinkle evenly over top of the cake.
Bake the cake in the preheated oven for 30 to 35 minutes.  It should be golden brown and a toothpick inserted in the center should come out clean. Remove from the oven and let cool on a wire rack.
Whisk together the glaze ingredients until smooth.  Drizzle over the top of the cake.
Cut into squares to serve.
Did you make this recipe?
Tag @marierayner5530 on instagram and hashtag it #EnglishKitchenCreated using
The Recipes Generator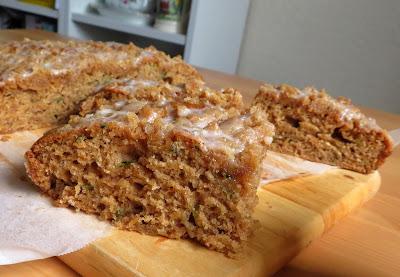 What is your favorite thing to do with the zucchini glut?  I really want to know! 
This content (written and photography) is the sole property of  The English Kitchen. Any reposting or misuse is not permitted. If you are reading this elsewhere, please know that it is stolen content and you may report it to me at:
[email protected]

Follow my blog with Bloglovin