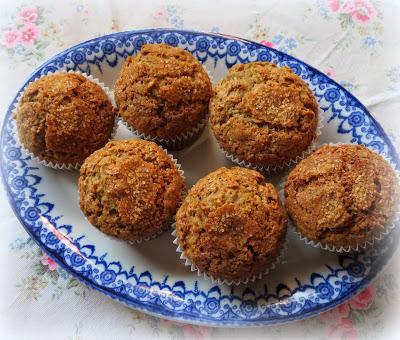 I quite like to enjoy a muffin in the mornings either for breakfast or mid morning with a hot drink. Muffins always seem to be an acceptable option to choose for a snack rather than having cake.  And a proper muffin really is nothing like a cake, so you would be well justified in thinking so.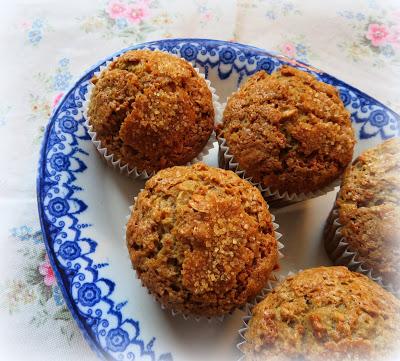 By muffin, I mean a quick bread, not overly sweet, the size of which is  somewhere in between a golf ball and a tennis ball . . .  not those huge things that masquerade as muffins in most bake shops, coffee shops and yes, even Costco.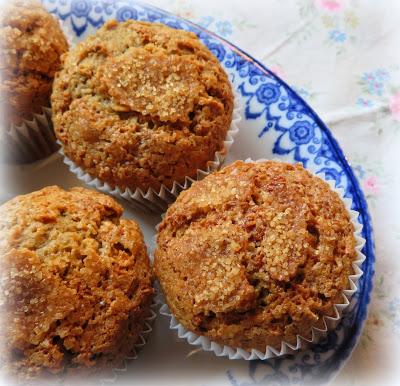 I love oatmeal muffins.  I think next to bran muffins they are my favorite kind of muffin.  When my children were small I used to buy the Quaker Oat Muffin Mix and stir chocolate chips into it  for baking.  The children loved them, and yes, so did I.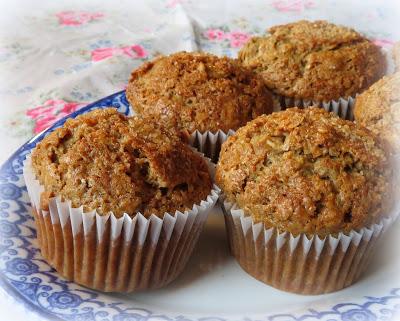 There is no such thing as a muffin mix over here, at least not that I have seen.  When I had my own Coffee Shop, I used to serve muffins.  I would buy big plastic containers of muffin mix  . . .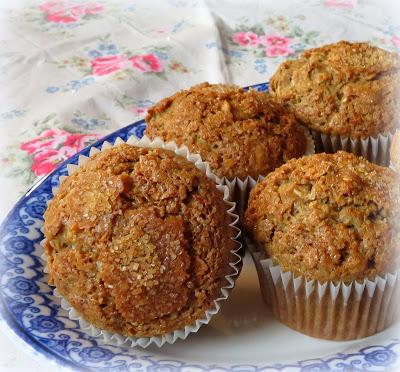 I would buy in carrot muffin mix, bran (always popular), banana and morning glory (everyone's favorite.)  Personally I was never fond of the carrot one, but I did not mind the others, and I did a brisk business with them, selling them out every day.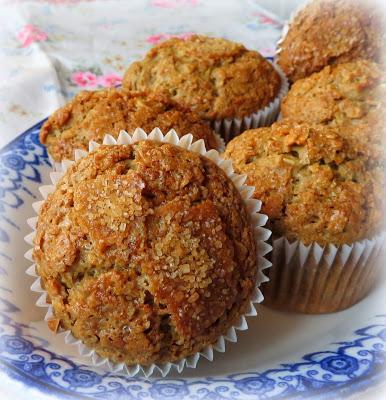 It was an easy option.  It came frozen in huge tubs and you just scooped the mix into the muffin tins and baked. Easy peasy lemon squeasy.  When you are on your own and baking dozens every day, it was the best option, especially when you also had a lot of other things to prepare such as sandwiches, etc.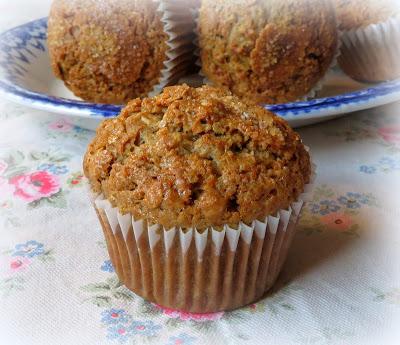 Now there are only two of us I usually bake small batches of things.  I have slowly been cutting my regular recipes down to make only half as much of things.  It only makes sense.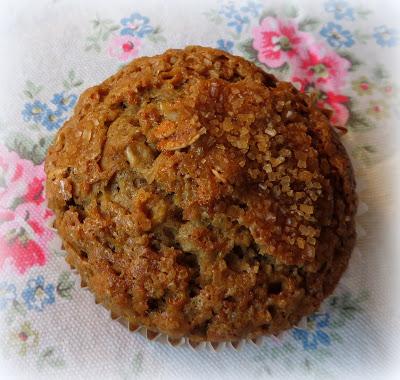 These are lovely muffins . . .  just about the size of your fist.  Moist and delicious with a lovely peaked top . . .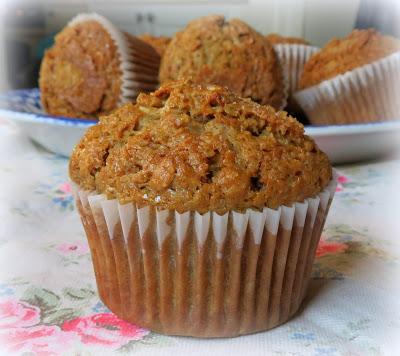 The flavours are nice  . . .  maple, brown sugar and cinnamon.  Not overly sweet, but just right . . . 
Using oats adds a bit of nuttiness and a lovely texture . . .  and oats are wholesome and good for the heart.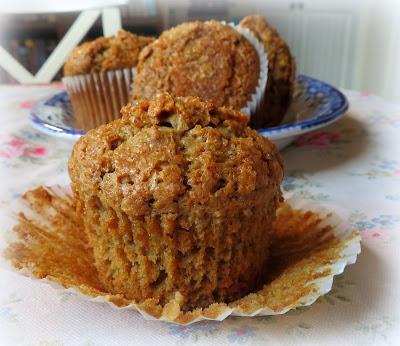 I favour old fashioned oats . . .  with large flakes.  You can use rolled oats also.  I just don't recommend using quick oats . . . but that is just a personal choice on my part.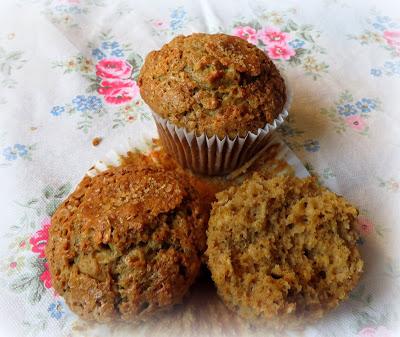 Never having used them, I cannot answer to the result you might have if you
did
use them. Like I said I like the old fashioned ones.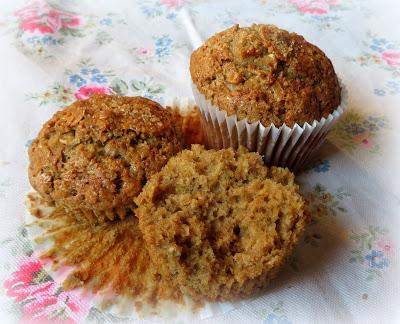 I also like to use Muscovado brown sugar, which has a higher molasses content and which is less refined than regular brown sugar.  I also use pure Maple syrup, amber grade, not artificial maple syrup. 
Yield: makes 6
Author: Marie Rayner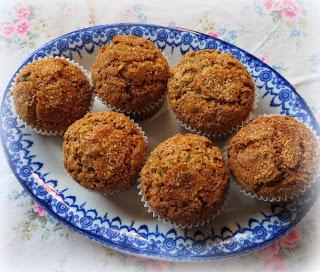 Small Batch Oatmeal & Maple Muffins
prep time: 10 mins
cook time: 25 mins
total time: 35 mins
Delicious Maple and brown sugar muffins that we really love. Moist and delicious and not overly sweet. Sized to make just six muffins, but can easily be doubled to make more.  You can also freeze these
ingredients:
80g old fashioned oatmeal (1 cup)
120ml milk (1/2 cup)
60ml pure Maple syrup (1/4 cup)
3 TBS vegetable oil
70g soft light brown sugar (1/3 cup, packed)
1 large free range egg, beaten
105g plain flour (3/4 cup)
1/2 tsp baking powder
1/4 tsp bicarbonate of soda
1/4 tsp ground cinnamon
1/4 tsp salt
Demerara sugar to sprinkle on top (turbinado) (optional)
instructions:
Preheat the oven to 200*C/400*F/ gas mark 6.  Line a six cup muffin tin with papers.  Set aside.
Measure the oats into a bowl. Add the milk and let sit for 10 minutes.  Add the oil, brown sugar, maple syrup and egg.  Sift together the flour, soda, baking power and salt.  Stir the dry mixture into the wet mixture just to combine. You will have a wet batter.
Divide equally amongst the muffin cups. Sprinkle a bit of demerara sugar on top of each if desired.
Bake for 20 to 25 minutes, until well risen and the tops spring back when lightly touched.
Created using
The Recipes Generator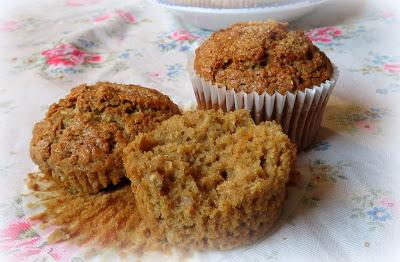 These really are lovely muffins.  Sometimes I will add some vanilla, but  more often than not I don't.  I suppose if you really want a deeper Maple flavor you could use Maple Extract.  Its not something which exists over here in the UK.  I like these just as they are.  I do think some chopped toasted walnuts would also be an excellent addition.  Bon weekend!