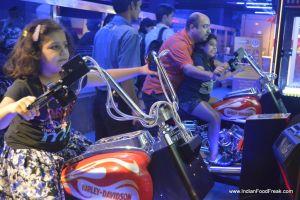 I remember those fairs (melas) and fetes – merry go round, giant wheels, bursting balloons with the rifle and many more things that I enjoyed as a kid. Times have changed and the new generation is looking for something that can suit their changing preference and habits. Even though Gurgaon has no dearth of good eating joints, it hardly has places where Gurgaonites can go out with family and entertain themselves in an outdoor activity. I have personally stayed in Gurgaon for over a decade and have always missed those family bonding outings. I recently visited Smaaash on my birthday along with my family and I am so glad I did.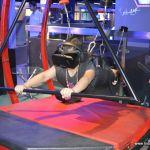 Located behind Starbucks at Cyberhub and occupying the entire ground floor of a building (whopping 47000 sq ft approx), Smaaash is wholesome fun for family and friends to spend the entire day in a world of its own. It boasts of many virtual reality interactive games and rides that will keep everyone occupied without anyone catching up on facebook or whatsapp on their mobiles. Here are the games that we tried and the ones we loved: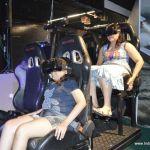 Fly Max: This is the best virtual reality game that one shouldn't miss. There is a screen where you can draw how your ride on a roller coaster should look like. You can make it very-very steep or you can make it take you round and round in circles – it all depends on your imagination. Just sit on the chair, put up an Oculus Rift and you are ready to experience your self-made roller coaster. The chair on which you will sit coordinates with the rift, a blower will blow required air on your face and you can get the entire experience in 3D.
The Rift is a virtual reality head-mounted display developed by Oculus VR. It has integrated headphones which provide spatialised audio.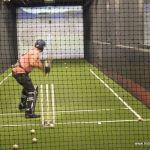 Cricket: So you always enjoyed watching cricket and even played it as a kid. Here is your opportunity to face Wasim's toe-crushing yorkers, Shane Warne googlies or Tendulka's spin. Just decided your level between beginner to a pro and a machine will bowl you the same pitch, ball and motion as by your favorite cricketer. I am told this has been perfected by getting these players to bowl again and again and by robotics perfecting their signature deliveries. It is so much of fun and even one game can be enjoyed by different family members within the same time slot. And of course, one of your family members will also get a mic and can play the commentator.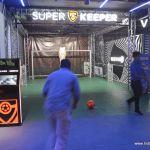 Football: You are playing against a robotic player who is quick in saving a goal. If you can beat the goalkeeper in six consecutive hits, you can even win the Harley bike that is kept inside Smaaash. While I couldn't do it, here is a tip. Just kick the ball towards any upper corner of the goal post and that is the only way to win.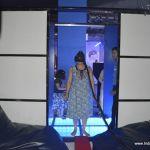 Walk the Plank: If you have vertigo, don't even dare this game. It simulates walking on a plank between two very tall buildings. And if you fall off the plank, you will get a feel of falling off a building except that this is completely safe.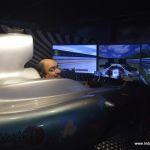 F1 Stimulator: While you may never get to ride on the real F1 car, you can feel the G-Force in the simulator ride available here.
Bowling: There are many bowling alleys in the city. However, this is the only one that shows off your bowling skills under UV lights.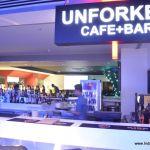 Smaaash not only has great games. I even enjoyed the food at Unforked Café & Bar during our long halt here. The buffet is one of the most competitively priced at Rs. 399 inclusive of all taxes but we ordered ala-carte given a special day. Because I have been a food writer for very many years, my family understands that average food can never be enjoyed by me. I personally wasn't expecting much from the food at the Unforked Café & Bar which is a multi cuisine restaurant of Smaaash since its USP is the games. However, their young chef Siddharth Jokhani who hardly smiles impresses you with what he learnt during his training at Taj.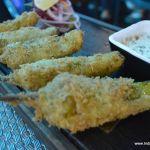 Dahi ke tikke are nice while Bharwan mirch is one must try. Filled with goat cheese, these can be as simple or as gourmet as one can think. Murgh karara is crisp from the outside while soft and juicy inside; not a mean feat to achieve.
The Burmese Khaosuey is one of the best I have had in Gurgaon. If you haven't tried this soupy meal then try it at Smaaash.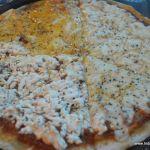 Their three cheese pizza (Mozzarella, cheddar and goat cheese) is very different. Instead of mixing all the three cheeses, they sprinkle each cheese separately on each pie. It helps in getting the flavor of each cheese – the purpose of mixing cheese gets defeated where some cheese may provide the stretch and other cheese impart flavor.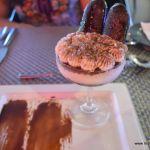 Tiramisu retains Bailey's flavours and isn't made overly sweet like many others. The overall food is much above my expectations and given all lovely restaurants in cyber hub, I would still like to come back to eat here.
There are many other games too. Go there and explore. Just try and come either by Metro or public transport. The three hour window at Rs. 40 at cyber hub parking will seem very small, and post that, one has to pay Rs. 100 for every extra hour.
Address: Smaaash, Behind Starbucks Coffee, Ground Floor, DLF Cyberhub, Gurgaon | Phone Number: 0124-39 40 1888