This post may contain affiliate links. Please read my disclosure.
This slow cooker vegan white bean soup is loaded with veggies and a rich smoky flavor. It's a hearty yet light, and an easy weeknight meal.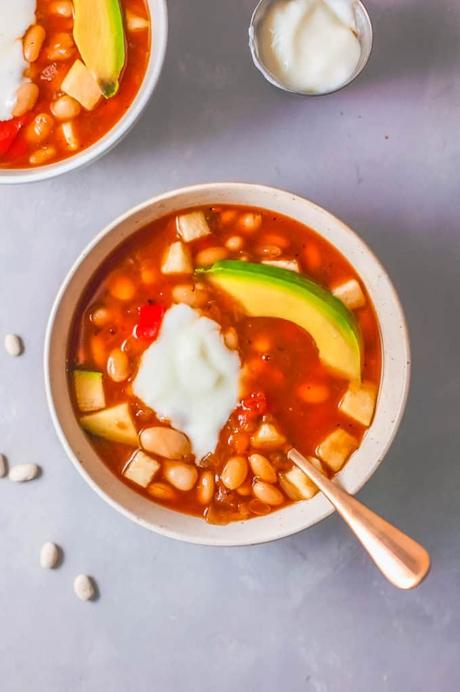 Spring and summer are here, and although I've moved more towards making lighter dishes, lately I have been craving a warm and veggie loaded soup.
Enter: This slow cooker vegan white bean soup. It's a cross between a soup and chili with a rich smoky flavor that comes from the ancho chili peppers.
I absolutely love using my slow cooker to prepare dried beans and lentils. Using a variety of spices I have on hand, I ended up with a delicious smoky vegan white bean soup that's packed with veggies, protein and deep spices.
And can I just tell you - the leftovers the next day were even more rich and flavorful. The perfect balance of heat from the ancho chilis, the freshness of the veggies, and sweetness from the tomatoes rounded out this meal. There is no reason to feel guilty after eating a huge bowl (or two!) of this recipe.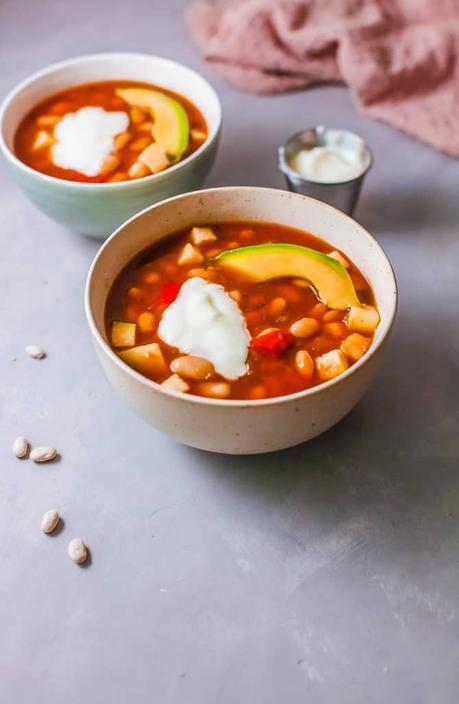 I topped it with a dollop of vegan sour cream and some chopped cilantro - but you can use any toppings you like: avocado, crushed tortilla chips - the possibilities are endless!
This makes a TON of food so it's perfect for serving a large group of people. It also freezes great so you can always make a big batch and save some for later. My family loved this dish and said it even rivaled my " Best Vegetarian Chili " recipe!
Tools and Equipment You'll Need
How to Make Vegan White Soup - Step by Step
Step 1: Combine 1 cup diced onion, 1 cup diced bell pepper, cilantro, oregano, garlic, and ancho chile peppers in a food processor; process until almost smooth. .
Step 2: Heat oil in a large skillet over medium heat. Add onion mixture to pan; cook 8 minutes or until liquid nearly evaporates, stirring frequently. Add cumin and next 6 ingredients (through bay leaf); cook 2 minutes, stirring frequently. .
Step 3: Transfer mixture to a 6-quart electric slow cooker. Stir in remaining onion, 1 cup bell pepper, broth, beans, and tomato puree; cover and cook on LOW 7.5 hours.
Step 4: Stir in remaining bell pepper, zucchini, and diced tomatoes
Step 5: Cook on LOW 30 minutes - 1 hour or until vegetables are tender. Discard bay leaf.
Step 6: Top chili with a dollop of vegan sour cream, cilantro, crushed corn chips, diced avocado - or anything you like!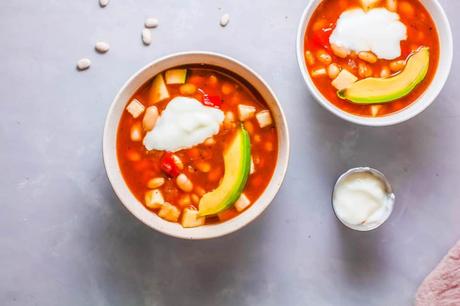 What makes this Vegan White Bean Soup healthy?
Loaded with Vegetables: Onions, peppers, cilantro, garlic, tomatoes, and zucchini. All these added veggies give this soup a chunky texture without adding fat or calories.
Low in Fat and Calories: One serving of this soup has 215 calories and and only 2 grams of fat.
High in Protein and Fiber: The white beans in this soup add protein and fiber. The protein and fiber makes this soup hearty and filling, yet still light.
Rich in Vitamins and Nutrients: The added veggies and white beans make this a nutrient rich soup. White beans are high in folate and iron, white veggies like zucchini are high in B6, Vitamin A, folate, riboflavin, and thiamine.
Will kids enjoy this slow cooker soup?
My kids really enjoyed this soup. The recipe makes a ton, so we enjoyed eating it as left overs, and the kids gobbled it up. The key to making this kid friendly is cooling the spice. Adding a dollop of vegan sour cream, or topping with creamy avocado also helps to neutralize the spice.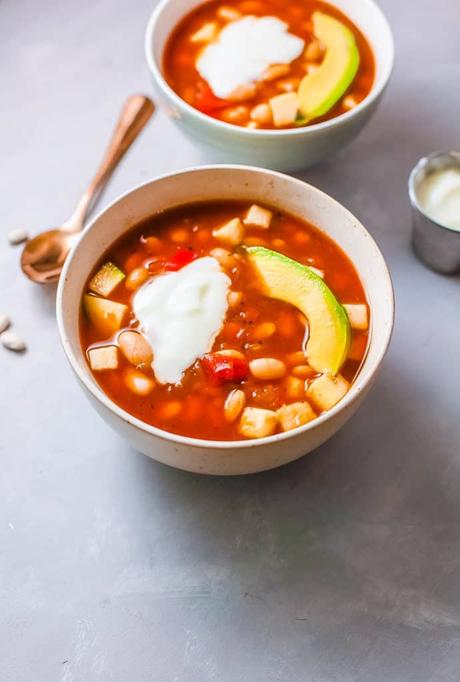 Dried White Beans vs. Canned White Beans
Using dried white beans is less expensive than canned. Canned beans often have added salt, so using dried reduces the sodium in your recipes.
There are also some concerns about using canned items due to BPA. However, you can find canned beans and other foods that are BPA free, and most canned items have now adopted BPA free liners.
Canned beans offer convenience, as they are already pre-cooked, and can reduce the overall cooking time of this soup from 7 hours to 4 hours.
What are ancho chiles?
This recipe calls for ancho chiles. Ancho chiles are sweet and smoky. It's what gives this soup a rich depth of flavor. They are dark red, and wrinkled, with a mild heat.
What do you serve with Vegan White Bean Soup?
Crusty whole grain bread
A light green salad
Side of steamed or roasted vegetables
Grilled veggie sandwich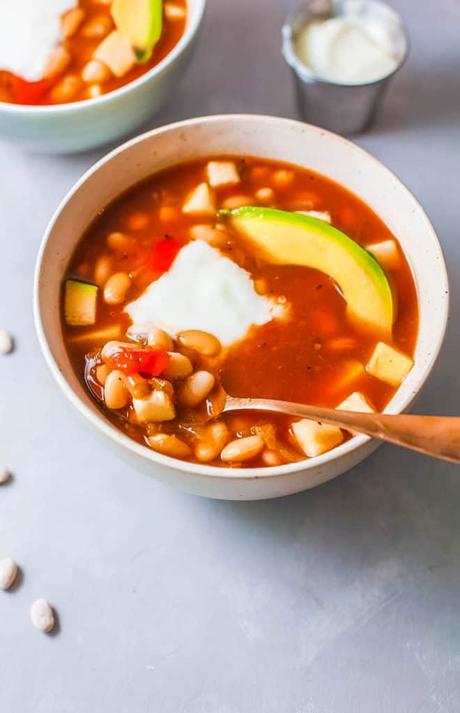 Be sure to blend the onion, bell pepper, cilantro, oregano, garlic, and ancho chile peppers, and sauté before adding to the slow cooker. This really helps to combine the ingredients and deepens the rich flavor of the soup.
Chop remaining vegetables into even pieces for a more uniform bite.
Using dried white beans increases the cooking time in the slow cooker.
If you do not have dried beans and use canned beans you can reduce cooking time to 4 hrs.
You can use any mix of vegetables you like in this recipe! Corn, summer squash, and leafy greens would all work well.
Top Tips for Making the Perfect Slow Cooker Soup
Check out these other vegan soup recipes!
If you have tried this Vegan White Bean Soup recipe, or any other recipe on my blog, then please rate it and let me know how it turned out in the comments below! You can also FOLLOW ME on FACEBOOK, TWITTER, INSTAGRAM and to see more delicious, healthy, family friendly food!
Slow Cooker Vegan White Bean Soup