Slow Cooker Sweet Potatoes 3 Ways- One base slow cooker recipe for sweet potatoes, and three ways to serve them!  Having these slow cooked sweet potatoes on hand makes dinner prep a breeze!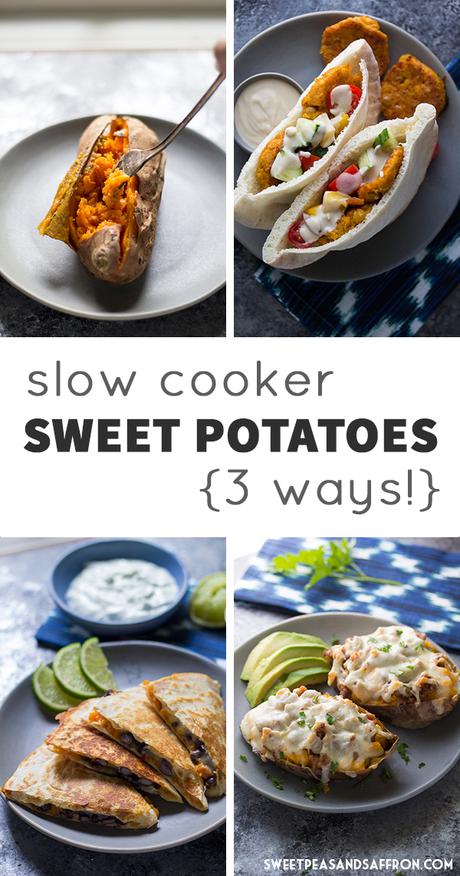 Note:  This is a new series where I provide one base slow cooker recipe and three ways to serve it.  For the links to the ways to serve these slow cooked sweet potatoes, scroll to the bottom of the post.
Guys, I am really excited to start a new series on the blog.  One thing I've come to realize over the past year is that you guys LOVE slow cooker recipes.  And that's just awesome, because I love my slow cooker, too!
One problem I've always had with my slow cooker is that often times it cooks really large batches of food.  Big batch shredded chicken, or beef, or large amounts of sweet potatoes.  As a family of 3, we always end up with lots of left-overs.
Rather than eat the same dish over and over again, I thought it would be great to come up with multiple ways to use these left-overs!
Even if you have a big family and don't end up with left-overs, I hope these recipes can help you diversify your dinner routines.  Having slow cooked portions (be it chicken, beef, or sweet potatoes) on hand makes dinner SO much quicker to whip up.
So let's get started!  Today I am sharing a (ridiculously easy) recipe for slow cooker sweet potatoes.  If you can even call it a recipe.  Because all it is is sweet potatoes + slow cooker.  And after 8 hours on low, you are going to have the most tender, creamy sweet potatoes ever!