By Meet Karina 
Slow Cooker Stew Recipe with Buffalo Sausage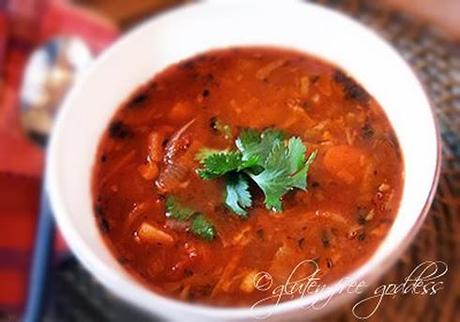 This is a robust and rowdy recipe perfect for a crowd to slurp during half time or whatever time you happen to crave something hot, slightly spicy, and just plain winter day delicious. And there's not a bean in sight. Not one.  
Need it meat-free? That's easy, Babycakes. Just use gluten-free vegan sausage. Or beans. Boom. Team Vegan.
Ingredients:
Virgin olive oil, as needed
6 cloves fresh garlic, chopped
1 large onion, sliced thin
4 medium carrots, chopped
4 cups thinly shredded green cabbage4 medium Yukon Gold potatoes, peeled, dicedSea salt and freshly ground pepper, to taste2 14-oz cans Muir Glen fire roasted tomatoes- diced or crushed as you prefer1/4 cup balsamic vinegar1 teaspoon rubbed sage1 teaspoon each of: dried basil and parsleyHot red pepper flakes, shake to taste5-6 cups organic broth, as needed8 organic free-range buffalo sausages, sliced

Instructions:
Drizzle some extra virgin olive oil into the bottom of a Crock Pot or slow cooker and turn it on to High. When the oil is warm add the chopped garlic and onion; stir to coat. Add the carrots, cabbage and potatoes. Season with sea salt and pepper.
Add the canned tomatoes, balsamic vinegar, sage, basil, parsley, and hot red pepper flakes, to taste. Pour in enough broth to generously cover the veggies. (If you like more of a brothy stew add more broth; a thicker stew, add less.)
Cover and cook on high for 4 to 5 hours, until the potatoes and carrots are fork-tender and the cabbage is melty soft.
Add the sliced sausages to warm through (they usually are cooked; if the sausages you use are not cooked, add them in at the beginning). If you need to add more liquid, add some extra broth. Cover and heat through for another twenty to thirty minutes till heated through.
Taste test for seasoning adjustments. Add a pinch of brown sugar to balance the heat or tartness, if you need to. Add more salt and ground pepper, if you need it.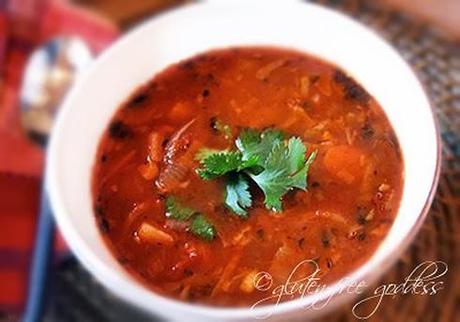 Free Slow Cooker Stew with Sausage

Serves 8.
GFG's Notes:
This recipe is gluten-free, soy-free, dairy-free,  egg-free, nut-free and corn-free. So what's not to love?
And... this versatile recipe is wonderful as a vegan stew with black or white beans added.