I've never actually tried any pulled meats. They have been pretty fashionable in recent years,  but I gave up meat long long before ever spotting anything "pulled" on a menu.
The idea of a new texture however does excite me so last year when I heard about the idea of jackfruit as a kind of vegetarian/vegan version of "pulled" dishes, I was curious enough to hunt some down and try it out. The first recipe I tried was using a homemade barbecue sauce and after that I was completely sold on the idea. Unfortunately, I didn't get any decent photos at the time and the recipe has never made it on here but it's high on my to make again (and again and again) list.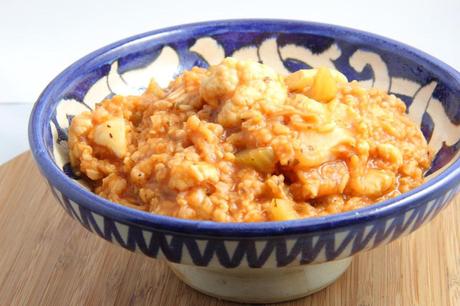 Getting hold of the jackfruit is surprisingly simple, depending on where you live, as you can buy tinned jackfruit from most Asian supermarkets. After that, all you need to do is drain the fruit, cut off any of the harder core and then slice it up. I usually pop out the big seeds too but to be honest I don't know if that's necessary or not as they seem quite soft – anyone know?
As I mentioned before, I don't have anything to compare it to but that the texture is apparently true to the original has been confirmed by Pete when I've cooked it for him. Knowing it isn't a heavily processed substitute is fantastic and this made me curious to try out some more ways of cooking pulled jackfruit.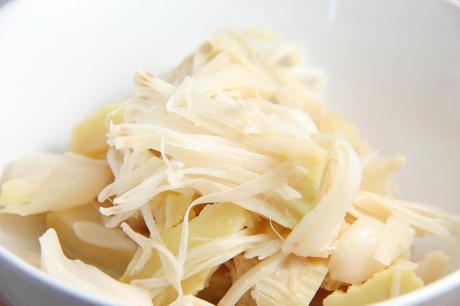 This recipe was inspired by this slow cooker recipe for 'Once Forgotten Jambalaya', the idea being that whilst it is easy to forget you have something cooking in the slow cooker (yep, I'm fully aware of this phenomenon; my first batch of carrot & ginger soup had to be chucked out after an accidental overnight stay in the slow cooker) this is so good you will never forget it again.
The first change I made, as you might have guessed, was to swap the chicken for jackfruit but I also decided to use brown rice and a couple of extra vegetables for a nutritious dinner.

Slow Cooker Pulled Jackfruit Jambalaya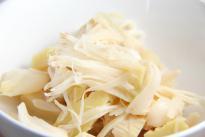 Save
Print
Prep time 30 mins Cook time 8 mins Total time 38 mins   Pulled jackfruit slow cooked in a rich, spicy sauce with brown rice and cauliflower Author:
The Tofu Diaries
Recipe type:
Main
Cuisine:
American
Serves:
6
Ingredients
200g brown rice, rinsed
1 liter vegetable stock
280g (1 tin) tinned jackfruit, drained
½ cauliflower, cut into florets
3 celery sticks, chopped
2tbsp tomato purée
4 garlic cloves
2tsp parsley
2tsp basil
2tsp oregano
2tsp cayenne pepper
1tsp chili flakes
Method
Bring a large pan of water to the boil. Add the rice and simmer for 20 minutes.
Drain the rice and transfer to the slow cooker. Add all of the other ingredients and stir a couple of times.
Cook in the slow cooker on low for eight hours or high for four hours.
Use two forks to shred the jackfruit and add salt or pepper to taste.
3.2.2929
Have you tried pulled jackfruit yet? Let me know what you thought!