The aromas of this slow cooker pot roast will boll you over when you walk through your door! And, what's the best thing to come home to after a long day's work? Great aromas!
Slow Cooker Colorado Pot Roast Secrets
What makes this pot roast so dang delicious is the simple combination of some great ingredients! You've got the two flavor mixtures of a gravy mix and then the added depth of the potato leek soup mix. Then you're going to get some unique flavors and colors with the roasted peppers, and, please feel free to add more than just the twelve ounces! I mean who doesn't love to get a tasty roasted pepper in every bite!
Now I love love a great pot roast and I have several recipes for different ones. Here's another that I think you'll like Bourbon Fajita Pork Roast.
Making this Recipe Easier For You!
I'm not sure about you, but I do a lot of buying on Amazon. It's convenient and saves time. Now, if you click these links for some of the ingredients, I get a very small itsy bitsy few cents as part of the Amazon Affiliate Program. Believe me, the time I invest in linking up these products for you is worth helping you with yet another way to easily make this recipe!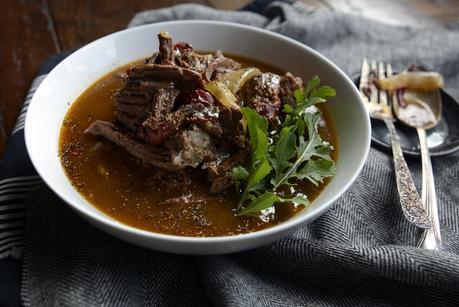 Ingredients
Instructions