Yes, yet another 'no brainer' recipe using your slow cooker. It doesn't get much easier and simple than this. This slow cooker beef short rib recipe is simple divine. The meat is so gloriously tender after cooking for over five hours that it melts in your mouth.
The Possibilities are Endless
What can you do with these beef short ribs. Well, more than you can even imagine. Now, I served on crusty cibatta baguette bread with romaine lettuce, thinly sliced jalapeno and/or serrano peppers and olives. But, there're just so many other ways to use this beef. Spoon over garlic mashed potatoes or rice (cauliflower rice will work). Make some pasta, I love papparadelle or tagliatelle, and serve like you would your favorite sauce. Oh, oh, how about soft (or crispy) tacos! Yes yes! And, then if you want to add more broth and veggies you can make a soup. And, certainly by just adding some cooked potatoes, carrots and celery, you'll find yourself with a scrumptious stew! It's a perfect base for a Shepherd's Pie, too. And, dream up some new ideas for casseroles with this beef. I can just see one decadent dish of lasagna with lots of cheesy goodliness!
Just in case you want to keep that slow cooker out and cranked up, here's an Enchilada Chicken recipe. Yep, to die for!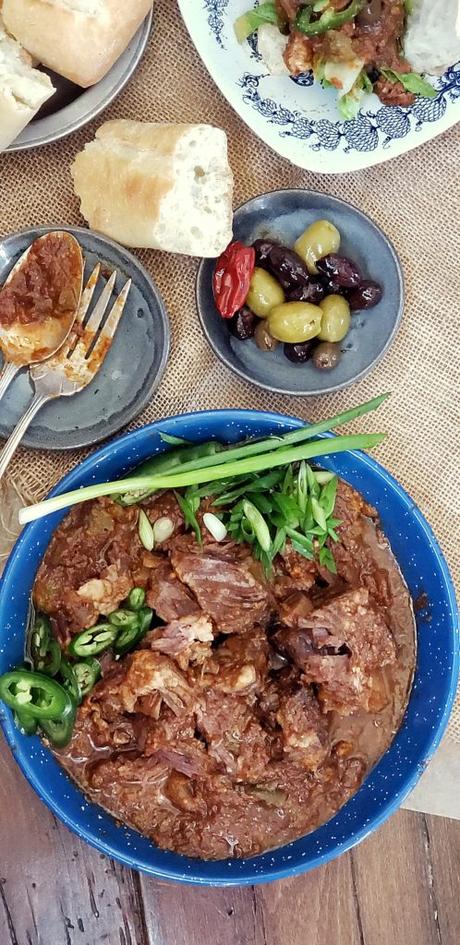 Ingredients
1/4 cup bacon drippings
2 lbs. beef short ribs, bone in, about 4
1/2 tsp. sea salt
1/2 tsp. coarse ground pepper
1/2 tsp. garlic granules
1 tsp. smoked paprika
2 tsp. McCormick's Grill Mates Roasted Garlic & Herb Seasoning
3 cups beef stock
2 cups prepared salsa, spice/heat level to your liking
2 cups sweet onions, medium diced
2 cups green bell peppers, medium diced
Instructions