This past Saturday Mayhem and I went antique/junk/handmade shopping at the Trade Days with my mama for a few hours.  It was terrifically hot, but we had a good time walking and looking at everything (twice, even!), eating boiled peanuts, funnel cakes, and roasted corn.  Besides two wooden painted cars for Mayhem I think food was all we bought, although we did have nonbuyers remorse over a stand globe ($20) and a beautiful (but pricey!) world map made of handcut gemstones.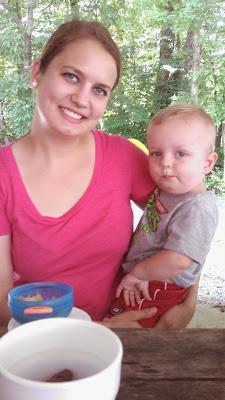 Late that afternoon, just like the nurse said he might, Mayhem developed a fever from his shots.  And even though he was just uncomfortable and not contagious, it meant we'd have to miss church on Sunday. 
All the poor little thing wanted was to be held, day and night.  He's so cuddlely when he's puny!  Lots of time to just sit and watch tv while he laid on my shoulder because there was no convincing him to get down and play.  

Sleeping in his own bed became a problem.  Since I weigh too much to sleep in his bed that meant he'd have to sleep in mine so Boots and I slept with a 25 pound space heater between us for two nights.  


After his fever broke and he was back to normal we tried to go back to sleeping like we had been.  Mayhem was most resistant.  It seems I'd become quite spoiled to getting to sleep 4 hours at a stretch instead of the 45-90 minutes I'd been used to for the past several months.  Back to the same old not sleeping.  Boots and I even packed up and went to Target one afternoon and bought him a brand new mattress, thinking maybe his was uncomfortable since he was so much heavier now.
This past week was torturous for me.  Four nights of very little sleep and too much coffee during the day to allow for a nap, I swear I cracked up yesterday morning.  I was so desperate for sleep I fantasized about claiming to be crazy and locked up just so I could sleep!  It was something serious.  

And the only thing worse than having a baby laugh at you while you cry over your eggs is having him tell you to dry it up, I swear he said it!


This exhaustive funk was getting serious and not something to be cured by writing and preserving the evidence so I did all I could otherwise yesterday to pull myself out of it.  I tried to pray and remind myself of how very very thankful I am that I don't have to get up and work a real job after staying up all night.  The weather was overcast and cooler than it had been so I pushed Mayhem in his stroller for a long walk down to the river.  But it wasn't long or fast enough to work off all that pity pie I ate!  After lunch I thought some paint fumes would do me some good (that sounds really bad!) so while Mayhem took his little 45 minute nap I painted two doors and touched up some trim and things around the house.  Later in the afternoon I was organizing a board on Pinterest while rocking Mayhem and had a little bit of creative inspiration.  I posted a tease photo of what I was working on and here's what eventually came out of it.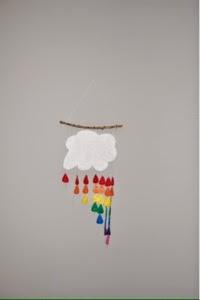 It was supposed to be a dream catcher/mobile for Mayhem's room, but I liked it so much on the office wall where I took this photo it's still hanging there.
Without me saying anything about how bad a day I'd had, Boots took it upon himself to get up with Mayhem last night and I was able to sleep almost 8 hours!  This morning is definitely looking up.  Rest sure puts a better perspective on things.
And here it is the weekend again!  Perhaps a more exciting update on Monday, okay?
.........................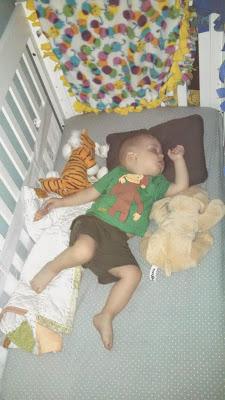 Napping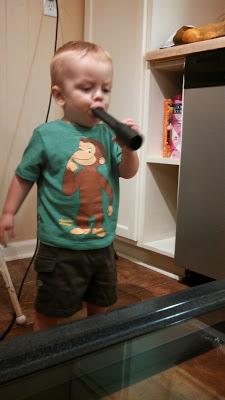 Vacuum cleaner crevice tools double as kazoos, right?