By: Erin
It's the 4th of July and what could be more American than burgers and bacon? Well boy oh  boy do I have a real treat for you then! I received an invite via email to attend an event that occurred last week at the Slater's 50/50 Rancho Cucamonga restaurant to come see the new place before its Grand Opening on July 1st and to try out the New Slater's 50/50 Menu items that were being released July 1st, 2013.  I was very excited for this as I am a HUGE Slater's fan. I love my bacon!! It is a real special treat. Slater's is famous for their 50/50 Burgers– which are 50% ground bacon and 50% ground beef.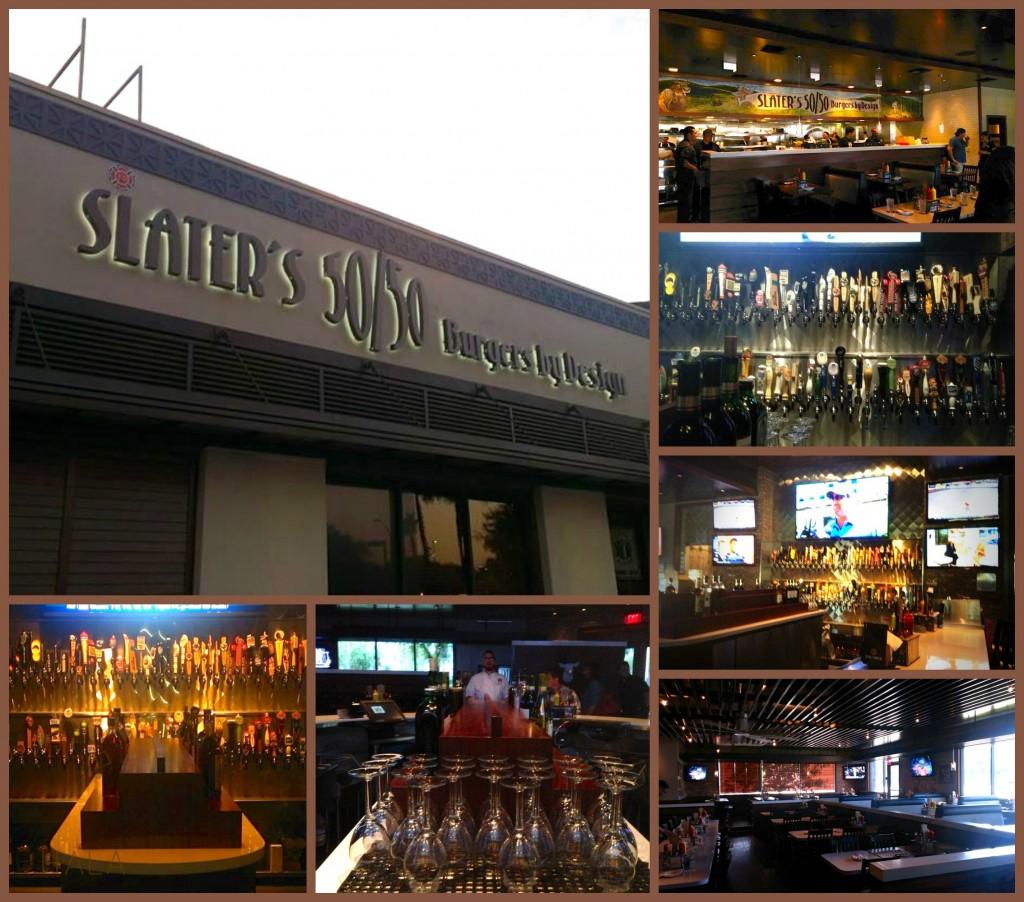 Here's a peek into what the new location at Rancho Cucamonga looks like! It's a beautiful place isn't it? I loved the layout and with just over 100 beers on tap, that's my kind of place! At Slater's it is all about the bacon!!  Almost every item at this restaurant can be ordered with bacon…they even have bacon brownies and bacon milkshakes! We were introduced to THE Scott Slater of Slater's 50/50 along with Executive Chef Brad Lyons as we started off the evening.


We first started off with the Sweet Potato Fries with an amazing pumpkin sauce ($4.95) followed by the Slater's Vampire Dip ($8.95). The fries were wonderfully sweet and crispy and I think I could have dipped everything we had in this pumpkin sauce, I loved it so much. The Vampire Dip is roasted garlic, cheese and artichoke dip served in a sourdough bread bowl with fried pita chips. Be prepared for some super gooey cheesiness heaven. It may get a bit messy with the cheese, but it is so worth it.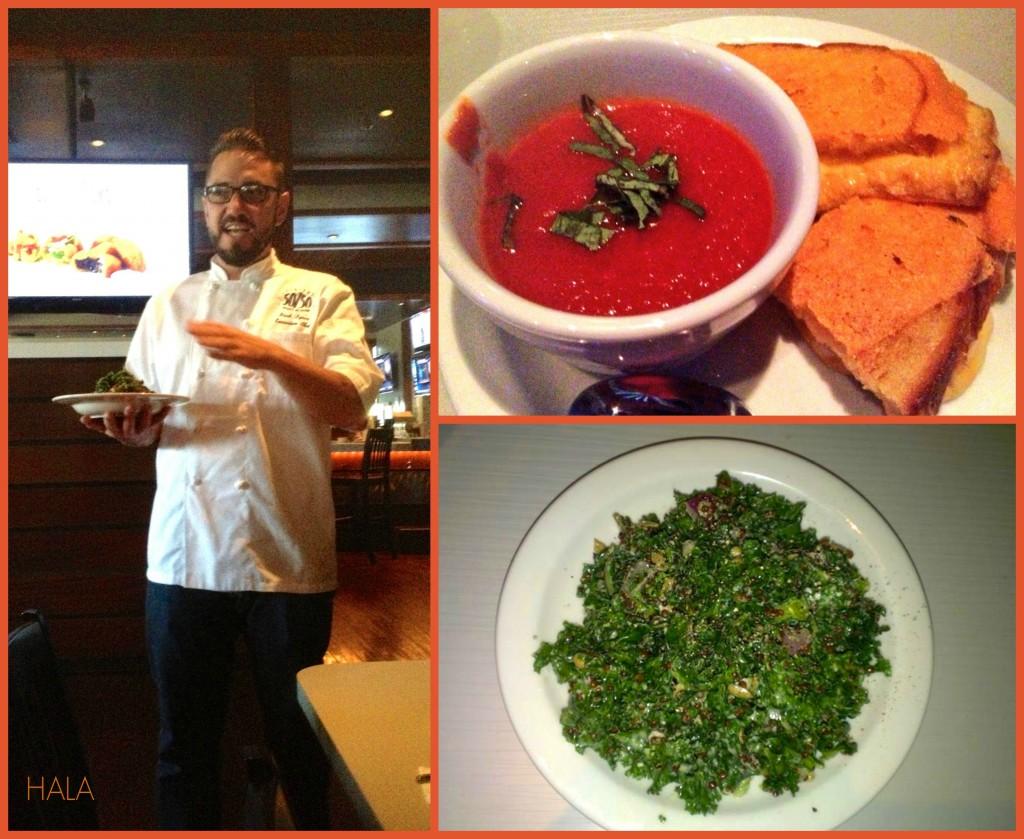 Executive Chef Brad Lyons introduced the Kale Quinoa Salad ($9.95) to us next. If you are looking for something on the lighter side, and don't feel like having all that bacon, then this is a perfect healthy menu option for you! It had lots of bold flavor and I enjoyed it! Filled with curly leaved Scots Kale, red quinoa, diced red onion and roasted sunflower seeds with a lemon-garlic tahini dressing I would definitely order this again if I was feeling like I wanted something on the lighter side. The last thing we were introduced to before the bacon overload was the Twice Grilled Cheese Sandwich ($9.95 or you can get it with BACON for $10.95) which was by far one of the BEST Grilled Cheese Sandwiches I have ever had! Served on artisan sourdough bread and stuffed with two kinds of melted cheddar cheese and encrusted with even MORE cheddar cheese on the outside. This toasty brown cheese encrusted over the bread is what I think totally makes this the best ever! It is also served with house-made tomato basil soup. This is comfort food at its finest and I can totally see myself coming back for this on a cold rainy day (or any other day for that matter)!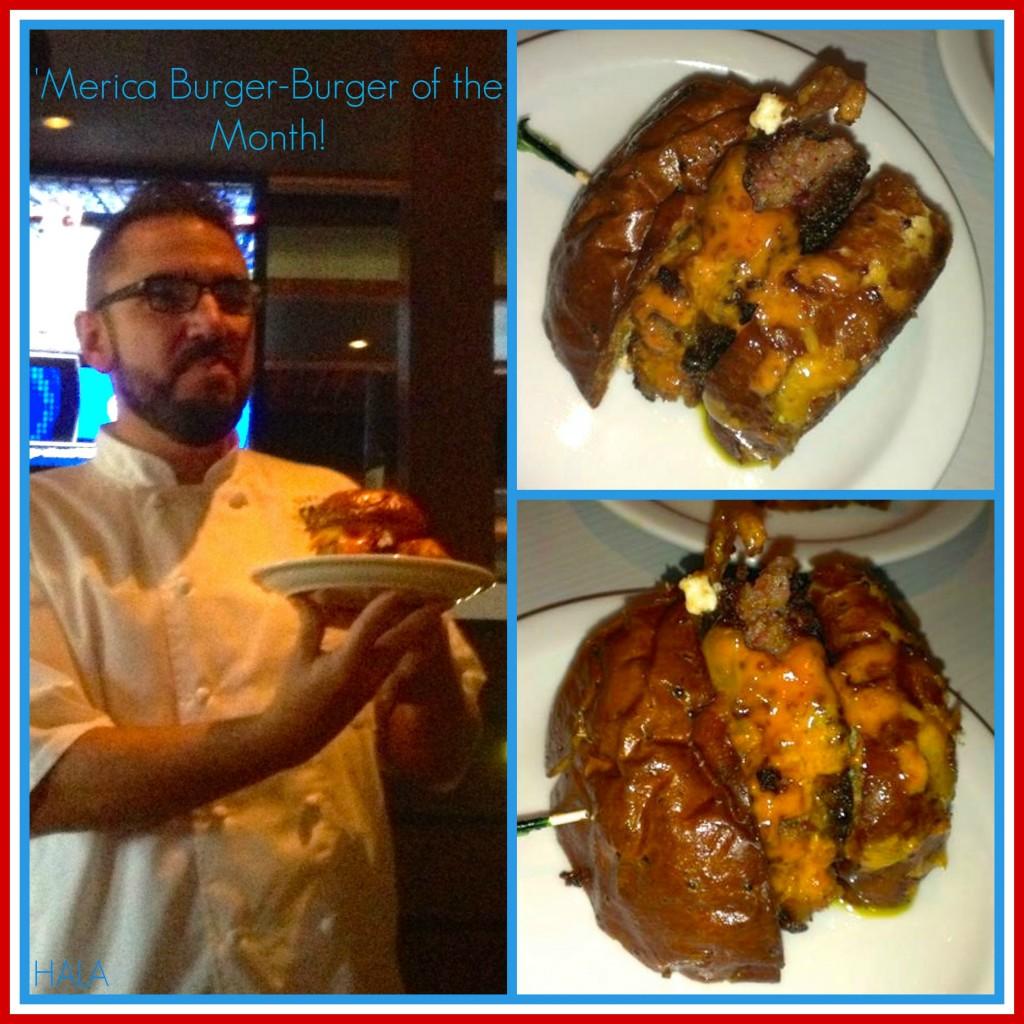 Now, if you are looking for the most patriotic bacon filled burger that ever existed, then let me introduce you to Slater's 50/50′s Burger of the Month for July! It is the 'Merica Burger!! This burger is made with 100% ground bacon, topped with thick cut bacon, a sunny side up fried egg, Bacon Thousand Island dressing (Yes that's bacon on your bacon and then covering your bacon with more bacon!), and bacon cheddar cheese on a pretzel bacon roll fresh from a bakery that makes these just for Slater's 50/50 based out of Santa Monica. Is that enough bacon for you?

I thoroughly enjoyed all the different bacon flavors, the burst of flavors is very intense! I don't think I'd be able to eat a whole burger of this, but it is great in smaller portions like this!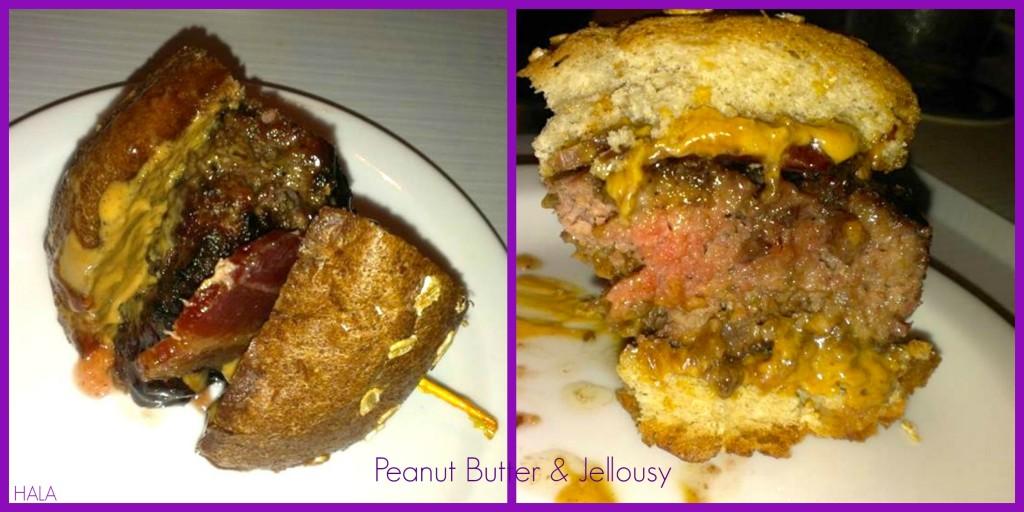 Now this next one is my personal favorite burger at Slater's 50/50 so far! The Peanut Butter and Jellousy Burger ($10.95). You can even order this baby a la mode for just $2 more! This is Slater's favorite and award winning burger. All natural, choice grade ground beef topped with thick cut bacon, creamy peanut butter and strawberry jelly on a honey wheat bun. This burger has the perfect combination of sweet and salty flavors, which is why I love it so much. I very much have a sweet tooth, but also crave the salty flavors from the bacon and beef, so this burger is a perfect choice for me! It may sound weird at first, but don't knock it until you try it! I don't think I would have normally ordered this burger, but after trying it, this one is all I crave!!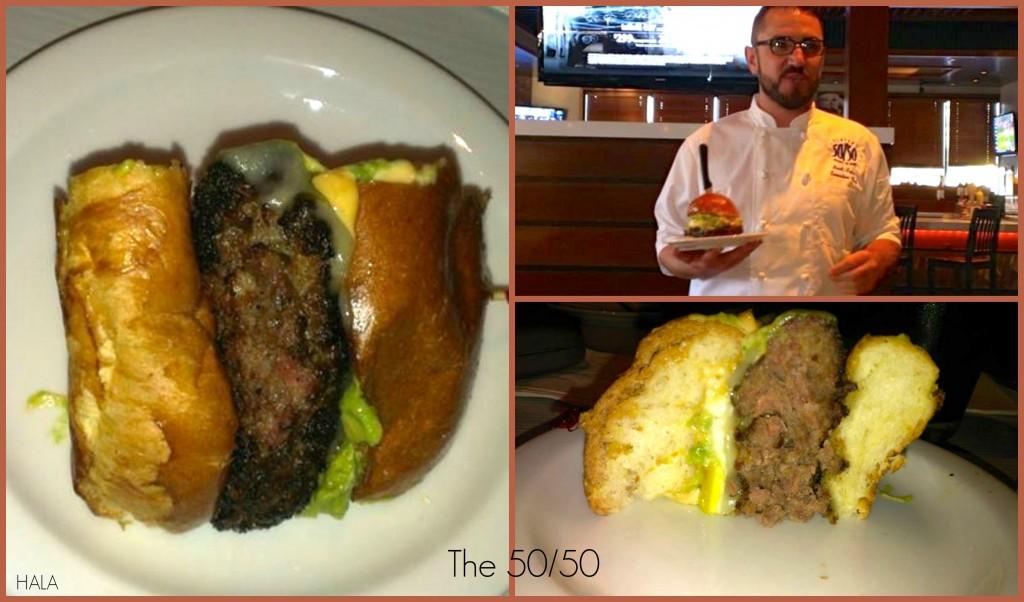 The oh so famous 50/50 Burger ($9.95)!! Designed to complete perfection, their signature patty is topped with a sunny side up egg, avocado mash, pepper jack cheese and chipotle adobo mayo on white brioche. Another very tasty burger, this one is a true classic for the Slater's 50/50 experience! A good choice if you are a first timer here and are not yet brave enough to give the Peanut Butter and Jellousy burger a shot.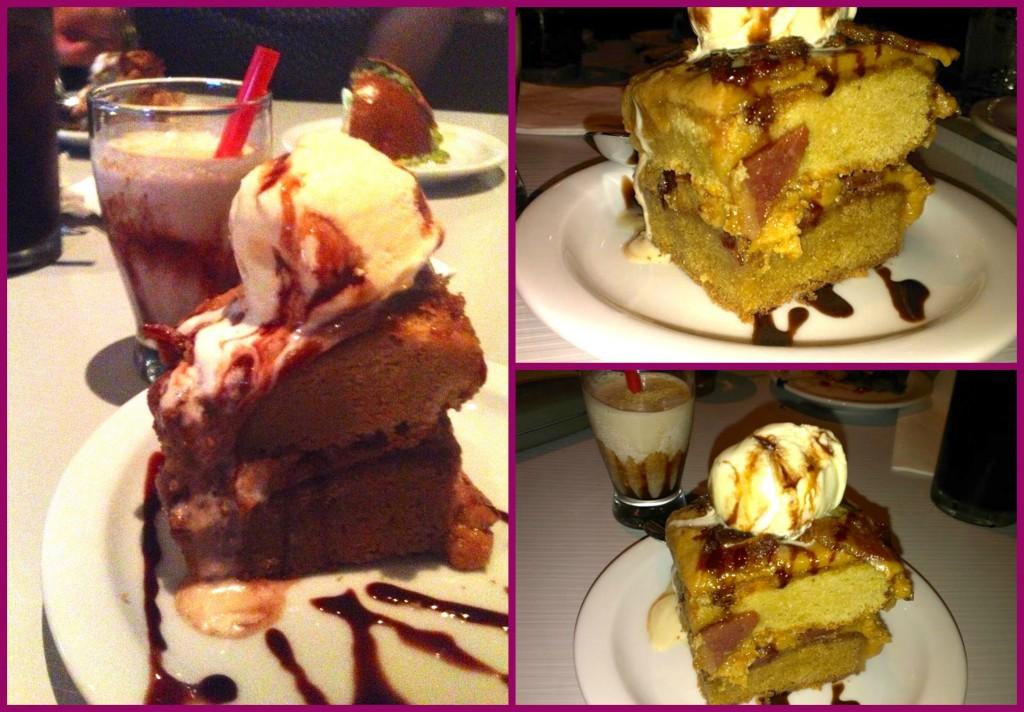 Mmmmmm now onto dessert! A very sweet and TASTY new item on the menu is the 50/50 Bacon Blondie ($8.95).You can bet I will be ordering this for dessert the next time I come here. Two stacked brown sugar vanilla blondies smothered with a creamy peanut butter frosting and candied bacon. Served Al la Mode!

Bacon for dessert? Who knew? I'm a fan, that's for sure! Just be prepared for a major sugar rush!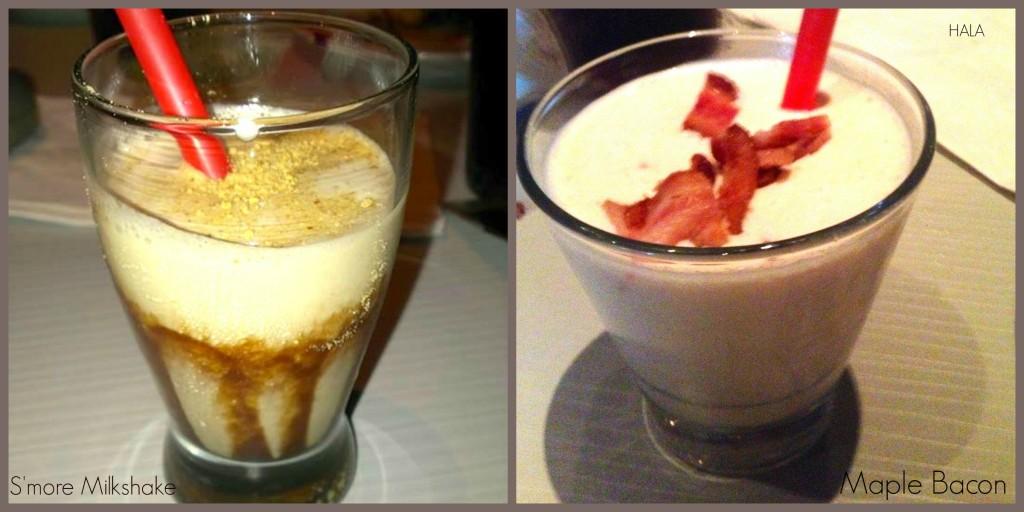 To top our evening off, we had two milkshakes along with dessert. You can also get these served "Adult Style." which will make for an extra special treat! We first had the S'More Milkshake ($5.95), which was my favorite of the two. Chocolate syrup, toasted marshmallow syrup and real graham crackers, made with vanilla ice cream. It was like a real S'More, only you could drink it. Very refreshing on such a warm summer evening! The other one we sampled, was also very delightful. The Maple Bacon Milkshake ($5.95)! Vanilla ice cream, real bacon (and LOTS of it), and maple syrup. Very simple, but very yummy too!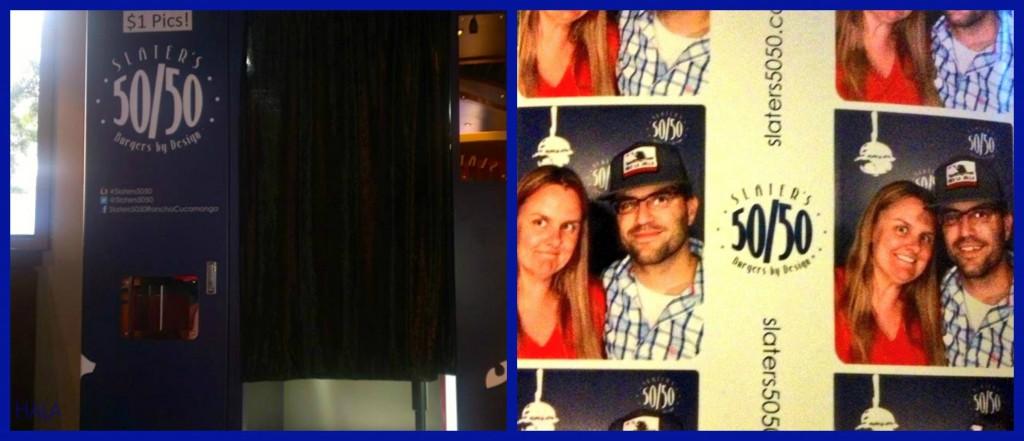 Either on your way in or as  you stumble on your way out, you will probably notice this near the door! A fun photo booth! We noticed this on our way out, so of course we had to try it! LOL It's only $1 and it will leave you with something to remember your Slater's 50/50 experience by.
Have YOU been to Slater's yet? Slater's also has locations in Anaheim Hills, Huntington Beach, Lake Forest, Pasadena and San Diego. Which is your favorite burger or burger you'd love to try if you haven't had the guilty pleasure of having one yet?

Do you have any other Slater's 50/50 favorites?