Rating:
86/100
Total: 86/100
…And my quest to discover all business lounges around the world continues discovering the best and most luxurious. After discovering London's greatest secrets, my last stop in the capital is Heathrow Airport – which is one of the busiest in Europe.
The SkyTeam alliance is getting bigger and busier with time with its own welcoming area and business lounge, facing Gate 10 of Terminal 4.

The companies' passengers part of the SkyTeam Alliance (AeroMexico, Aerolineas, Air Europa, Alitalia, MEA, Air France, KLM, China Southern, China Eastern, China Airlines, Czech Airlines, Aeroflot, Delta Airlines, Kenya airlines, Korean Air, Tarom, Vietnam Airlines, Saudia) are all welcomed into this two floors occupying more than 1,600 square meters with space for more than 300 passengers.  The place is heaven – two floors of pure relaxation.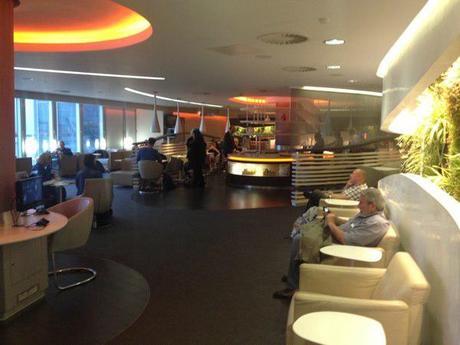 It all starts before reaching the duty free area:
The dedicated check-in is available to premium economy, business and first class passengers, and also SkyTeam Elite and Elite Plus passengers, and has 14 desks, ten self-service kiosks plus luggage drop-offs. There is also a small, but spacious seating area for waiting passengers.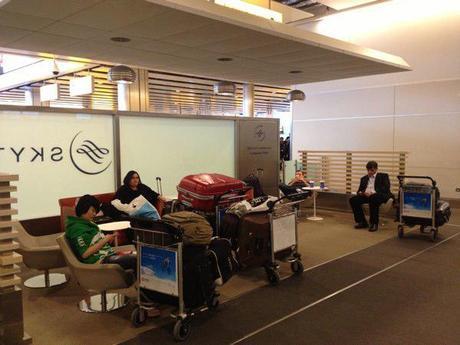 The sections are endless:
- A private calm and closed area
- Two bars on the sides on each floor
- A play station gaming area on each floor
- A bar with mini personal TV screens
- An enclosed TV room keeping the noise away
- A business center with printer
- Computers with Internet access
- A Clarins face treatment corner
- Massage chairs
- Showers
- Relaxation areas or let's say sleeping rooms with a red cover and a dimmed light with closable door
- A food self service island on each floor
- A circular large meeting table
- A wine bar with an interesting premium choice of red, wine, rose and champagnes
A great choice for a good preflight boost:
- Orange and beige leather seats positioned all around the two floors
- Beige leather sofas on the sides with a view in the Tarmac
- Long green natural wall plantations with a Spa feel relaxing the eyes and spirit
- Electrical plugs next to every chair
- A wide open space with dimmer orange neon lights and white relaxing ambiance
The food and drinks choices:
A comprehensive selection of international cuisine, reflecting the distinct fares of the SkyTeam members' home markets…
- Lebanese bread, hummus, fruits, rice and beef bourgignon, Vietnamese noodles, two choices of soups, pain de mie sandwiches, meat slices, french cheese and ham, chips, vegetables and others.
- Silver cutlery
- A complete range of soft and alcoholic drinks with ice

The pluses:
- Very nice and clean toilets
- A gray carpet for pleasant walking
- A professional happy staff that welcome you with a smile
- A wide and relaxing open space with a feeling of privacy
- Espresso and coffee machines on the sides of the lounge for a quick shot before leaving
With many lounges already tried until now, the Heathrow SkyTeam is the best on all levels.
























Pages  [
1
]  [
2
]  [ 3 ]  VN:R_U [1.9.20_1166]