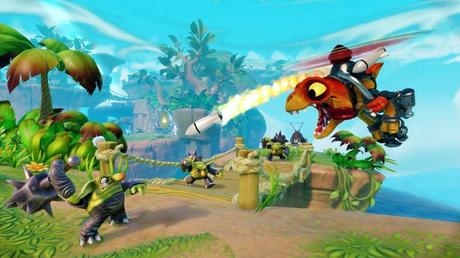 We've had a few days since Skylanders Trap Team was revealed to think about the game and pull together every little bit of information we know about this super exciting new game. Wesley from Family Gamer TV is here to take a look at the new trailer, and discuss everything we know so far.
In Skylanders Trap Team the Trap Masters are looking for prisoners who have escaped from Cloudcracker Prison when Kaos blew it up. The prison was made of Traptanium, a super-strong metal that is also used for making weapons for the Trap Masters.
We'll be seeing lots of new figures for Trap Team, including 16 Trap Masters who are about the same size as Swap Force characters and have awesome translucent-coloured Traptanium weapons. There are also 18 new core Skylander figures being released too. All of these characters, as well as every Skylander from past games, can be used in Trap Team. And most importantly of all, every Skylander can trap bad guys, not just the Trap Masters. Enemies are trapped in special Elemental Traps – crystal-like keys that slot into the new Traptanium Portal of Power. When enemies are trapped in the crystal, you can hear them being sucked out of the TV and into the Trap crystal, with their voices coming from the Portal of Power as they scream in their new prison! How cool is that?
For a closer look at some of Skylanders Trap Team, take a look at this interview with one of the game's producers, a look at new character Wollop, and a review of the Starter Pack that will be released in October.
If you loved this video, follow us on Twitter for loads more amazing stories and gameplay footage, and subscribe to Family Gamer TV on YouTube.