So, I blogged this post over on our photography blog but it really needed to be over here too! Though all kids love toys & they love having cool stuff in their room I'm pretty sure no one understands the level of how cool this is other than a parent of a kid like ours. When we first got Skylanders I was just happy that they cost less than Backagon & BayeBlades! After we got to playing it & it was pretty cool, all three of the boys got into it big time. Sooooo, here is the post from over at the photography blog. Its a cool idea & jayden loved it. All in all it cost $2 a picture to print from walmart & $5 a frame from the Dollar Store.
----
I want to start this post off be letting you know that we are massive dorks! I'm not talkin' your run of the mill asthmatic, no sports playing, bow tie dorks either. At our house we take it to a new level! With that being stated you can guess that our poor boys are hopeless dorks as well. Staying up late on the weekends watching Beetlejuice for the hundredth time or playing endless amount of Wii. For Christmas we got Skylanders Giants, if you don't know what that is you should probably Google it….right now….I'll wait…..
This is a fun project we thought would make the kids play room more fun & more personal. They freaked out over it & while we used Skylanders you can really use just about any toy your little one has in the toy box.
 - First things first, we rounded up all of the kids Skylanders toys & the portal attachment for the Wii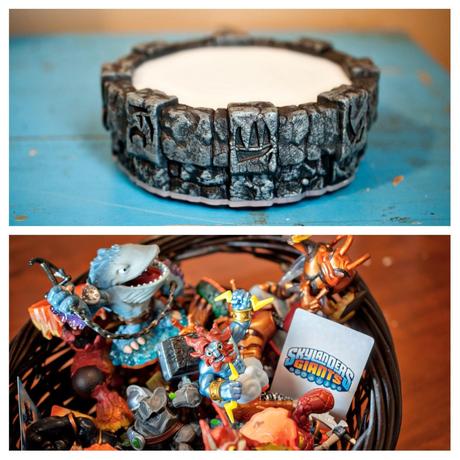 – We set them on the portal one at a time & photographed them using a solid color wall as a backdrop.
– You can use photoshop or a free editing program to convert the image to black & white.
-- After that was done we uploaded the photos for a 1-Hour photo printer & headed to the Dollar Store to buy some cheap $5 frames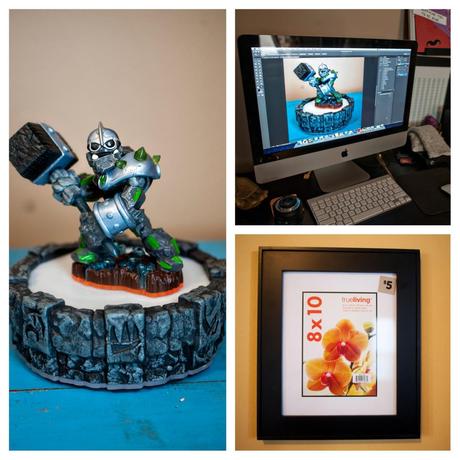 – We used Wal-Mart to print the photos because they were cheap & only 1 hour but you can use anyone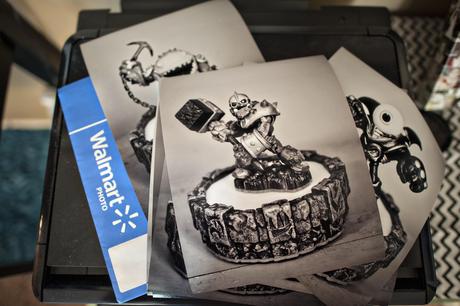 - After they came back from the printer all we had left to do was frame them & get them hung!