The illustrious Bradley Wiggins left a big impact on the English capital. The Gold medallist inspired the city with his striking road-cycling performance. The success of Team GB really hit Londoners hard; a lot of them have started cycling on a daily basis. The Olympic Games and Tour de France has resulted in an increase of cycling popularity in Europe. People are hopping onto their bikes each day, going to work or just for a stroll. The wind rushing through your hair is a feeling we can all relate to.
Cycling also brings up endless possibilities. The SkyCycle concept is being thrown around a lot amongst London architectures lately. Although it is still in its early stages of planning, the potential is exhilarating. The project would connect London's mainline stations and provide a route exclusive for cyclists.
A typical Tube commute through Zone 1 would cost over double compared to what is being planned with SkyCycle. A journey through the new-built roads would cost a mere £1 on an Oyster card. Mayor of London, Boris Johnson, is carefully considering the implications of the SkyCycle concept. To start, he plans to connect Stratford and Fenchurch Street to join East London and the center.
On a relaxed, tranquil day, the SkyCycle would give travellers a different perspective of the capital. It would definitely be more enjoyable than the Tube. A little farfetched, perhaps, but not completely unachievable. Imagine a London where cyclist ride above the traffic on their own dedicated cycle paths, no worries about cars and busses alike. Architecture around the world lately has surprised the most cynical of minds, and the SkyCycle may just be another addition.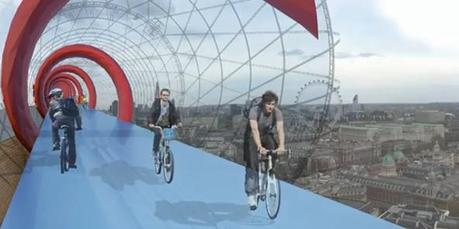 There are miles of railways that are stretching above the capital. Imagine, attached to it and running alongside of it, an elevated metal cycle path as you look down at London's greatest hotels. Cycling is a growing demand across the capital, and these cyclists have to go somewhere. Sam Martin, Exterior Architecture behind the idea, believes that it is a necessary part of London's next big spin in infrastructure. Road safety amongst cyclists will also increase. Half a million cycle journeys are made every day in London, so there's clearly demand for such a revolutionary project.