I didn't need the alarm clock to wake me on Sunday morning, I was already up and buzzing about with excitement.  Today was the day, the day I got to go to my first big cycle!  
I previously posted about the upcoming Sky Rides around the UK, but one of their bigger events was to happen in Birmingham.  My boyfriend and I had booked on the ride, so packed on my Gertie and his Fuzz (it's a felt bike - we call it Fuzz because of fuzzy felts?!) to the back of our little car and set off.  I didn't know how the car would be carrying such a heavy load, but we managed to get there in one piece.  After finding a parking spot we unloaded and set off to the starting point.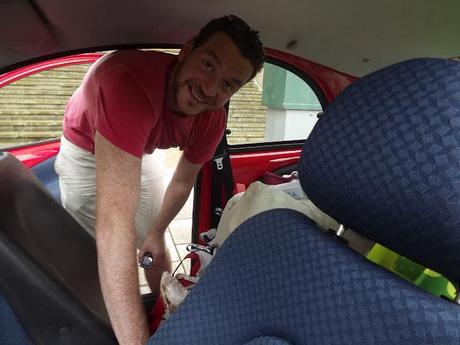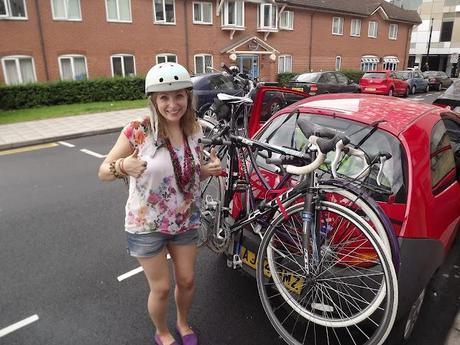 With regards to clothing, I decided as the weather was overcast but still warm muggy, I'd opt for shorts.  I've gone for my Topshop denim shorts, my Topshop floral chiffon top, beads from market in majorca, bracelets are from Primark and the purple shoes are from New Look. 
On the way, people were everywhere on their bikes and there was a clear mixture of ages and abilities.  Some were slowly peddling along, enjoying the atmosphere, some were really going for it doing a 'Wiggins' and some were riding with children on board.  There was truly a broad range and it was really refreshing to see so many getting out, and getting involved.  Before you set off on the cycle, you were given a Sky Ride bright vest to pop on over your top.  It was a safe way for you to be spotted on the road, and actually something I'm going to wear again if I'm cycling in the dark or poor lighting.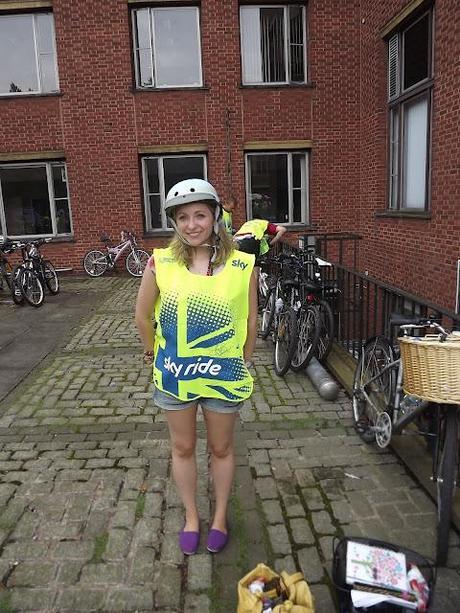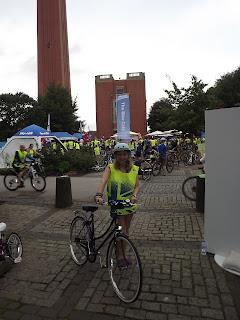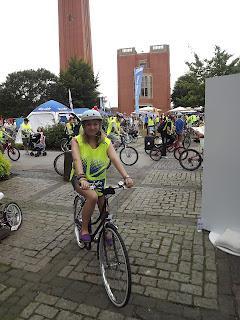 I actually did have my bike basket on (complete with my Mary Poppins handbag in it!) on the bike when we were riding.  However, I'd taken it off when we go to the main meeting area.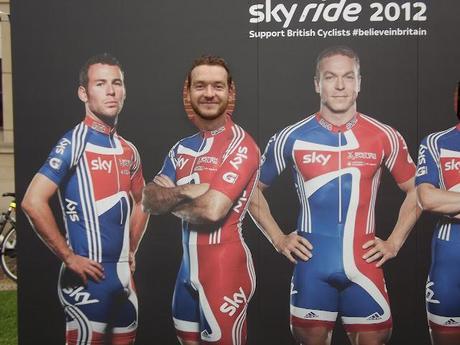 After we had riden around the closed off roads with all the cyclists, we took a pit stop at the University campus and indulged in some of the activities going on.  There were stalls set up all over, you could enter competitions to win bikes, special cycling days, find out more about the Breeze Network and British Cycling, you could even experience the skills of those who can do tricks on their bikes! There was lots to see and do - of course and food and drink!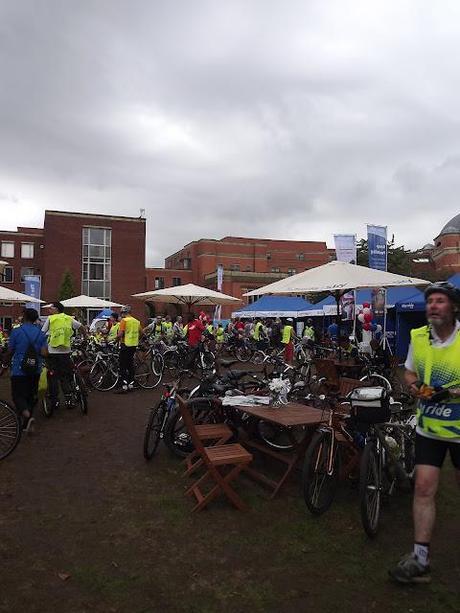 The weather was sunny one minute and pouring the rain the next,  it was a sterotypical British weather forecast, the majority of the day was sunny though until the later part of the day.  Most cyclists embraced it and carried along! 
I was lucky enough to interview one of this years Sky Ride Ambassadors, Miss Stacey Solomon, she was at the ride with her little boy Zach.  A few other bloggers and I quizzed her about cycling, her life and music.  
In we all bundled to the Sky area, sat in a circle we all smiled eagerly waiting to fire our questions.  Stacey was exactly how you imagined, beautiful and full of smiles.  She'd just come back off her holidays, so had a gorgeous glowing tan and was just as geniune as the day the nation fell in love with her on Xfactor.
All the similar sorts of questions emerged about what she liked about cycling. Her main reasons were because her little boy of 4, was very into his bikes and it meant they could spend time together.  She told us how
the Olympics
had inspired her and Zachery to get out cycling all the more. When we asked why she became a Sky Ride Ambassador she mentioned any opportunity to inspire people to
get up and give it a go
was her main drive to being involved.  We all were mighty impressed with her amount of energy, however Stacey did admit she was fantastic at falling asleep in a moving vechile - so that's her secret to being super bubbly, sleeping on the go!
What's the best thing about the Sky Ride today?
Everyone has been getting involved, everyone is really happy.  The weather has come out really, really nice which is lovely. The children are out on their bikes,  which is ever so sweet. There are new people out there giving it a go too.
How did you find getting back into shape after having your 2nd baby?
I'm still working on that! Running around after the children, going to work... I don't diet - that's not something I enjoy! I like to eat food whenever I want, I like my carbs! I like to keep active, I do like going on bike rides, I like running around the park with Zachery, I like pushing the pram, I think it's the little things like that.  I do enjoy going to the gym, whether I get there is another story, but once I get there I do.  It's just there never is really that much time, so if we're off to the shops I'd much rather get on my bike than walk, as you get there that much quicker.  Plus Zachery loves it, and you're exercising without realising.
In the celebrity fitness world there tends to be two kinds of person, you've got your Kelly Brook who is on her bike in her floaty dresses, face and make up done, peddling happily along, and then you have your Nell McAndrew, who opts for shorts, crop tops, hair back and gets straight down to it.  Who would you say you were similar to with your cycling? 
I think I'm a little bit inbetween, I have my hair back because oh my god, I couldn't imagine cycling with it all down! I guess just normal! I ride a bike in shorts and a jacket, I don't think I could ride a bike in a dress, I mean that takes skill!
What do you like to wear when cycling?
I don't wear lycra or anything, I wear normal shorts like denim shorts, or  tracksuit shorts or even tracksuits as they're really easy.  I wear tshirts with them generally. I honestly wish I could be glamourous and ride my bike in a dress, but its just not for me!
You've got a new album coming out soon, what are we due to expect from this?  Is it the Stacey we saw on Xfactor or a new Stacey? 
I think it's a little bit different from Xfactor, as obviously It's hard to be yourself when you're singing someone else's songs. Its really nice to be able to write my own songs, they're really live loungey and floaty and just the sort of things I love to write.  I'm so glad that  I've been involved with it, and played a big part of it, rather than just being given an album to sing. The first single is out in October,  and the album will be out in November. 
When we approached the chat about Xfactor and her new music, we hit the topic of Michael Buble - I did tell her how jealous I was of her being near him, to which she replied that he was so
smooth and lovely
!  If anyone knows me, you'll know I adore Mr Buble, more than than words!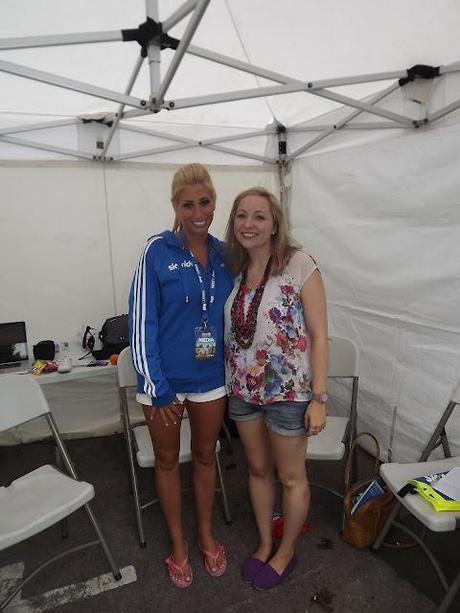 This is a picture of me and Stacey.  Two things.  Number one, I look awful in this photo and number two, Stacey had just come back from her holidays and I'm oting for a Casper the friendly ghost look! ;o) She was a lovely girl, and an absolute pleasure to meet and interview.  It was great she is out there pushing to inspire people to get cycling, its a fantastic way to keep fit, and can be easily fitted into a hectic lifestyle.
Thank you to Sky and British Cycling for a fantastic day out, and to Stacey for letting me ask her my questions.
Anyone starting to feel inspired to cycle?

xoxo