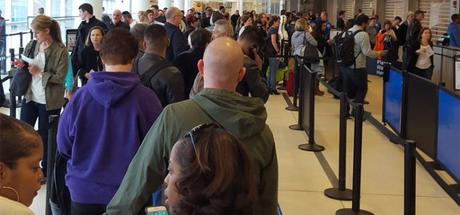 If you're traveling this summer, you may be spending a good chunk of time waiting in line at the airport to get through security. Airlines have already started warning their passengers to get to airports at least two hours early so they don't risk missing their flights - even for domestic flights.
The reason for the warning? Massive security lines across the U.S. due to a shortage of Transportation Security Administration (TSA) airport screening staff. During the past three years, the TSA cut its airport screener staff by 10 percent, anticipating fliers would enroll in its PreCheck program. Between a record number of fliers expected to fly this summer and a TSA staff shortage, some travelers have experienced up to a 90-minute wait.
The best way to bypass the long security lines is to sign up for the TSA PreCheck program, or the more robust Global Entry program. Here's everything you need to know about it.
1. Who is it for?
According to the TSA, the program is for passengers considered "low risk." Passengers who qualify for the program benefit from expedited screening. If you fly frequently, you will benefit more from this program than someone who only flies a few times per year.
2. It's offered across the country
PreCheck is available at 150 airports with 12 participating airlines. They are Air Canada, Hawaiian Airlines, United Airlines, Alaska Airlines, JetBlue Airways, Virgin America, Allegiant Airlines, OneJet, WestJet, American Airlines, Southwest Airlines, Delta Air Lines, and Sun Country.
If you're eligible and approved for the program, you'll be given a known traveler number "KTN" to use when you make flight reservations - these participating airlines will print an indicator on your boarding pass to let airport staff know you're enrolled in the program.
3. You have to apply for it
The main criteria you need to apply is a U.S. passport or a permanent resident card. Also, you cannot have previously violated any customs or immigration laws. The application process involves answering a series of questions online about your employment history and a list of every country you've visited in the last five years.
If you only want to be enrolled in the PreCheck program, it costs $85.
After submitting your application, you'll find out if you're eligible to schedule an in-person interview, during which you'll get fingerprinted, answer some basic questions about yourself and your travel habits, review some of your past travels, and verify the information you submitted when pre-enrolling online. It takes about 15 minutes.
For this interview, you'll need a valid photo ID, a valid proof of citizenship and immigration documentation if applicable.
4. Global Entry includes TSA PreCheck
Global Entry is a U.S. Customs and Border Protection (CBP) program that allows expedited clearance for pre-approved, low-risk travelers upon arrival in the U.S. Members enter the United States through automatic kiosks at select airports.
The application for Global Entry, which includes PreCheck, costs $100. You only pay this fee every five years when you renew.
5. Getting through security is quicker and easier
Not only are the lines typically shorter for PreCheck travelers, but it's an easier process for you - you don't have to take off your shoes or belt, take out your small bottles of liquid or laptop, and you can keep a light jacket on.
Will you be enrolling in TSA PreCheck for your next trip?
Photo from: Philly.com