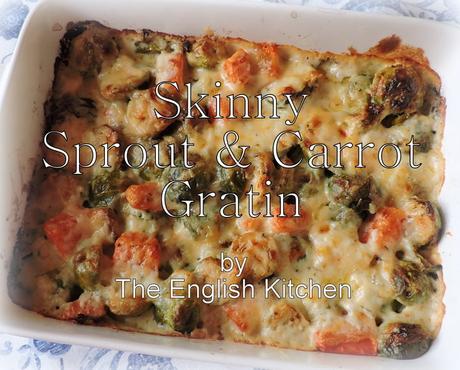 It's not surprising when you start to add up all of the calories in all of the dishes, mains and sides, that people in the UK and other Western countries take in by eating Christmas lunch alone we are talking at a massive amount of caloric intake, for just one meal, not to mention the whole day through . . .  as the feasting begins in the morning and continues on up into the night!   I have tried to come up with a few sides this year that won't break the calorie bank, and yet are still delicious and which feel luxurious.  This Skinny Sprout and Carrot Gratin I am showing you today is one of them.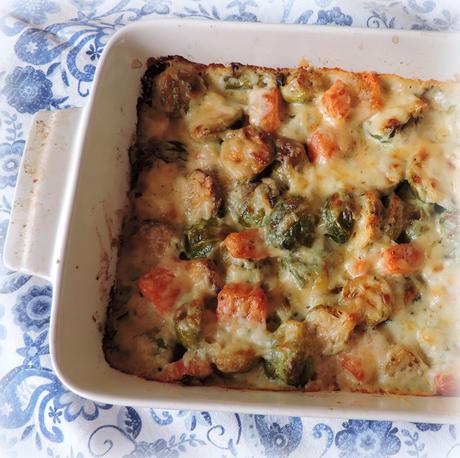 I love Brussels Sprouts.  I think they are one of my favorite side dishes when it comes to Christmas lunch.   I would even say I love them more than the potatoes, which is saying a lot.  Todd, he loves them too, but he says they don't love him, which I think is his polite British way of saying they give him . . .  ahem . . .  a bit of wind.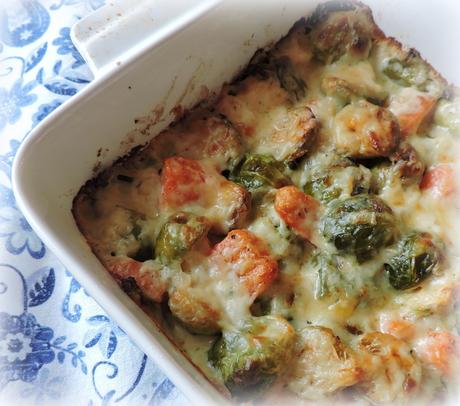 Wind or not, I don't think he will be turning these down come the day.  They are fabulously delicious.   Trimmed and halved sprouts are roasted in the oven along with some chunky carrots.  (Score two veg in one!)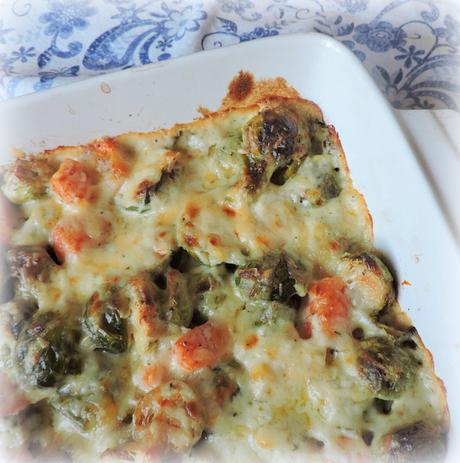 Roasting brings out the nutty sweetness of sprouts, and they don't get over cooked either.  I do love my sprouts, but an over cooked sprout turns even me off . . .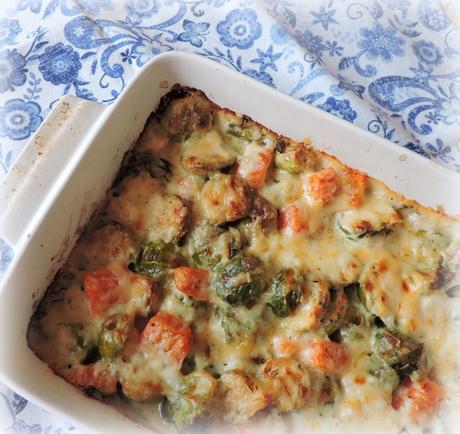 The sauce feels indulgent, and you would never know it is made with skimmed milk.   Just a bit of cheese is added to give the sauce a bit of depth and richeness, two kinds . . .  Parmesan and Gruyere. (Swiss)  You don't need a lot of Parmesan to add a nice jolt of flavor to things.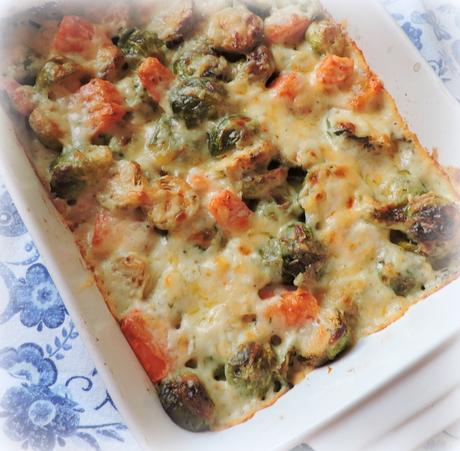 You pour the sauce over the roasted veg and then sprinkle a dash more cheese on top and roast them for a bit longer until bubbling and crispy golden brown in spots.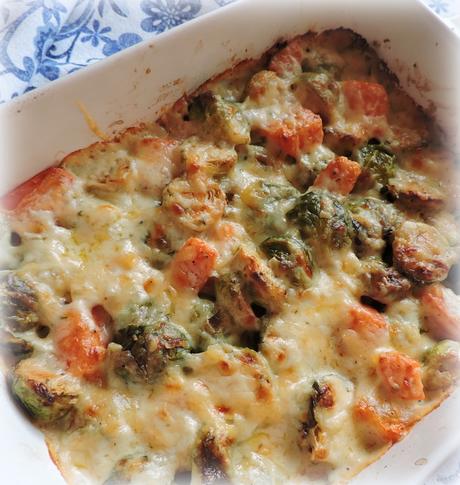 Proof positive that luxurious needn't break the calorie bank.  This, aong with a bit of turkey, a roasted spud, some mashed swede and a smidgen of stuffing and I'm a happy camper.
You got to save room for pudding right?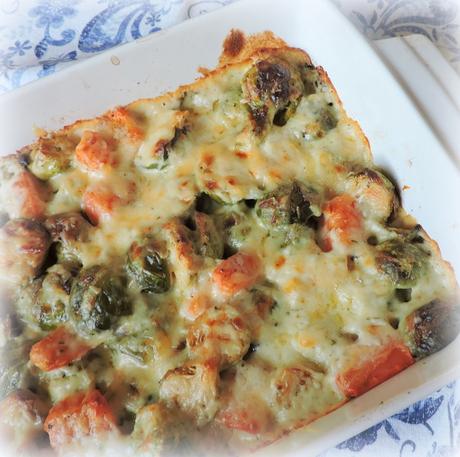 *Skinny Sprout & Carrot Gratin*Serves 6Printable Recipe 
A delicious gratin of crispy roasted sprouts, and carrots with a fabulously tasty light cheese sauce.  Scrumptious and low in calories and fat! 
1 pound of Brussels Sprouts, trimmed and cut in half1 large carrot peeled and cut into chunks (parboil for 5 minutes)1/4 tsp fine sea saltblack pepper to taste2 shallots, peeled and finely chopped1/2 TBS butter2 tsp plain flour180ml skimmed milk (3/4 cup)salt and black pepper to taste1/2 tsp dried thyme1 TBS finely grated Parmesan Cheese60g of grated Gruyer Cheese, divided (2 ounces)Olive Oil Cooking Spray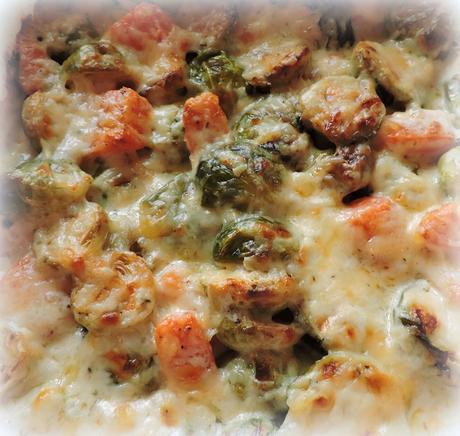 Preheat the oven to 200*C/400*F/ gas mark 6.  Spray an 8 by 12 inch gratin dish with olive oil.  Add the sprouts and parboiled carrots.   Season with some salt and pepper.  Spritz with a bit more olive oil spray.  Place in the bottom third of the oven and bake for 15 minutes.   Remove and toss and return to the oven to bake for a further 10 minutes.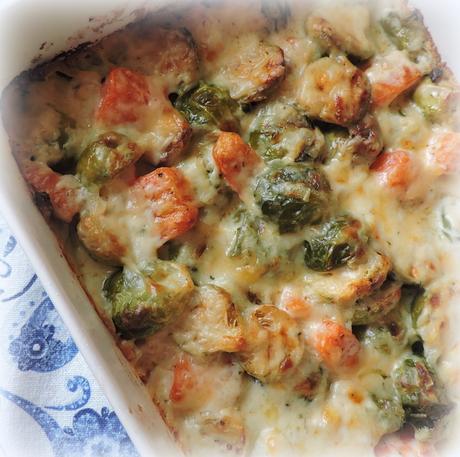 While the vegetables are roasting make the sauce.  Melt the butter in a large saucepan.  Add the shallots and cook, stirring frequently over medium heat, until softened.  Sprinkle the flour over top.  Whisk for a minute, then slowly whisk in the milk.  Cook, whisking, over medium low heat for about 4 minutes until it begins to thicken.  Add the thyme, parmesan and half of the grated gruyere cheese.  Stir to melt the cheese.
Remove the gratin dish from the oven.  Pour the cheese sauce evenly over top.  Sprinkle with the remaining cheese.  Return to the oven and bake for a further 15 minutes, until browned and bubbly.
 Nutritional Values:Calories per 1/2 cup serving:  110Fat:  5gCarbs:  12gSugar:  3gProtein:  7g