Looking For Unbiased Comparison Between Skillshare vs Udemy. We've got you covered.
Today, there is a growing demand for online classes, and there are many learning platforms out there and Skillshare and Udemy are among them, in both platforms educators and teachers around the world can create course content and sell it to people who want to learn about any topics. Here, courses are reviewed and taught by veteran mentors.
They are certified to help you with your studies and let you perform well in case you are having issues on particular topics. The courses offered are not just academic. They can offer a range of useful skills in all situations, from the workplace to the kitchen.
Although many sites share similar goals, Skillshare and Udemy are among the most popular for this type of academic., and each has its own history and usefulness.
So let's get started with the detailed comparison here.
Bottom Line Upfront: Skillshare is better than Udemy in various aspects such as it offers many free courses whereas there are no free course options on Udemy. The community of teachers and students on Skillshare is very thorough and teachers teach their students very closely. Start taking courses on Skillshare today to know the difference.
Skillshare Overview
Skillshare is one of the amazing online learning platforms for students and teachers with practical skills. These skills are discovered and learned in project-based courses. Through the teacher and student platform, users can access content, presentations, and online classes on a variety of topics.
These topics include business, design, technology, marketing, photography, fashion, film, music, cooking, games, writing, and crafts, Arts, and more.

Professionals who use the platform as an instructor can impart skills by creating and publishing a course. Skillshare offers to empower people to grow in their careers, to improve their lives and to pursue their passion and the work they prefer. The online learning community provides users with access to quality learning.
Skillshare Features
Promoting Class
Shared Learning Experience
Publishing Classes
Class Creation
Compensation for Teachers
Building Channels
Catalog of Premium Classes
Referral
Free Classes
High-Quality Learning Materials/Courses
Feedback
Networking
Group Classes
Offline viewing for Premium Students
Learning by Support
Skillshare Benefits
Skillshare is very useful for students who have different learning goals. As a robust platform, it offers courses and skills for those who want to acquire new talents, for those seeking an overview of their past acquired skills, and for those who want to upgrade their skills by developing new skills. There is a large variety of courses on skillshare from which you can choose.
We can see that skillshare courses are not individual. This is because the focus is on the shared learning experience. The platform enables students to exchange their perspectives. This allows them to learn skills through networking and support. Skillshare is designed to promote and improve creativity. Students can watch video courses and create projects to develop their creativity.
In addition, Skillshare helps professionals, creators and entrepreneurs make money. Skillshare offers compensation to teachers as students enroll in their classes and watch their lessons on video.
You can also earn an income for each student who subscribes as a Premium Member. During this time, students can receive full access to a full catalog of premium classes once they have subscribed to the Premium subscription. You can also view the courses offline via the mobile skill-share application for premium members. This learning platform also offers free classes for students.
Skillshare for students
This online learning platform tries to keep your learning environment as close as possible. It's easy to say that the overall configuration of the site provides a sense of community between educators who publish videos and students with interactive contact methods. With courses on skillshare, not only can students do simple tasks to validate their comprehension, but they also allow teachers to add tasks to their respective videos.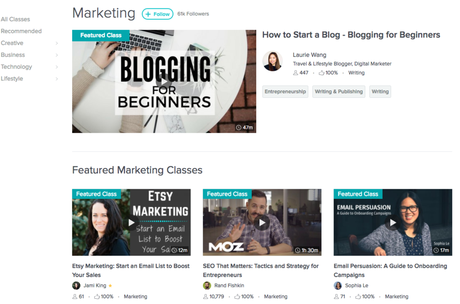 The assigned projects are usually long-term and should be completed throughout the course. Students can then publish their final products to other students who can rate and comment on them. It does not stop there.
There are many e-learning platforms but at Skillshare you will get an awesome feature which is "class project" where all students in the same class can work together and pool their knowledge to create a sophisticated and progressive public product which also helps in their personal development.
These final creations are displayed separately on Skillshare on their own page. They provide additional information and feedback from colleagues. The site will not be taxing for college students with little money, as it is completely free for basic use. However, if you pay per month then you can access to much more content and functionality. Take their monthly subscription to get unlimited access to courses.
There is also a free 2-month trial for premium features that you can register below:
Skillshare for Teachers

A recurring question for prospective teachers who want to earn some money by sharing experiences is, "How much do the skill-share teachers earn?" They fit in their class. Through the reference connection after the first 25. This may be complicated and difficult for some people.
Remember, however, that it is only a matter of time before the student enters the classroom if you are passionate about your subject and offer quality courses. Educators also have the advantage of having many members, which further facilitates the achievement of the milestone.
Creating your skillshare classes can be overwhelming. Let's try to simplify it.
As a person who has been developing digital products online since 1997, I think it's much easier to create a "screen printed" production than a "talking" production.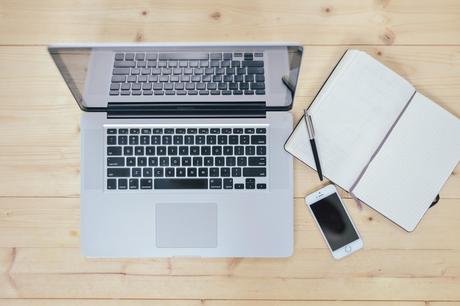 You do not have to display to get started! It's also much easier to fix bugs if you do not need to sync your language with your face ... and can not even start with the green screen!
Suppose we start with a simple class of slides and voiceover that teaches a student how to do something. Courses on skillshare is easy to make.
Brilliant! We are making progress!
The Tools You Need
Then we have to assemble "tools of the trade". Here is the list. I think you have a computer and an internet connection. 🙂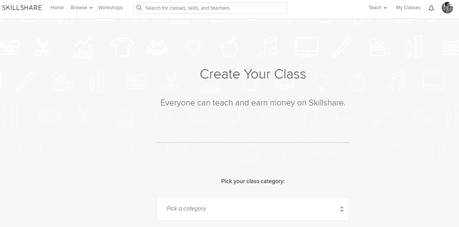 A skillshare account. Pretty natural!
Screen capture software- The "standard" option is "Camtasia", but there are free options such as "Open Broadcaster Software" and "Screencast-O-Matic".
USB Microphone You really do not want to use a built-in microphone that came with your computer. Get a decent USB microphone and a POP filter and you're ready to go. Also, take a copy of Audacity with you to reduce the noise.
Presentation software. It does not have to be luxurious. You can use Open Office Impress (free), Google Slides (free), or PowerPoint or Apple productivity applications.
Headphones While not absolutely necessary, hearing aids can help you understand how good or bad your sound is.
Your Class Topic
After you've collected your tools, you'll need to pick the topic of your course next. Think about the skills you can know and teach. Do you offer a screen? If you can cook roast duck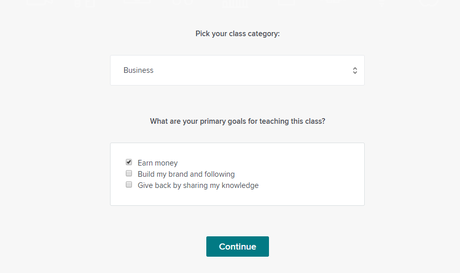 Even if you do not know how to do it on a screen, you could do anything even sitting on the computer and would be fine. Why not teach someone what you have learned online, how to use Facebook, Twitter or Skillshare!
Plan Your Course
Then plan your skillshare classes. I recommend using the Google document that you find here. Keep your lessons short (5 to 8 minutes) and have between 5 and 8 lessons in your class. Plan what you will do in each lesson and take notes. I would not recommend that you write exactly what you are going to say because you lose personality.
However, if this is the only way to stay organized, try, do not try to "read" your lines. monotony I prefer to have some notes on each slide, and then add extra details as I talk about the topic and display web pages on the screen.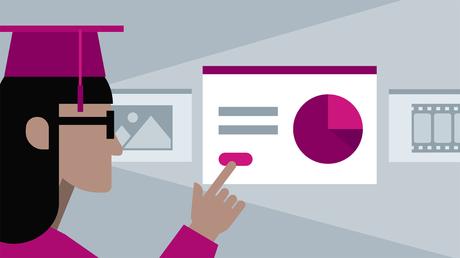 Remember, your first lesson is the insight that people will see before you sign up in your class. Try to keep this lesson short and dynamic. I recommend welcoming the visitor, telling him something more about what he will learn from you and why you can teach him before suggesting registration ... all in about 60 seconds! 🙂
All skillshare classes have a corresponding project. So think about what your students should learn and how they demonstrate this knowledge in a project. Plan your lessons so that they often relate to the project. Completed projects help your class to improve and show dedicated students what we all want.
Register And Edit Your Class
Now for the technical part. Use the software of your choice to record your lessons. I recommend the recording in HD (1280 x 720 pixels). First, do a little test to make sure everything works (audio, I'm watching you!). Nobody starts out as a professional recording professional, so just let them record and practice until the conversation with your computer sounds natural.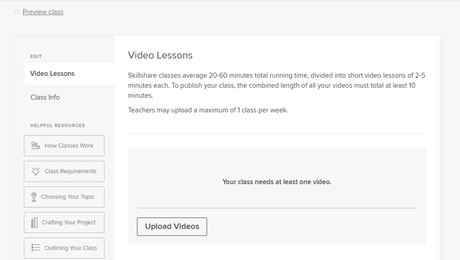 You can eliminate errors at any time if your recording software allows it. When you're done, edit your videos and clean up the sound. It's probably best to see my class at this time because the description of the different text levels would have a lifetime. 🙂
Finalizing And Polishing
Upload your completed lessons to Skillshare and add metadata such as title, description, project details and more.
Finally, click on the "Publish" button and celebrate! Your first lesson is ready. Now is the time to start marketing and planning the next class!
Udemy Overview
Udemy is also an online learning environment where students can learn new skills and expert teachers can create and exchange paid courses to improve their skills. It is a global marketplace that gives trainers the opportunity to earn money with their passion and connect with international students. Through Udemy, students can develop their careers and explore a variety of hobbies.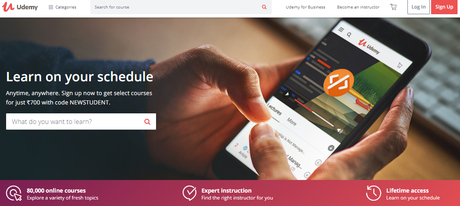 As a platform for marketing courses, Udemy offers courses like programming, web development, personal development, digital marketing, software testing, mobile development, cartoons, digital photography, English grammar, Spanish language, and public speaking. In addition, Udemy provides guidance on how to train instructors and how to create quality online courses.
Udemy does not need any experience or special references to create and sell a course. It is market-based to separate the wheat from the chaff. Course creators are primarily responsible for advertising and marketing their courses, just as self-published authors need to promote their books on Amazon if they want to be commercially successful. Udemy's mission is to "help everyone learn something online".
Many courses offer a course completion certificate once the student finishes the course. In the absence of independent domain validation, it is important to consider that the value of a certificate may be challenged by people you do not know or who are not Udemy. Although some courses have been approved for continuing education, interested students must check their status prior to taking a course.
Udemy Features
Retargeting Ads
Course Marketing
Action-Based Email Campaigns
Ad Hoc Email Campaigns
External Partnership Promotions
Search and Discovery
Course Quality Checklist
Earn Extra Income
Coupons and Discounts
Assignments
Course Catalog
Training Videos
Teach Hub
Udemy Benefits
The marketing feature of the Udemy course is one of its outstanding features. Instructors will be able to promote the courses they have created and market their own brand to the public and students involved. Udemy helps teachers advertise their courses in four different ways: ad redirection, search, and discovery, email campaigns, and external partner advertising.
Redirected ads are used to reach students who want to view or add a course, but have not purchased it. In any case, students will see the announcement of the course in their Facebook messages or other online sites.
Using the Udemy product team, trainers can improve the research capabilities of their Udemy courses. Additionally, emailing campaigns is another way Udemy helps instructors promote and market their courses. The e-learning platform divides students according to their past purchases and their specific behavior by personalizing the distribution of campaigns via email.

For example, you can send an e-mail to students who have never purchased a course or to those who have actively purchased the course. When a student searches for a specific term, he or she can also activate a directed email.
In addition, Udemy holds partnerships with bigger niche content websites. Udemy works with websites offering daily deals, such as Groupon and LivingSocial, to promote their instructor's courses.
Udemy for students
Udemy offers the opportunity to further improve the skills and apply the training students have acquired in the courses. Being able to work on tasks allows them to use their skills. You can also share your completed work with other students so students can comment on the tasks and there are over a million students who enrolled on this platform.
Students are faced with a large selection of teachers who want to teach students. Students can be pleasantly surprised by the options available for all aspects of the learning process, from different ways of learning content to feedback on what has been learned.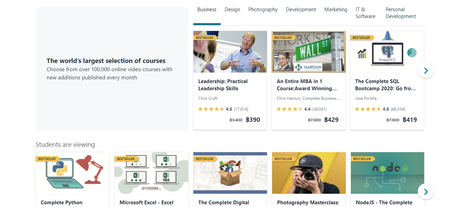 Throughout the course, faculty members can distribute tests and manual assignments to help students finish, return, and receive feedback.
Udemy does not have the same "project" feature as Skillshare, so it's less interactive between the students. Udemy can also be overwhelming, as there are just too many people on the site, and it's difficult to find exactly what type of content matches the lesson.
Although creating a Udemy account is free, learning is not free. Your students need to reopen their wallets to pay per course, ranging from a few dollars to over $ 20.
Udemy estimates that most of their courses are free, although the price for most courses is between $ 29 and $ 99 and once you purchase a course then you get lifetime access to it. The Company is actively working to build a customer base with widespread vouchers and promotional periods that allow students to try out free courses or courses with 50% or more of the quoted price.
Udemy for Teachers
Teachers certainly benefit from the large group of students and therefore need to create meaningful classes that really help them get involved and keep the information. Udemy professors earn on pay per basis, 50% of their current price for courses, but this can increase to 97% of students come over from the teacher's specific reference. As an instructor, you can earn more on Udemy than other learning platforms.
It may also be easier for you to create courses to your liking. Udemy provides PowerPoints as well as PDFs and videos as acceptable course material. This site can be adapted to educators who want to find a way to market their skills without having to create their own advertising or website.
How To Create A Udemy Course (Step By Step)
Udemy has more than 25,000 courses, so it's important to differentiate the readers. You want to track users who have acquired other courses and are not interested in repeating (and possibly paying) the same. This is probably the hardest part of a survey. Remember, however, that this is part of the task of creating a successful course.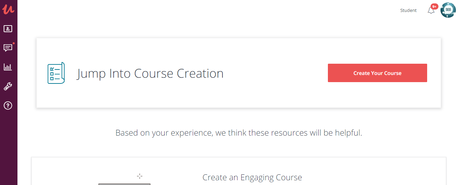 Take the time to look around what is already on the topic for which you want to create a course, and then take a unique perspective. Do not make a copy of another available course, even if the course does not work well and you think you could do better.
If you commit to it, you really commit yourself. The users generally prefer (and pay per course) courses that have a lot of content. A larger class such as 50 lectures and 10 hours of video content is always better than a smaller class with only 5 to 10 lessons and 2 hours of video content. On the one hand, it shows that you know the topic, which is why you prove the course in the first place.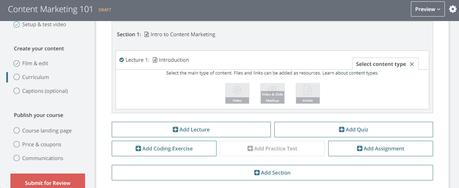 Even though you are not so well known in Udemy, this will take you to the next level. You want to create as much content and video conferencing as you need. It's hard to get used to marketing professionals because the content of the short format is very common online, but Udemy is different. If someone is going to pay for something, instead of just spending time, they decide to learn something quickly.
1. Stand Out From The Crowd
Before you start developing your career, you want to clearly define all of your goals. Here are some things to keep in mind: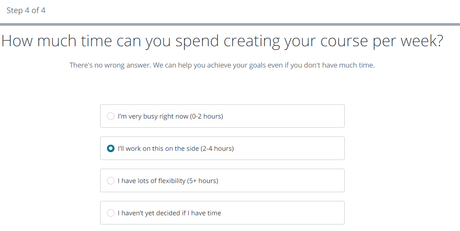 View the Analytics account of all people in real-time.
You can view real-time revenue and conversion data from any website and from campaigns that generated that traffic.
2. Develop a Broad And Detailed Course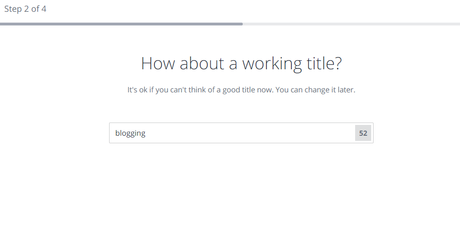 Knowing your target audience is important for a good trip. You want to make sure you know the level and age group you are using. Suppose the course is for advanced trainees, but they have been around for a while and they are a bit older. So you could cancel some of the additional technology-based steps. Sometimes clarity is the key and users will thank you for your thoroughness.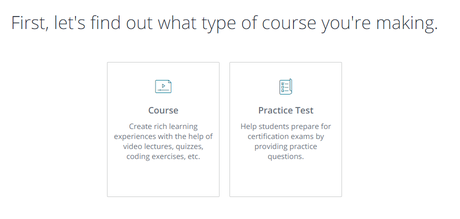 As mentioned earlier, there is a lot of content on Udemy, but not discouraged. Choosing the right subject may require some work, but you can successfully write a course and achieve your goals if you take your time.
3. Define Your Goals Clearly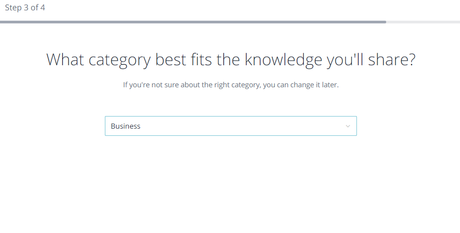 Some people can volunteer for free Udemy courses. Good for you! If you are not, it is more than good. Most small brands, entrepreneurs, and professionals participate in these courses to provide additional benefits in addition to credibility, and this is not a problem.
To decide what you want to load, really look at what others are doing with similar content. Think about your audience and what the demographic goal can bring.
4. Who Do You Teach For?
In my opinion, this step is the most important step in creating a successful online course. They want to build a relationship and engage the students. Some of the best courses I've ever seen have offered tests and recordings at the conference so they can be sure they're on the right track with materials or other creative methods so that attendees can feel that they really deserve something.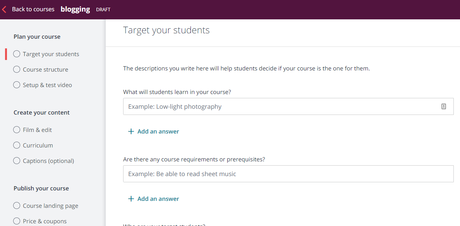 You can also think outside the box and have a Google Hangout or other live chat with the teacher with everyone who bought the class. This helps students to interact in real-time and ask questions. There are many ways to engage your audience, but it is really the key to bringing people back and ensuring that they end successfully. So you become a good price developer.
Skillshare vs Udemy: The Pricing Battle
5. How Will You Choose The Topic?
Skillshare Pricing
Skillshare offers free, premium, and teams enterprise pricing plans. The trial period is for 14 days, there is no lifetime access to it. Give the details a look, and choose a plan that works for your business: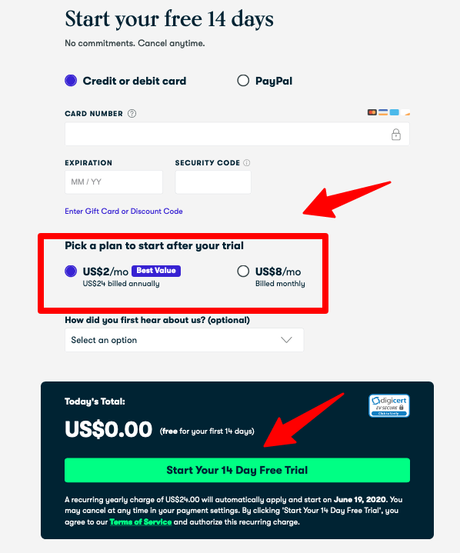 $15/month
billed monthly
Unlimited access to all classes
Offline Access
No Ads
Supports Teachers
Scholarships
$8/month
$96 billed yearly
Unlimited access to all classes
No Ads
Offline Access
Scholarships
Supports Teachers
Perks
6. How Much Do You Charge?
Udemy Pricing
Udemy provides students two pricing plans which include basic and enterprise pricing plans, depending on the number of users in your team or company. Here is the detailed look for the plan and its offerings.
7. Keep Students Engaged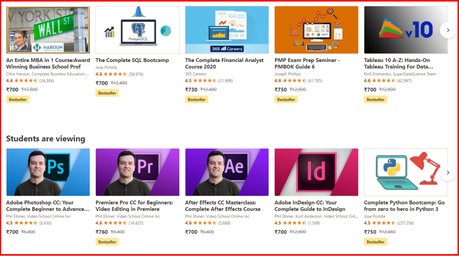 $240/yr.
5-20 Users
2000 Courses
Designed for small teams
and businesses
Unlimited Access Anytime, Anywhere
20+ Course Topics
Progress & Quiz Assessments
Basic Analytics & Insights
Mobile App for iOS and Android
Offline Viewing Availability
Pay per Course
21+ Users
2,000 Courses
Built for departments
and large organizations
20+ Course Topics
Advanced Analytics & Insights
Single Sign-On
API Integration
Course Creation Platform
Dedicated Customer Success
Hosted Proprietary Content
Offline Viewing Availability
Advanced Admin Functionality
Mobile App for iOS and Android
Progress & Quiz Assessments
You want your Skillshare and Udemy class to be an activity people want to engage in, something they consider valuable and valuable to their own success. Once you buy a course on Udemy then you get lifetime access to that particular course.
Skillshare Vs Udemy: FAQs
More Frequently Asked Questions About Skillshare Users:
Is Skillshare a good service?
People who wish to master practical, creative talents rapidly would love Skillshare's online learning platform. This is the platform for you if you want to obtain a crash lesson in Python. Skillshare is an amazing resource for a 30-minute introduction to darkroom photography.
Is YouTube better than Skillshare?
Skillshare is a better option than YouTube for learning art. Skillshare, in opposed to YouTube, features more in-depth content grouped into easy-to-follow tutorials. Without having to do a lot of searching or fighting with ads, Skillshare makes it simple to focus on a certain art skill.
Skillshare Premium - Monthly
How much does Skillshare cost a month?
Skillshare has a limited free tier, Premium memberships ($8 per month or $29.88 per year), and Teams accounts ($139 per person per year, with a minimum of two persons) available. A limited number of video classes and accompanying content, such as PDF workbooks and community conversations, are available in the free version.
Skillshare Premium - Annual
Is Skillshare really free?
Sign up for Skillshare for free with just your email address. Upgrade to a Skillshare Membership to have full access to over 20,000 lessons as well as other benefits like as offline viewing, subtitles, transcripts, and rewards. Here's where you can find out more about the cost of a Skillshare membership.
Can you cancel Skillshare after free trial?
You can cancel your Skillshare subscription at any time and renew it if you wish to come back. If you started your membership or signed up for a free trial on our website, you'll need to terminate your membership by going to www.skillshare.com from a desktop or mobile web browser.
Why is Skillshare bad?
While Skillshare has a number of high-quality videos, it also has a lot of videos with bad audio or terrible images. Some of the teachers have trouble even talking, which takes me out of the experience and leaves me with nothing to learn.
Does Skillshare or YouTube pay more?
Udemy Team
On Skillshare, you get paid for every minute your material is seen. Teachers on Skillshare earn roughly 50 times more per minute seen than creators on YouTube, who earn around $2000 per million views. In the first six months, teachers earn an average of $1500 in passive income, with top teachers earning over $40,000.
What is the point of Skillshare?
Udemy Enterprise
Skillshare is a digital platform that connects students (like you!) with online courses taught by experts, innovators, entrepreneurs, and professionals in the real world. It was created with the intention of teaching anyone anything.
How much can I make on Skillshare?
In their first month on Skillshare, first-time teachers earn an average of $200, with top teachers earning upwards of $3,000! To get a payment for a month, you must watch a total of 30 Premium minutes across all of your classes.
Can you put Skillshare on your resume?
If you are not a recent graduate, you should include relevant work experience on your resume. One exception would be if you obtained a valid professional certification after completing courses, but even then, the certification is more important than specific classes or classwork.
Skillshare Vs Udemy Customer Reviews & Testimonials:
Skillshare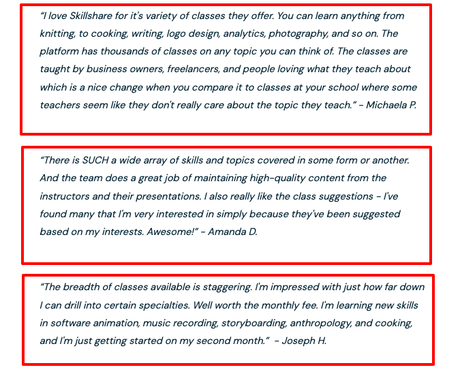 Udemy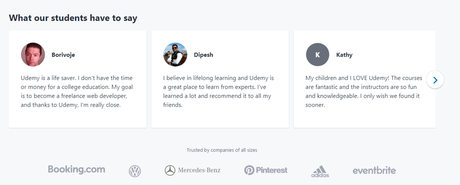 Conclusion: Skillshare vs Udemy 2021
And finally, what everyone expected: Which site should I use as a student or educator? Although Udemy has veteran status and a large community, Skillshare has a very close community of students and teachers. This link is created through highly interactive projects and group projects established by the course creators.
Both Skillshare and Udemy are more similar to one another than other e-learning platforms. In addition, Skillshare also diversifies into the personal improvement of non-academic skills, while Udemy focuses on the high-tech field and follows a pay-per-course system.
This does not mean that Udemy is not satisfactory. The content and user interface are simple and easy to navigate, a professional with a wide range of content and learners interested in learning. Both Skillshare and Udemy are magnificent learning platforms but I think SkillShare is better for average students who just want to save money, connect with other students like him, and learn as much as possible from other sites like Skillshare.
We hope this Skillshare vs Udemy comparison suits your purpose well. You can do us a favor by sharing this post on social media platforms such as Facebook, Twitter, and LinkedIn.
Quick Links: