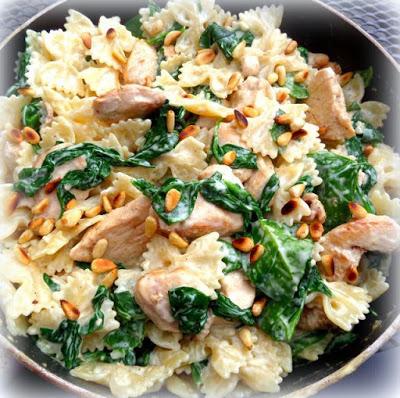 Today I bring you a pasta dish which is not only quick and easy to make, but quite, quite delicious!  With it's fresh flavours and pretty colours, this is sure to please almost anyone and is a great way to get the kids to eat their spinach!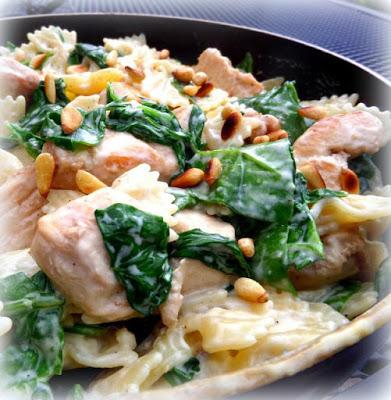 It uses simple ingredients such as lean chicken breasts, which you slice and then brown off in a bit of butter, until cooked through.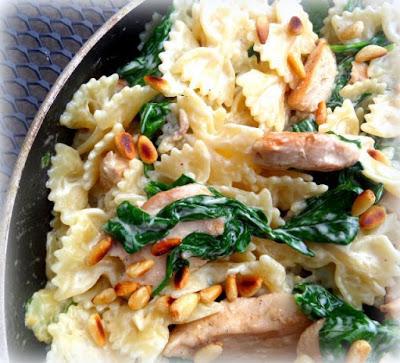 You scoop them out and keep them warm and then add some garlic to the pan.  Once the air is filled with it's lovely smell you add some cream, lemon zest and lemon juice to create a delicious light Alfredo type of sauce!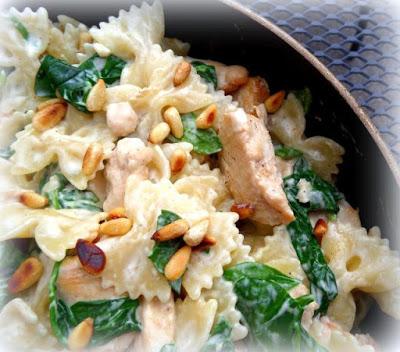 While you are making the sauce, have your pasta cooking.  Once cooked you simply drain it and then return it to the pot along with the spinach.  The heat of the pasta wilts the spinach perfectly.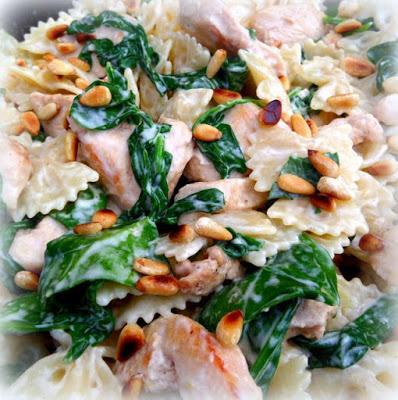 After that you simply stir the sauce, chicken, some cheese and a bit of the pasta water into the pan along with some of the cooking water from the pasta and your dish is ready to serve pronto!  It is every so quick to make and let me tell you, it pleases this pasta loving heart of mine!  Chicken, pasta and spinach in a creamy garlic and lemon sauce, with the crunch of toasted pine nuts.  What's not to like?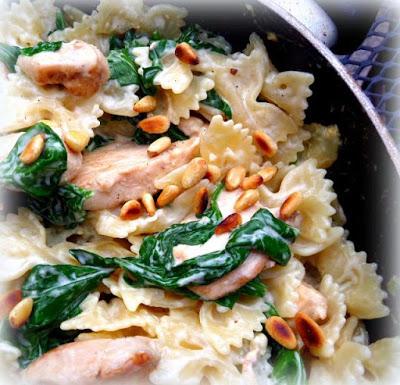 *Skillet Chicken and Spinach Bowties*
Serves 4 Printable Recipe  

This quick and easy dish is alive with fresh flavours . . .  lemon, spinach, parmesan, garlic . . .  and cream.  With butter browned chicken bits and crunchy toasted pine nuts, it is a feast for all of the senses!
4 small boneless skinless chicken breast halves,
cut into slices crosswise salt and black pepper to taste
2 TBS butter
2 cloves of garlic, peeled and minced
120ml of double cream (1/2 cup heavy cream)
2 tsp freshly grated lemon zest3 TBS fresh lemon juice500g dried Farfalle (1 pound, bow tie pasta)160g bag baby spinach (about 6 ounces)
 90g freshly grated Parmesan Cheese (1/2 cup)
 40g toasted pine nuts (about 1/3 cup)
 Season the chicken with salt and pepper.  Melt one TBS of the butter in a pan.  Cook the chicken pieces, in two lots, adding the remaining butter with the second lots, and cooking until lightly browned and cooked through.  Remove from the pan and set aside.  Keep warm.
Add the garlic to the empty skillet.   Cook over medium heat until fragrant.   Add the cream, lemon zest and lemon juice.  Simmer until the sauce thickens slightly.  Remove from heat.  Cover and keep warm.
 Bring a large pot of salted water to the boil. 
 
Cook the farfalle in the boiling water until al dente.  Reserve 1/2 cup of the cooking water and then drain the pasta well.  Return it to the pot.  Add the sauce, cooked chicken, spinach, cheese and pine nuts. Toss together, adding reserved pasta water as needed.  Season to taste with more salt and pepper and serve.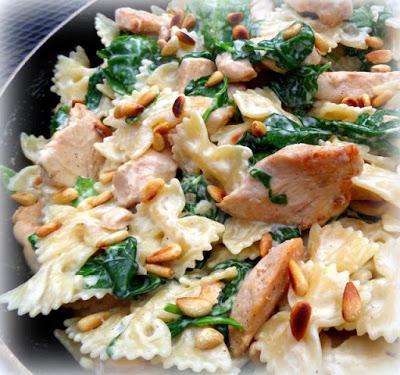 Todd, even though he isn't really fond of pasta, doesn't seem to mind this too much.  I think it is really just spaghetti he doesn't like because he finds it hard to eat. In any case I think this is something you will enjoy!  Bon Appetit!