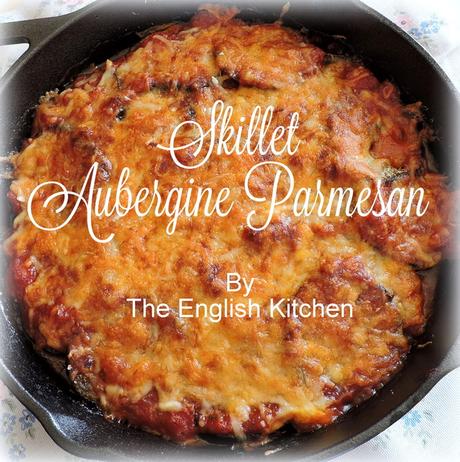 I love skillet type of meals . . .  one dish affairs that you can cook and bake all in one skillet.     This Aubergine (Eggplant) Parmesan is a real favorite of ours.  It's a meatless dish . . .  just the aubergines, cheese and a delicious sauce in this one.    It is a bit lower in calories also as there is no breading and frying involved which also makes it gluten free for those of you who are into that sort of thing.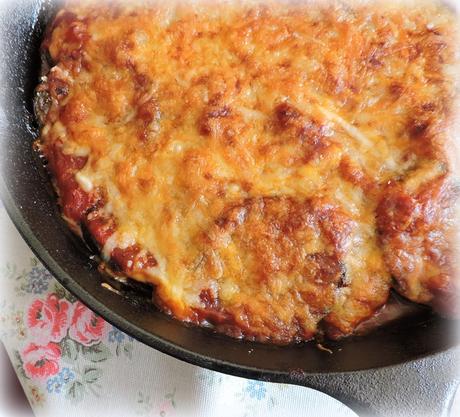 You start off by creating a delicious tomato sauce  . . .  using tinned chopped tomatoes, garlic, herbs, etc.   and while that is cooking down, you slice your aubergines, season them, drizzle with olive oil and roast them in the oven until they are just beginning to soften and turn golden brown on the edges.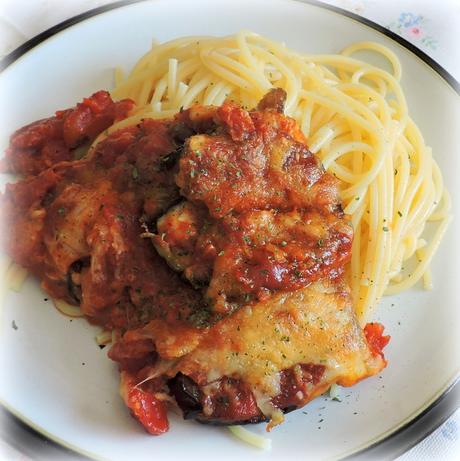 The roasted aubergine and tomato sauce are layered in a deep skillet, along with lots of grated cheese and then baked in the oven until the whole dish is meltingly, oozingly, deliciously melded into something quite, quite  irresistible.  I served it with some spaghetti (for Ariana and myself) and the Toddster had his with potatoes.   You can lead a horse to water  . . .  but you can't always make him drink.   This really is delicious people.  I hope you will give it a go.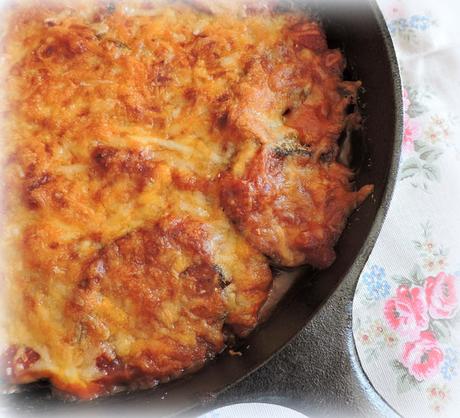 *Skillet Aubergine Parmesan*
Serves 4
Printable Recipe
This is a delicious and easy version of the much beloved casserole.  There is no  frying so it is a tiny bit healthier, or at least I like to think it is. 
2 TBS olive oil3 cloves of garlic minced1 tsp dried oregano1 tsp dried thyme1 tsp ground paprika1 tsp parsle flakes1/4 tsp nutmeg1/2 tsp ground sage1/2 tsp salt1 TBS balsamic vinegar1 tsp sugar1/2 cup vegetable stock2 (400g) tins of chopped tomatoes in tomato juice (2 14-oz tins, undrained) 
You will also need:2 medium aubergines (also known as Eggplants)olive oil180g of grated Parmesan Cheese (1 cup)130g of grated  four cheese mix (1 cup)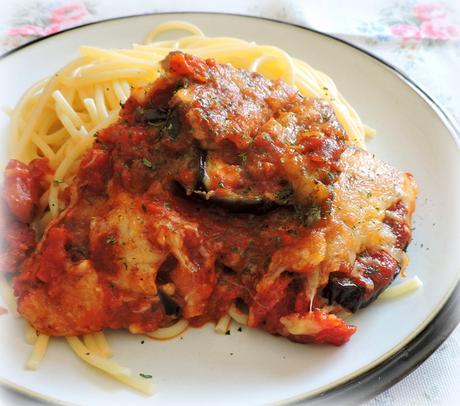 Heat the olive oil in a saucepan.   Add the garlic.  Saute for several minutes until very fragrant.  Add all of the herbs, spices and salt.  Cook for a further minute then stir in the tomatoes, stock, vinegar, and sugar.   Bring to a boil, then reduce to a very low simmer.  Cover and allow to simmer for 35 to 40 minutes.
Preheat the oven to 190*C/375*F/ gas mark 5.  Wipe the aubergine with a damp cloth and trim both ends off.  Cut into 1/2 inch slices.   Have ready a very large baking tray (or two smaller ones)  Drizzle the aubergine on both sides with olive oil and season with salt and pepper. Place in a single layer on the baking tray (s).  Roast in the heated oven for 30 minutes, flipping them over after fifteen.
Remove them from the oven and increase the oven temperature to 200*C/400*F/ gas mark 6.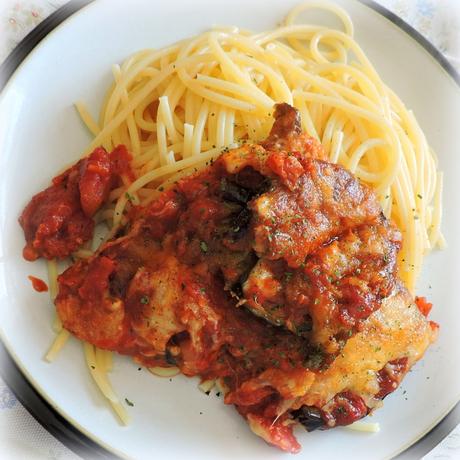 Spoon one third of the tomato sauce on the bottom of a medium sized oven safe skillet.  Layer on half of the aubergine slices.   Spread with another third of the sauce and sprinkle with 1/3 the cheese.  Top with another third of the sauce.  Top with the remaining aubergine slices, then the remainder of the sauce and the cheese.   Bake in the preheated oven on a center rack for 35 to 40 minutes until the cheese is golden brown and the sauce is bubbly.
If desired serve with additional cheese, and plenty of crusty bread.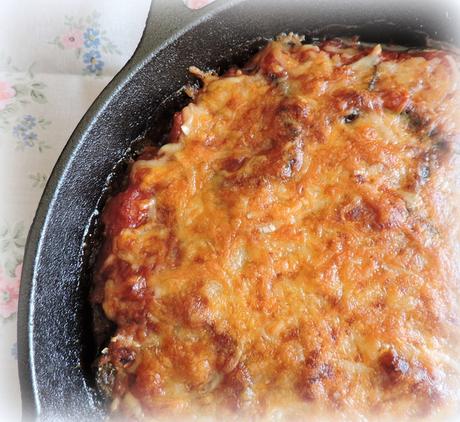 It helps to have the right kind of a skillet for a dish like this and this time I used a 10 1/4 inch Cast Iron Skillet by Lodge which was sent to me from the people at Eddingtons.  I love cooking with Cast Iron.  A good cast iron pan will last you a lifetime if you treat it properly.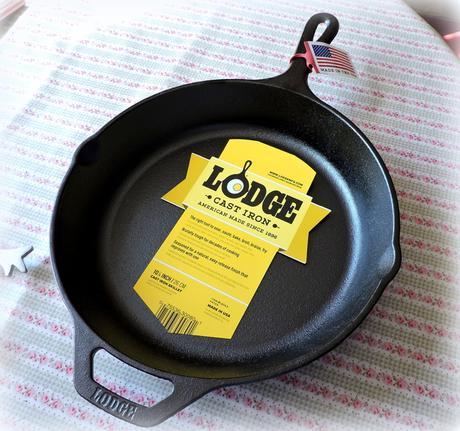 Lodge Cast Iron Pans are American made since 1896
The right tool to sear, saute, bake, broil, braise or fry.
Brutally tough for decades of cooking.
Seasoned for a natural, easy-release finish that improves with use.
Easy care, simply hand wash, dry and rub with cooking oil.
Unparalled in heat retention and even eating.
At home in the oven, on the stove, on the grill or over the campfire.
Since 896, the Lodge family has been casting permium iron cookware at their Tennessee foundry.  AS the sold American manufacturer of cast iron cookware, they are proud to carry on a legay begun by their great grandfather Joseph Lodge.  They don't just make cast iron . . .  they make heirlooms that bring people together for generations.
What more can I say.  I love it.   For years I have been wanting to bring one back to the UK with me when I have visited home, but the weight has meant I couldn't.  (You can only have a certain weight of luggage before they start charging extra!)  I was so pleased when Eddingtons sent this to me.   Happy.  Happy.  Happy.
Available at
Ocado
for £27.90
Many thanks to Miriam from Shrewd and Eddingtons for sending me this lovely pan!  I plan on using it for many years to come, and it's nice to know that if I treat it properly I can.