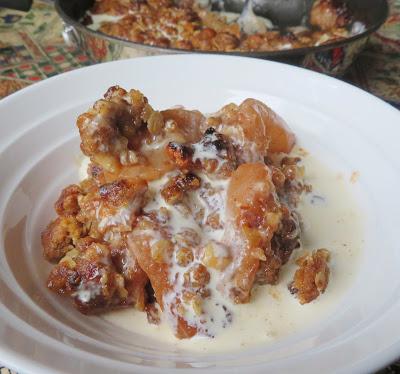 I had purchased rather a lot of apples that needed using up and so I thought to make us an apple crumble.  I say us, but really I mean Todd.  I hardly ever eat dessert, although I do always taste it.  Quality control, you know how it goes.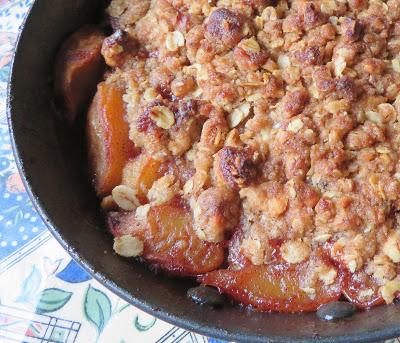 This turned out fabulously tasty!  It is also a part of my  commitment to sharing more recipes for smaller families this year.   If you are not a smaller family, you could certainly double the ingredients for this one, or I do have a
full sized crumble recipe here
.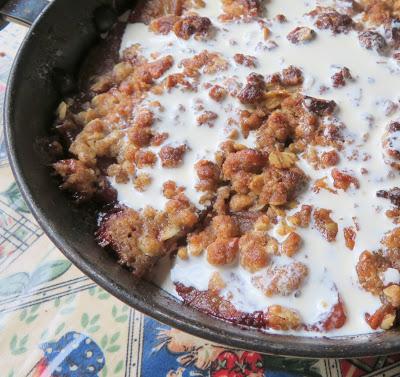 You will need an 8-inch oven-proof skillet to bake this in, but failing that you can also bake it in a small casserole or loaf tin.  (That's pouring cream on top.)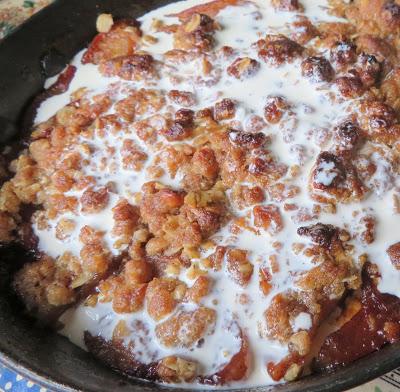 Todd loves custard or cream on his fruit desserts . . . .  well, really he loves it on any dessert, and he is a lucky creature in that he seems to be able to eat these things without any problem, whereas  I just have to look at them and I put on ten pounds.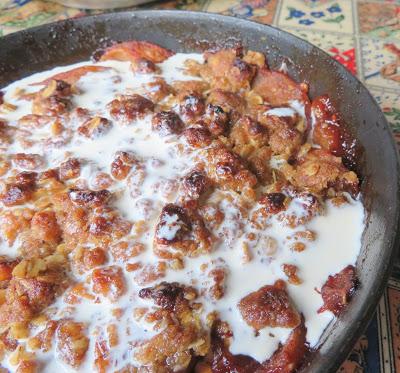 That's life and as the old saying goes, Life isn't fair!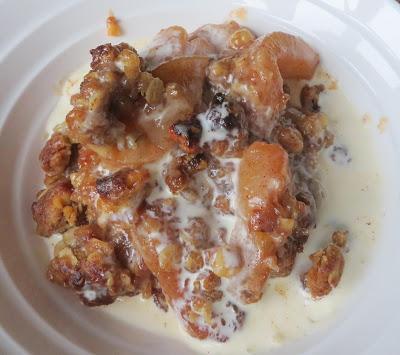 A simple crumble topping is made using oats, flour, chopped walnuts, brown and white sugars and butter . . . .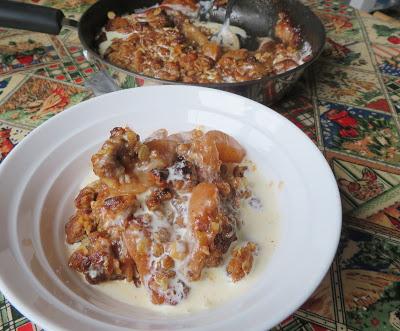 The fruit filling is a mix of cinnamon sugar coated apple slices sauteed briefly in butter  just until they are tender.  You top them with the oat mixture and then briefly bake in a hot oven until crisp and golden brown.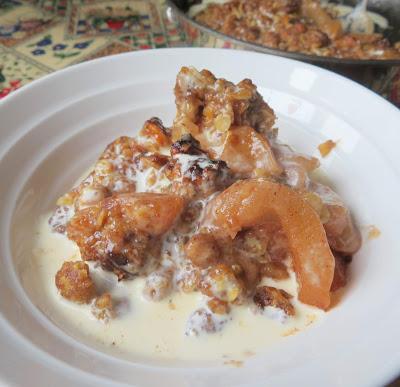 It is delicious served warm and spooned into bowls along with lashings of cream or custard, or vanilla ice cream, which would be my personal choice.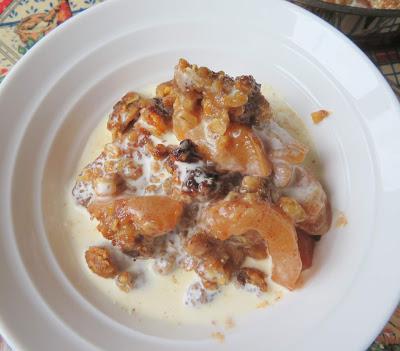 Tender sweet, buttery Cinnamon apples  . . .  crisp crumbly oat-nutty topping  . . .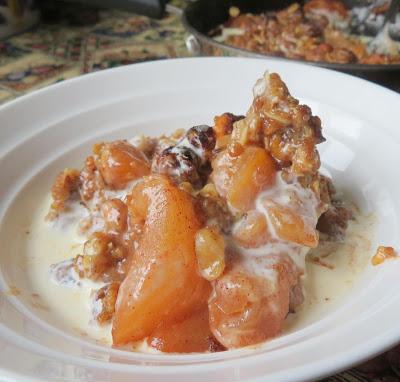 This really is very good.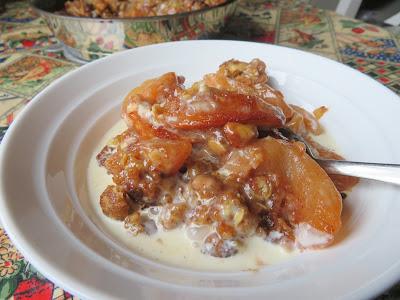 VERY very good . . .  but don't take my word for it.  Bake it for yourself and see.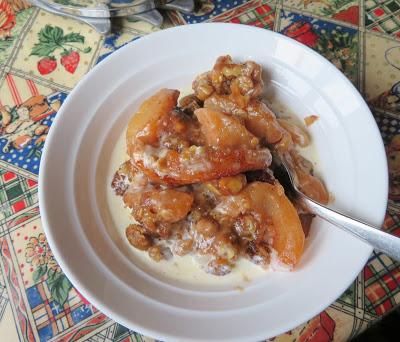 If you wanted to you could switch out the walnuts for almonds and add some frozen or fresh raspberries to the apples, in which case it would  be a Skillet Apple & Raspberry Almond Crumble.  Delicious either way.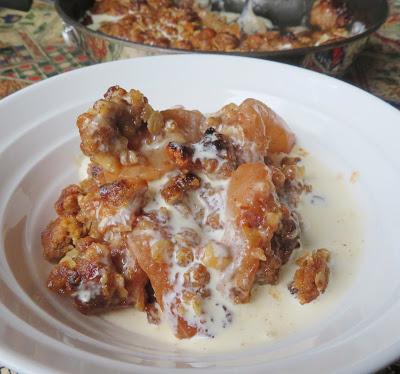 Skillet Apple Crumble
Yield:
2
Author:
Marie Rayner
prep time:
cook time:
total time:
Apples caramelised in butter bake beneath a scrumptious walnut and oat crumble topping for the perfect comfort dessert for two. You can also bake this in a small loaf tin if you don't have an oven-proof skillet. It is a bit of an extravagance
ingredients:
For the apples:
4 large pink lady apples, peeled, cored and cut into 1/2-inch wedges
2 TBS granulated sugar
1/4 tsp ground cinnamon
1 TBS butter
120ml cloudy apple juice (1/2 cup)
1 tsp lemon juice
For the crumble topping:
35g plain flour (1/4 cup)
20g old fashioned oats (1/4 cup)
30g chopped toasted walnuts (1/4 cup)
3 TBS packed soft light brown sugar
1 TBS granulated sugar
1/4 tsp ground cinnamon
3 TBS melted butter
instructions:
How to cook Skillet Apple Crumble
First make the topping. Combine the flour, oats, walnuts, cinnamon and both sugars in a bowl.  Add the melted butter and stir together with a fork to combine into a crumbly topping.  Set aside.
Toss the apples together in a bowl along with the granulated sugar and cinnamon.  Set aside.
Put the apple juice into an 8-inch oven-proof skillet.  Bring to the boil and boil for about 3 minutes until reduced to 80ml/1/3 cup.  Tip out into a beaker and add the lemon juice.  Set aside.
Melt the butter in the skillet and add the cinnamon apples.  Cook over medium heat, stirring frequently, until the apples have begun to soften and become translucent, about 15 minutes.  Gently pour in the apple juice mixture and stir to combine. (If you are using a small loaf tin, transfer them to the loaf tin now.)
Preheat the oven to 220*C/420*F/ gas mark 7.
Sprinkle the crumble topping over the apples, breaking up any larger chunks.
Place the skillet/loaf tin onto a baking sheet to catch any overflow.  Bake in the preheated oven for 15 to 20 minutes until golden brown and bubbling.  Serve warm.
NOTES:
If you wanted to you could substitute flaked or chopped almonds for the walnuts and add a handful of fresh or frozen raspberries to the apples before topping them with the crumble topping.
Did you make this recipe?
Tag @marierayner5530 on instagram and hashtag it #EnglishKitchenCreated using
The Recipes Generator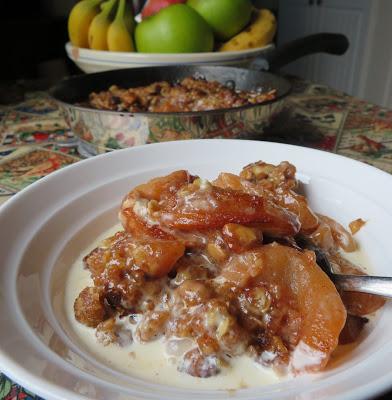 Oh but the weather is so dismal and windy and gray here today, this was a real mood lifter for Todd. I hate British winters  . . .  there is nothing redeemable about them.  Sigh  . . . .