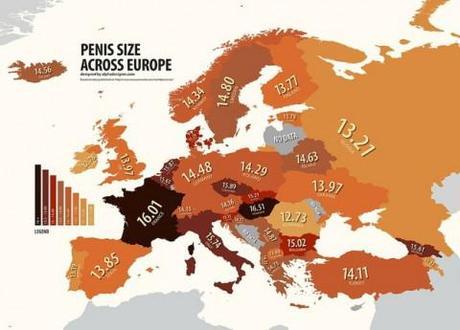 AlphaDesigner.com
As part of their ongoing project of visually mapping national and regional stereotypes, the kind folks at AlphaDesigner.com have recently come up with a very handy map that's busily making the Internet rounds: Europe according to penis size.
On the continent, the Hungarians and the French measure up the best, both above 16 centimetres. Brits come up somewhat short, at 13.97 centimetres, but they're better off than the Romanians, who at 12.73 centimetres, enjoy the distinction of being the smallest.
"This must be right. Frenchmen are big dicks," slammed commenter Peter Jacob Hansen on BuzzFeed.com.
Getting a visual on the sovereign debt-penis correlation. This map follows an earlier study, entitled "Male Organ and Economic Growth: Does Size Matter?", put together by Tatu Westling, at the University of Helsinki, who found an inverse U correlation between GDP growth and penis size. It would seem that when it comes to economic growth, size does matter. The same inverse correlation seems to be true of penis size and national debt. In the midst of the Eurozone sovereign debt crisis, the new map throws up interesting figures that show the smaller the penis, the bigger the debt. Ireland, measuring up among the shortest in Europe has a sovereign debt of 1382 percent. The UK among the smallest penis sizes in Europe, is the second biggest debtor nation with a sovereign debt of 413 percent GDP.  Meanwhile France and Hungary, Europe's big boys, have national debts of 250 percent and 120 percent respectively.
"It's no coincidence that HUNGary is at the head of the list," noted commenter Sheri Alexander on BuzzFeed.com.
Sex tourism made a lot easier. Perez Hilton and Queerty are thanking compilers of the map for helping make their decisions on where to travel in Europe next a whole lot easier.