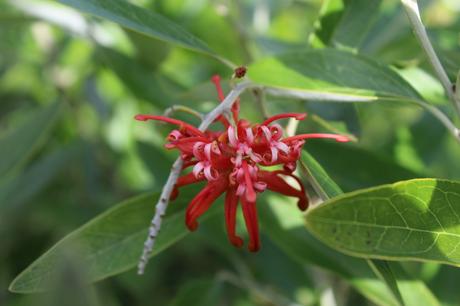 Grevillea victoriae
I need to learn to love my front garden just a bit more. Its a lot better than it was three or four years ago before I dug up the lawn but the truth is I just walk past it every day and every so often I find myself thinking I need to spend some time tidying up and sorting it out . So today I thought I would include it in the Six on Saturday meme so I would be forced to look at it more.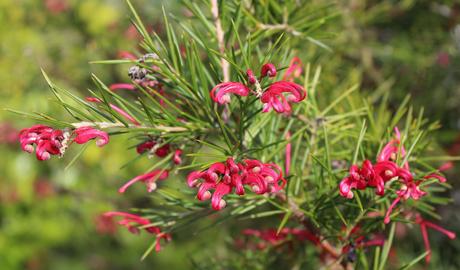 Grevillea Canberra Gem
There are two Grevilleas in the front garden.  The Grevillea 'Canberra Gem' has been in the front garden for probably 11 years.  I love it, it reminds me of my late sister as I bought it with her. At the moment its about 5 ft high by 5 ft wide and thats after we heavily pruned it last Autumn by about 2ft all over.  It has just started flowering and is beloved by the pollinators.  The other grevillea is Grevillea victoriae (see top picture).  Interestingly, it has broad leaves not the pine like leaves of Canberra Gem and it is only the flower that really, in my opinion, indicates they are the same family. This shrub was added to the garden probably about five years ago and was moved a few times so is now only really begining to establish itself.  The shrub is less floriferious than the Canberra Gem, you really have to seek the flowers out, although I am wondering if that will improve with time.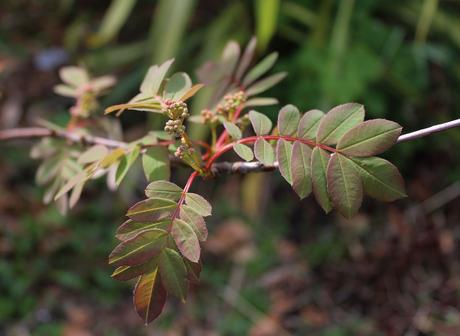 Sorbus pseudohupehensis 'Pink Pagoda'
As well as two Grevilleas, there are two Sorbus in the front garden; more of a flux than by design – I just like Sorbus.  I planted a Mountain Ash (Sorbus aucuparia) when we moved in 15 years ago and a couple of years back added Sorbus pseudohupehensis 'Pink Pagoda' to add balance in the garden.  They form a sort of triangle of trees with a Birch being the third point.  I was pleased to see the leaves had reappeared today, as it struggled last year in the drought and was one of the few plants that I consistently ensured had a good watering once a week.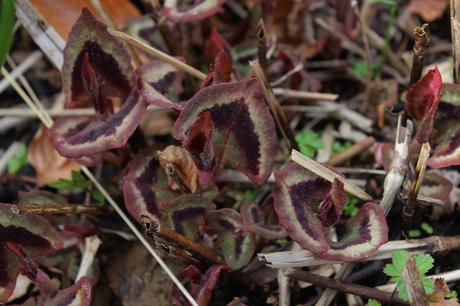 Persicaria nepalensis
I have a preference for foliage these days over flowers as I think the garden looks better all year round with a good tapestry of interesting foliage and then flowers add interest as they come and go.  I'm not the biggest fan of Persicaria as it can be a bit of a thug and attempt to take over a border (been there, done that) but I did succumb to Persicaria nepalenis because of its beautiful leaves.  I think the flowers are a pale pink, but as I can't remember it shows you that the main attraction of this plant is its leaves.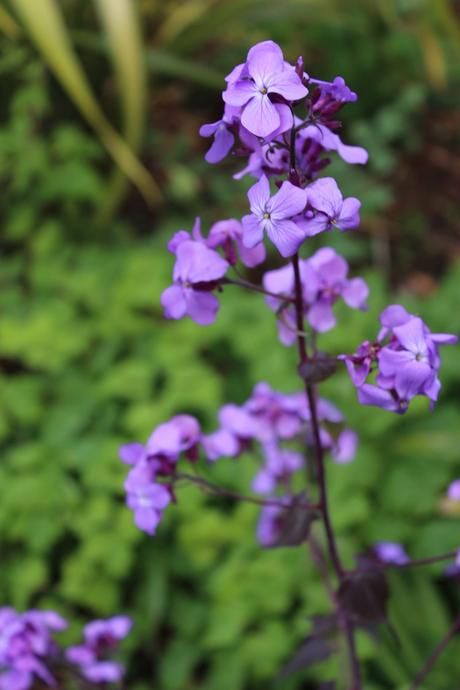 Lunaria 'Chedglow'
Last week I showed you the swath of Lunaria (Honesty) at the back of the main garden, which self seeds around.  From the colouring of the leaves they seem to be a cross between a couple of Lunaria I have grown over the years.  In the front garden I am more certain that the Lunaria are self-sown Lunaria 'Chedglow' due to the distinctive dark stems and leaves with variegation.  This one has placed itself in the gravel path and is thriving.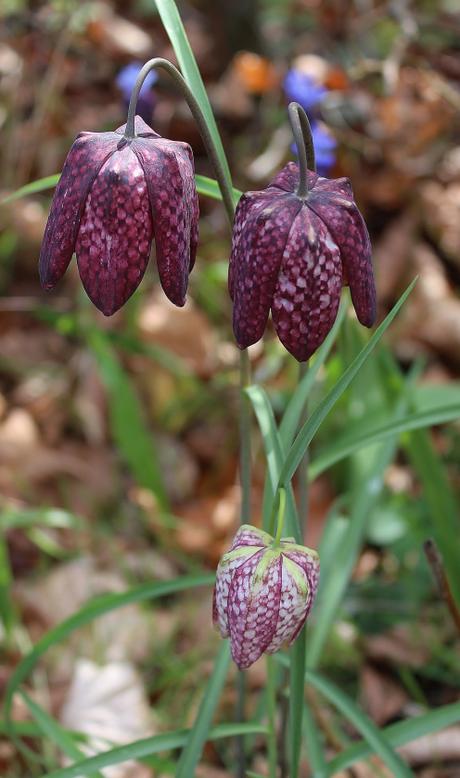 Fritillary melegaris (Snakeshead Fritillary)
Finally, I spotted a line of Snakeshead Fritillary growing along the beech hedge.  I planted them years back when there was a lawn and I laboured over whether or not the dryness under the hedge would work for them for not.  It seems to have worked well, although now it means that the fritillaries are growing at the back of a big border and not really seen so I may have a think about trying to relocate them – or maybe not.
Thanks to the Propagator for hosting this weekly meme which gets me into the garden even when I dont have time to garden but I can find 5 minutes to take some photo and see what is happening, and ponder plans.
Advertisements