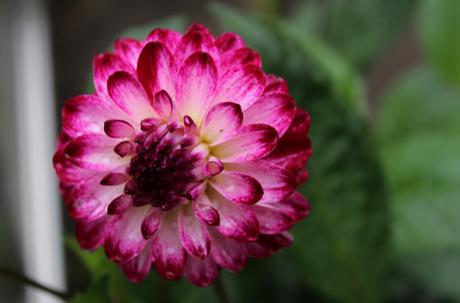 Dahlia Little Robert
I've been away for a week visiting gardens in Yorkshire, very inspiring and I will probably share my thoughts and images with you soon.  I only had time on arriving home to unload my plant acquisitions  so I didn't have a chance to walk round the garden until Friday morning when it was absolutely pouring.  The rain is well overdue and the garden will benefit and hopefully the humidity will be lifted but the rain isn't very helpful for taking photos and having a look around the garden so these are not my best.
The dahlia is the only one that has grown for me this year.  I bought four tubers and this is the only one that has grown, which is a huge disappointment. I doubt I will bother with dahlias again as they are generally too large and dominant for my planting style.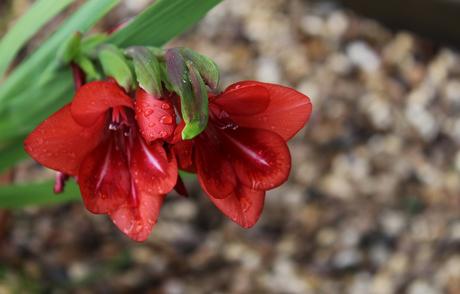 Gladiolus flanniganii
I love this gladiolus, I have a whole pot of it which I drag under cover each winter to protect it.  Its a small gladiolus and originates from the cliffs of the Drakensburg, I expect I bought it from am alpine nursery when I was dabbling in alpines a few years ago.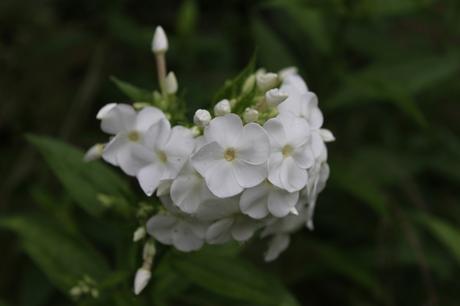 Phlox paniculata 'David'
I did spot that the Phlox paniculata 'David' is flowering.  This phlox does really well for me and it smells amazing.  I saw quite a lot of phlox in Yorkshire last week so I bought another one to see if it will grow as well.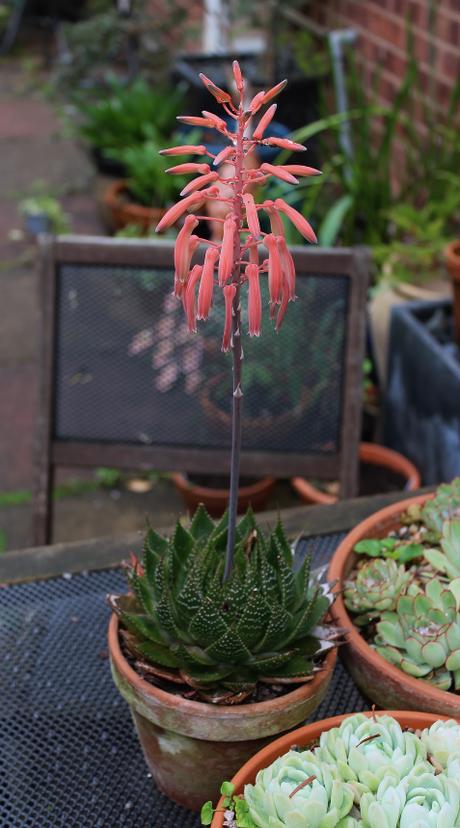 I've included the flowering agave as the flower is so disproportionate to the size of the plant.  I suspect it is long overdue for repotting; another job to add to the long list of jobs to do.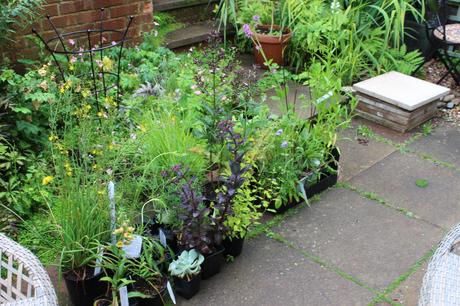 You may have wondered earlier what plant acquisitions I made so I thought I would show you a picture of them recovering in the rain. Some of them spent 5 days sitting under a coach so they have done very well; we were lucky that our coach driver is also a gardener.  He has driven us for each of our trips over the last four years so is part of the gang now although this year we really challenged him with filling the underneath of the coach and every available space inside the coach with plants. I think I ended up with 21 plants including an echeveria, a fern, a couple of alpines and numerous plants for the Big Border where I am trying to improve the grassy pollinator look.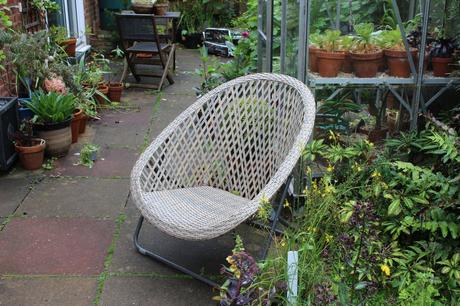 The other new acquisition on the patio is a new patio set of two chairs and a small table.  We wanted chairs which were conducive to reading and relaxing and these chairs are incredibly comfortable.  I bought them just before I went away so I am now looking forward to having a nice sit down outside when I get home from work next week.
Those are my soggy Six on Saturday, for more posts visit The Propagators blog.
Advertisements