It was smooth sailing in South Korea with the help of these apps:
Booking.com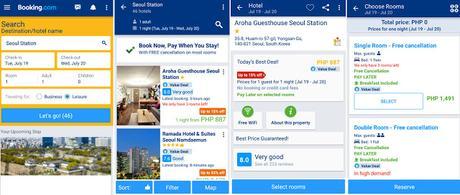 All of my accommodations for this trip were booked through this app. What I loved about Booking.com is its ease of use. I can filter by location and by price—no need to salivate over accommodations I cannot afford!
To book, some accommodations on Booking.com would require a credit card, but won't charge the card; it is only to guarantee the booking. Payment would be made upon check in. Some don't even require a credit card! If something comes up and you need to make changes or cancel your confirmed bookings, it can be done through the app. Most accommodations on Booking.com would allow booking cancellations free of charge (within a given number of days).
Internet Connection:
You must be online to search and book accommodations and to view the map to a property. When offline, you can only view the details (not including map) of your confirmed booking(s).

Tip:
Watch out for Booking.com's "Deals Day" which means discounted rates!

Download Booking.com app here:
Android
 | Apple
Visit Korea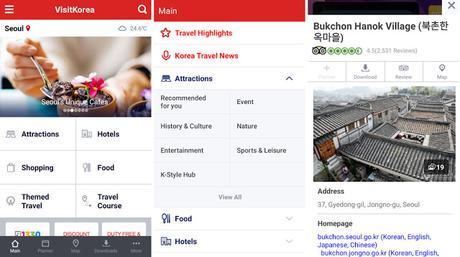 Visit Korea was my sole source of information for where to go. I just specified the area I wanted to visit, clicked on the category (history, nature, UNESCO sites, food, shopping, etc) that interested me, and browsed the suggested pages. Each page would show photos, give a description, and provide important information such as opening hours, admission fees, transportation directions, map, etc.
Internet Connection:
To search anything on this app, you are required to be online. If you save a page, the saved page can be viewed offline.
Tips:
Plot your itinerary using the app's Planner feature.
Check out the Discounts section...there might be discount coupons for places you are planning to visit.
When taking the bus and the driver can't understand or speak English (or when you're lost and want to ask for directions), show him/her the page on Visit Korea app for the place you are going to/looking for; the title on the page is in English and Korean.
Download Visit Korea app here:
Android
 | 
Apple
Google My Maps
I planned a day of walking from neighborhood to nearby neighborhood and had in mind specific areas to visit. I created a map on Google My Maps, plotting out my route and pinning locations. Google My Maps also became very useful for me when I just winged it to a place without much travel information. On the way to wherever it was I was going, I pinned locations for the bus stop and the bus terminal...this was so I would not get lost on the way home.
Internet Connection:
You should be online to search locations, pin locations, and create your own map.
Tip:
If your WiFi Egg battery's low, but you need your online map, pin your destination on Google My Map, load the map (both zoomed in for details and zoomed out to cover the area you need), turn on location/GPS, start walking until you see that little dot on the map (that's you) move. Then turn off your WiFi Egg.
Download Google My Maps app here:
 Android
Weather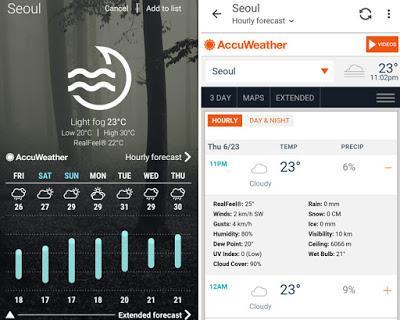 I would check my smartphone's weather app to plan what to do the next day (hmmm...looks like rain; hiking might be a bad idea) and what to wear (nice cool 13°C,  I shall wear a light jacket! And windy?!...maybe I should wear two light jackets!).
Internet Connection:
You should be online to get updated data.
Tip:
Don't forget to check for information on wind and gusts. Eventhough you think the temperature is tolerable with no jacket, the wind could bring down the real feel temperature to chilly.
Subway Korea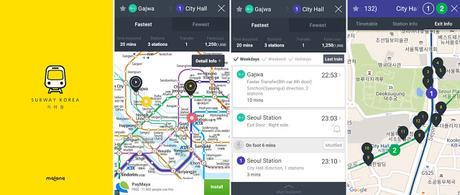 The subway system in Seoul looks complicated because of its many subway lines, but is fairly easy to understand. Nonetheless, having the Subway Korea app was a great help:
it provides the timetable/schedule
it gives options for fastest route or fewest transfers
it tells you which side the door will open
it tells you how many stops between stations
if you need to transfer, it suggests which car door to enter/exit for a faster transfer
you can set an alarm so you won't miss your stop
it provides an exit map for each station
it tells if the station has a restroom, elevator, disabled access, etc
This app is not only for Seoul, but it also includes subway maps and information for these cities: Busan. Daegu, Daejeon, and Gwangju.
Internet Connection
: If you need to know the schedule in realtime and check the station exit map, you should be online. If you just need to know the duration of the journey and the fare, you can still use the app offline.
Tip:
If you have to transfer trains, follow the suggested car door to enter/exit. The car and car door number is indicated on the platform floor: the first number is the car number followed by a dash then followed by the car door number (ex. 9-2 means car 9, door 2).
Download Subway Korea app here:
Android
 | 
Apple
KakaoTalk
Most Koreans are on KakaoTalk. Without a local mobile number, I got in touch (text and call) with my Korean friends and even my accommodation hosts through KakaoTalk.
Internet Connection:
 Required.
Tip:
Before leaving for South Korea, download KakaoTalk and save all contact numbers of your hosts and check if they're on KakaoTalk. You might need to contact them if your flight is delayed so they won't release your booking (especially bookings that have no downpayment or did not require a credit card). But if they're not on KakaoTalk, you can always resort to email (and pray they check their email), or, if you're on roaming, call.
Download KakaoTalk app here:
 Android | 
Apple
South Korea on Three
South Korea Countdown
Itinerary and Expenses
South Korea Solo: Tangible Essentials
Six Apps for a Smooth South Korea Trip (you're here!)(more soon)