I've never been to Siquijor and I promised myself that it would be one of my first travel destinations. But then came Bohol, Negros, and other Luzon areas all the way up to Batanes, pushing little Siquijor to the bottom of the bucket list.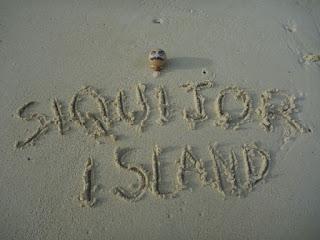 When a Siquijor fiesta invite from a friend of my travel buddy came up, I didn't hesitate on (gate)crashing along.
We boarded a bus heading to Oslob. You have to tell the conductor to drop you at the Oslob port bound for Larena, Siquijor. The exact location is in Barangay Mainit.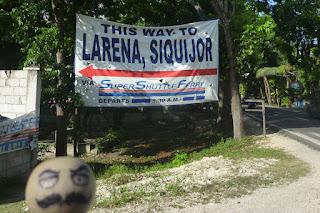 A big tarp pointing the way to the port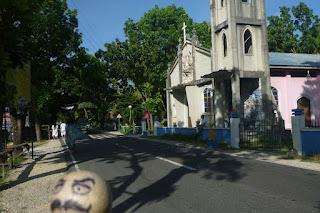 Another landmark is the church right across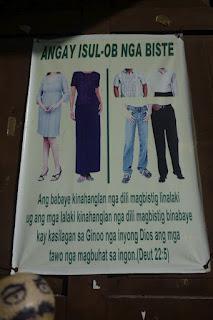 Proper church attire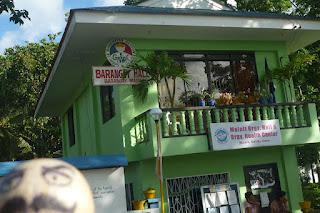 Brgy Mainit (hot) is named for its hot spring. Will go see the spring someday.
Just beside the port is a tiny market with a small carenderia. Perfect for hungry travelers like us. We had breakfast of humba and monggos... and mangoes. Heaps of mangoes were next to the carenderia's dining tables and I couldn't resist buying some.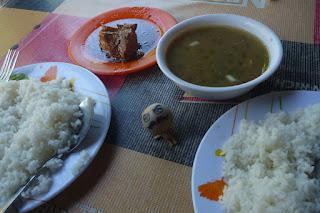 Breakfast of humba and monggos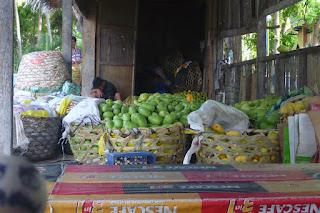 Heaps of mangoes
The ferry leaves for Larena every 930AM Thursdays to Sundays (back to Oslob at 2PM on the same days). The trip takes two hours and fare is at Php200. If you miss this trip or go on days that they don't operate, one option is to take the fastcraft from Liloan, Santander to Sibulan, then take a jeepney or tricycle to Dumaguete, and catch the boat to Siquijor from there. A more expensive option is to take the fast ferry (Oceanjet) from Cebu City to Siquijor. And the slowest option is to take the ship from Cebu City to Siquijor (the journey can take up to 10 hours).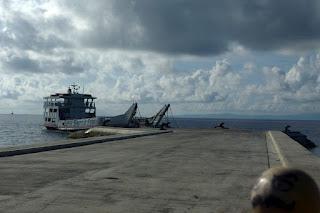 Waiting for 930AM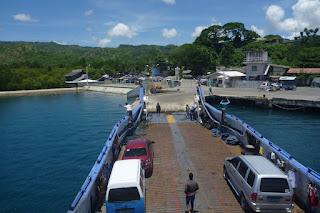 Hello Siquijor!
We were fortunate to have been picked up by Jon, our Siquijor friend. He borrowed a car that would be our main transportation around the island. There are tricycles and multicabs that can be rented for Php900 and Php1200 respectively for a tour around the island. We made a short pitstop in Larena to meet Jon's family and have lunch at their house. After refueling our stomachs and the car, we were off on Turista Mode:
Our Lady of Divine Providence ChurchMaria, Siquijor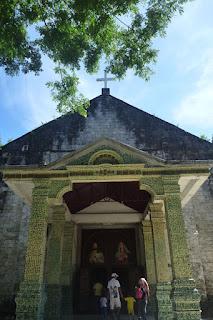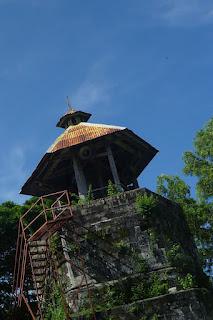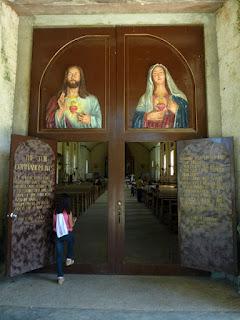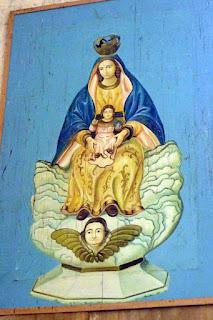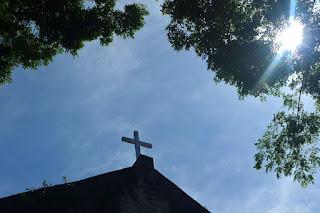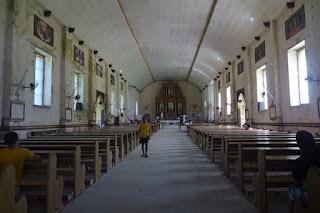 San Isidro Labrador ChurchLazi, Siquijor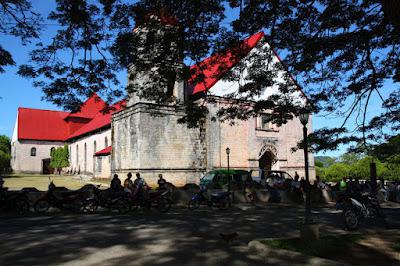 ...and just across, separated by the tree-lined road is...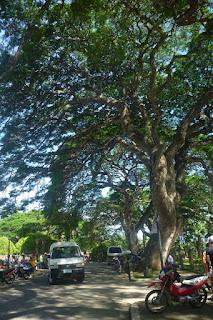 San Isidro Labrador ConventLazi, Siquijor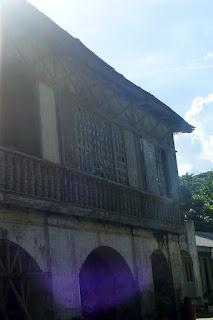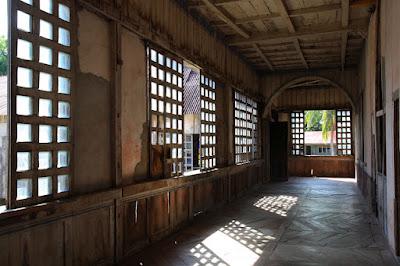 ...which houses a museum that we lazily did not check out.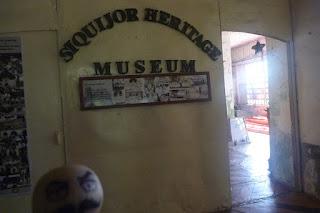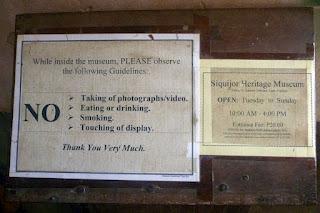 On the convent gate, we found this. Look! Php100 a month tuition fee!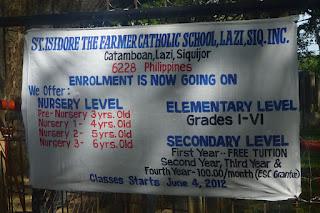 Cambugahay FallsLazi, Siquijor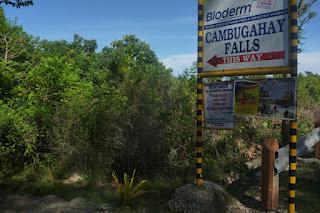 The way to the falls is pretty clear-cut.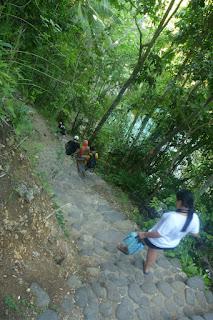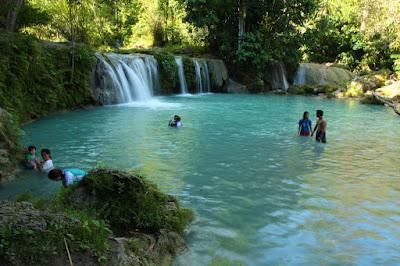 Cambugahay falls probably has several levels but the aquamarine waters of the first level made me kick off my slippers, jump into its waters, and forget about exploring. The falls can be enjoyed for free. There are no changing rooms and picnic tables, just the cold flowing water, rocks, and greenery. Oh, and a vine you can swing from for a grand splash. Try it!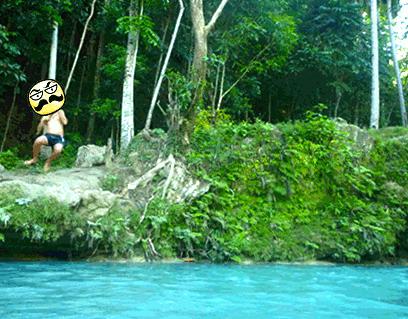 Capilay's Spring Park San Juan, Siquijor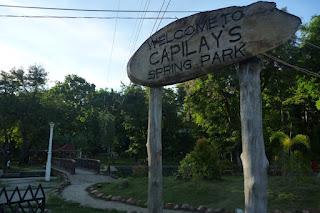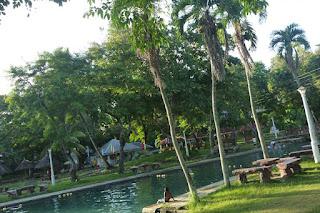 The spring park is just by the road. It is open to the public and doesn't require you to dig into your pocket (no entrance fee). Cottages and tables with benches are waiting for you to have a picnic. Swim at your own risk...people driving by will see you in your skimpy bikini!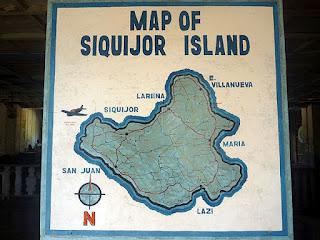 Siquijor's so small you can drive around the island in just a few hours
The island can be circumnavigated in just half a day. Back to our starting point (Larena), we settled in Karlsson's Guesthouse [0917 764 2633] for the night. For Php1800, we got this little cottage with a bed that's a single and double combined (see photo below to get my meaning) plus a cot, toilet and shower, a kitchen complete with a sink, a small dining table, and a cabinet of pots, pans, plates, and utensils, and a roof deck to lounge and laze around when the sun isn't too hostile.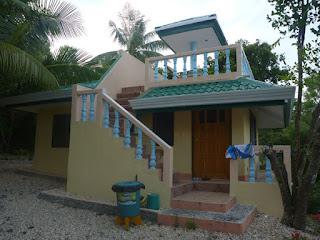 Our little cottage at Karlsson's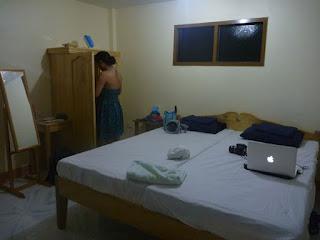 The single+double size bed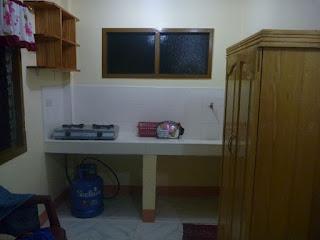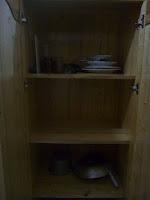 The kitchen with its magic cabinet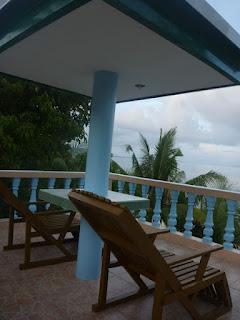 Lounge on the roof deck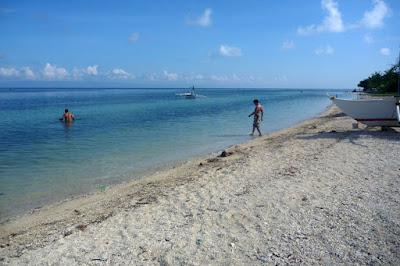 Karlsson's beach: not so fine sand but clear waters
The second night was spent at the end of the world. At Lorna's End of the World Beach Rooms [0927 381 6377] that is. Lorna's is located in the municipality of San Juan, just a few hundred meters from Capilay's Spring Park.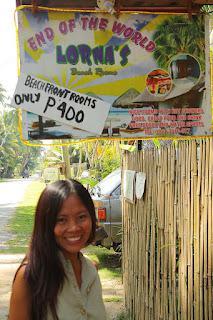 This is Lorna and you are at her end of the world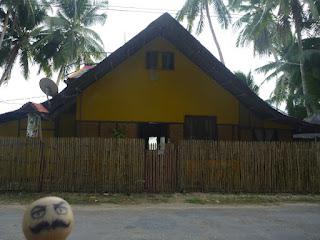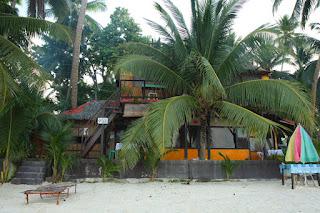 Lorna's End of the World as seen from the road (left) and as seen from the beach (right)
Rooms on the ground floor cost Php500, the ones on the second floor cost Php400. Below left photo is of the room on the upper floor. It has a shower and toilet...behind that pink curtain! :-) Right outside of the second floor rooms is a veranda with a table and some chairs to just soak in the sea view.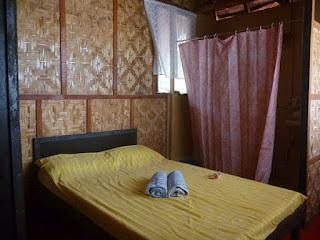 Inside (left) and outside (right)
You can go higher up to their roof deck or down below for a lazy afternoon on a hammock.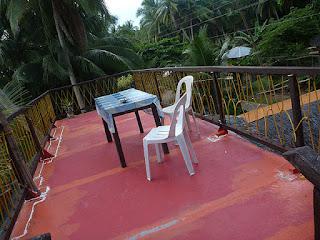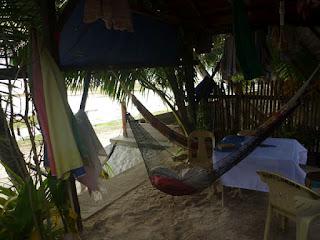 Our last afternoon in Siquijor was spent walking around San Juan. Near the spring park we found some shops, an eatery, and the public market where we got ourselves a snack: a piece of turon (deep fried banana in springroll wrapper) each.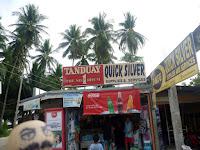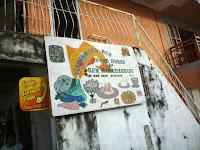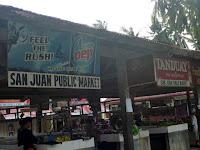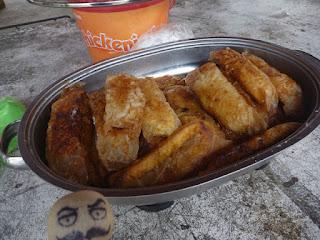 Snack time: turon
From the market, we decided to walk on the shore on the way back to the end of the world. We passed some ladies doing their laundry in the stream, coconut trees by the beach, a dog looking out to sea, empty benches in the shade, and green-haired rocks.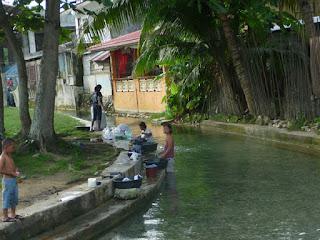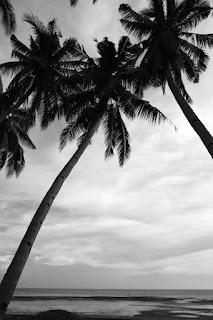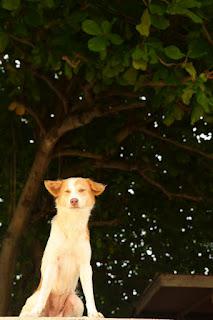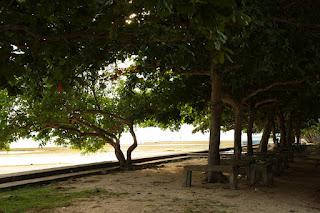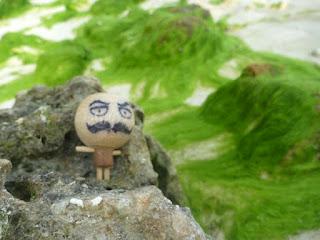 Back at the end of the world, we were just in time for nature's spectacular show called sunset.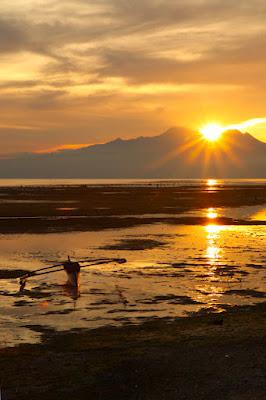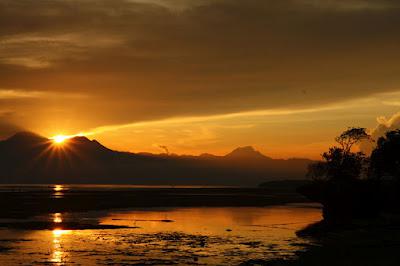 And when night fell, it was dinner by the beach with a lone lamp. Romantic? Ha! The lamp was so we can see what we were eating and not choke on the fish bones. Surprise! Lorna tossed in two pieces of bread with strawberry jam! Thank you, Lorna! Lorna has limited supplies so either buy from the market yourself and just ask them to cook for you (for a fee) or you can place your lunch and dinner orders in the morning for them to prepare and do the necessary shopping.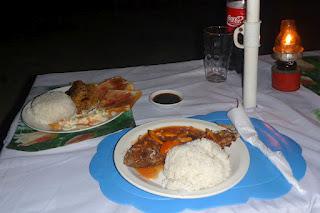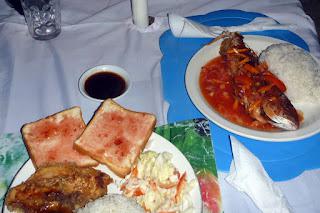 In the morning, we had breakfast and a quick dip before rushing off to the port of Siquijor to catch the boat to Dumaguete. Breakfast was bread and eggs we bought from a nearby sari-sari store. We just asked Lorna to cook the eggs.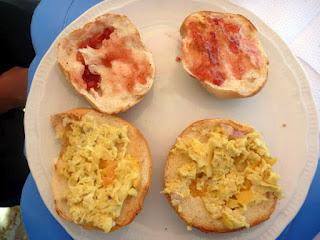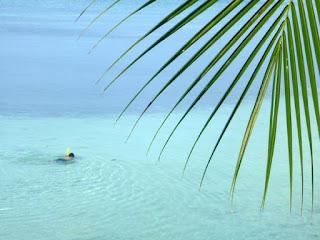 Tricycles don't come along every minute so give enough time for waiting (20 to 30 minutes), unless you are in no hurry and have no schedule to strictly follow. We had forgotten this bit of fact and we had to buy Delta fast ferry tickets as "chance passengers." Everyone else was already on board and we had to do a 200-meter dash. 
We made it!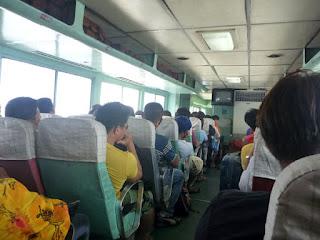 Howdy Dumaguete! It's time for a chowdown!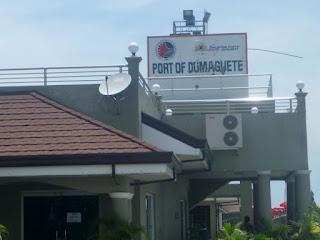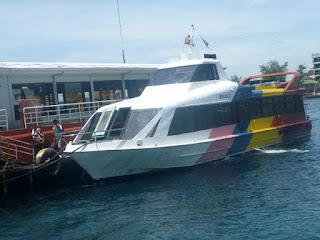 PS. Every time I read "end of the world" it always sounds like that cliché trailer-background voice. The one that always says "This Summer!" Does that happen to you too? Does "end of the world" sound more like "END... OF THE WOOORLD"?
How this sojourn gatecrashed its way into Mustachio's pocket:Bus from South Bus Terminal to Brgy Mainit, Oslob Php 154Breakfast Php 64 Super Shuttle Ferry from Oslob to Larena Php 200Food contribution Php 140Gas contribution Php 250 Room at Karlsson's Guesthouse Php 1800Room at Lorna's End of the World Php 400Chicken dinner at Lorna's Php 120Cooking charge (Php 30 x 2) Php 60 Rice Php 10Bread Php 20Tricycle from Lorna's to Siquijor pier Php 25Terminal fee Php 14Delta fast ferry from Siquijor to Dumaguete Php 160Jeep to Sibulan Php15Fastcraft to Liloan, Santander Php 62Bus from Santander to South Bus Terminal Php 169