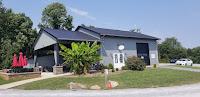 During our return from the  
2021 Bristol Rhythm & Roots Reunion
, and not hiking to Natural Bridge,  we stopped off at the 
Great Valley Farm Brewery & Winery
 to sample some beer and check sports scores.  As a consequence, we discovered a venue with outstanding views of the countryside, a solid portfolio of craft beer, as well as a couple delicious wines we had brought home.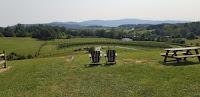 Owners Nathan and Irma Bailey purchased the land in 2008 with the intention to open a farm brewery which finally occurred in October of 2016.  At the same time, they planted a vineyard that now consists of six acres of various grape varieties including Gruner Veltliner, Vidal Blanc, Cabernet Franc, and Lemberger. Wine production started in 2019 and these wines are now available to the public.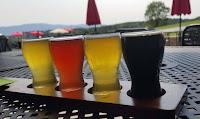 During our stopover, I chose a flight that consisted of a 
Grisette
,
Hibiscus Wit
,
NZ Pale Ale
, and
Milk Stout
. A completely diverse range of beers.  The farmhouse Grisette was funky and was made using New Zealand Motueka hops leftover from the Pale Ale. The Wit was deliciously satisfying for that warm day. The Pale Ale had a solid structure and was made using NZ Nelson Sauvin and Motueka hops. And finally, the Milk Stout was as expected - velvety cream merging with chocolate and coffee.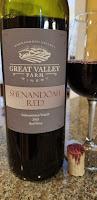 Still a long way from home, we purchased a couple bottles of their
2019 Gruner Veltliner
($24) and 2019
Shenandoah Red
($30) to open at a later date. For the Gruner that was the next day and didn't last long. It's a very pleasant wine, creamy citrus, some saline, and abundant acids. The Shenandoah Road is a blend of Cabernet Franc, Petit Verdot, and Lemberger that is aged for one year in a mixture of French, American, and Hungarian oak.  This blend is ridiculously good with plenty of fruit, some spice, texture, acidity, and creeping tannins. Well done on this initial effort. 
October is Virginia Wine Month so try to visit as many wineries (and breweries) as possible during these 31 days. The Virginia Wine Marketing Board lists several events and theCompass Craft Beverage Finder will guide you to these establishments. Cheers.